I am excited about a new collaboration I have made with Beauty Box 5! They will be sending me a complimentary box each month that I can give honest to goodness reviews on. I will be reviewing all 5 of the products they send me each month and I will tell you what I honestly think about each of these beauty products and if I think you should purchase them for yourself! If you have never heard of Beauty Box 5, it is an awesome company! You pay $12 a month and they will send you a box with five different beauty products in it. The value is always way more than the $12 that you paid for the box and it is a great way to get to try new products out without a big investment! So, let's get things started!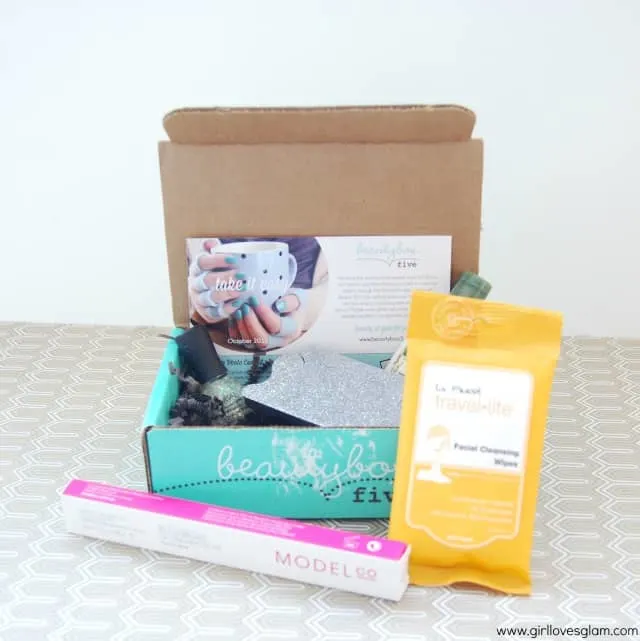 I was really excited to receive my very first Beauty Box 5! This is what it came with and what I thought of each of them…
LA Fresh Facial Cleansing Wipes- These felt like any other facial cleansing wipe out there honestly. This brand claims to have more nutrients in their wipes, but a bigger package of these will cost you $20. I would stick with the cheapo wipes.
Model Co Illusion Nude Lip Liner- This lip liner is made to blend in with your skin a little more than your traditional lip liners. It is made to help you correct the shape of your lips and make them the shape you want them to be. So far, I have really liked this. I don't use it for the shape correcting necessarily, but I have liked the nude color. I think it is a great color for the days that you are just wearing gloss. This lip liner is about $20 which I feel like is a pretty reasonable price because lip liners last quite a while.
Nubar Kristal Nail Polish- I don't usually go for the sparkly nail polishes, but this polish is pretty awesome. It is the perfect top coat to use during the holiday season. It also stays on really well and makes your nails feel hard and healthy.
Toe separators- These are just the normal toe separators. Nothing too special other than they are sparkly!
Aveeno lotion- I was actually really impressed with this lotion. I felt like it added a lot of moisture to my skin without making it feel oily and gross. I would recommend this lotion for sure. Especially the smaller travel size to keep in your purse when you are in those emergency situations when your hands feel like they are about to crack and bleed while you are in the middle of the grocery store.
Well, that is it for this month! What do you think of this new collaboration? Are you excited to learn about more beauty products?