This is a Sponsored post written by me on behalf of Bolthouse Farms for SocialSpark. All opinions are 100% mine.
Sometimes getting your fruit and veggie servings in each day can be a total pain! For me, there are times that I just don't feel like eating a salad. That can be a lot of the time. It is hard to get my fruit and veggie servings in everyday when I feel like I am on the go all day long. I recently discovered a perfect solution to my problem. Bolthouse Farms drinks!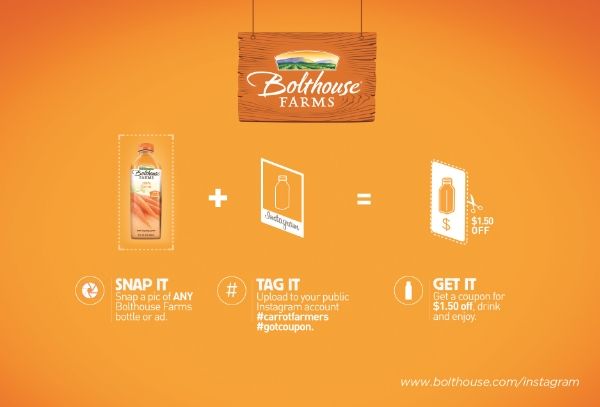 They are seriously the perfect solution for any busy mom (and her kids) to get the right amount of fruits and veggies each day!
There are 30+ flavors to choose from so you can find a solution to having enough fruits and vegetables without having to sacrifice on your own taste preferences. Bolthouse Farms knows what they are doing when they create these drinks too. They are carrot farmers who want to keep the goodness of their carrots and other fruits and vegetables in each of their drinks. They even have recipes available that use their products so you can switch it up sometimes when you are ready for a change.
I have loved drinking these drinks as part of my daily nutrition. The protein drinks are the perfect way to recover after a tough workout and the many fruit and vegetable drinks available make it easy to get those nutrients into my diet.
Bolthouse Farms just made it even easier to get those nutrients each day by creating a Bolthouse Instagram Promotion to recieve coupons for their products right on Instagram! All you have to do, is post a picture of a Bolthouse Farms product or ad on your public Instagram account and use #carrotfarmers and #gotcoupon and Bolthouse Farms will comment on your photo with a coupon for $1.50 off! That is a great deal!
What are some ways that you make sure to get your fruit and veggie servings each day?