This post brought to you by Dollar General. All opinions are 100% mine.
I love it when I find good deals! I also love it when other people share deals with me. I wanted to share this great deal with you! Are you ready? Because your mind is about to be blown!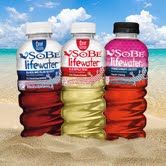 Sobe® Lifewater® is buy one get one free right now at Dollar General! You can choose from many flavors including Fuji Apple Pear, Pomegranate Cherry, or Black and Blue Berry! These are new flavors for Dollar General to carry so it is time to grab these awesome flavors!
Getting the coupon is really easy! All you have to do is go on the Dollar General site and share the Sobe® Lifewater® coupon with your friends! You will get a buy one get one free coupon just for sharing the deal with your friends.
I don't think it gets any easier than that! I absolutely love the Black and Blue Berry flavor and really like the Pomegranate Cherry flavor too. I haven't ever tried the Fuji Apple Pear, but I am excited to try it when I stock up with this deal.
This is the perfect time to take advantage of this deal so you can stock up on drinks for the gym, for your kids' sports teams, or just to have when you need a drink and you are running out the door.
I would love to hear what your favorite flavor of Sobe® Lifewater® is! Share it with me so I can try that flavor too!