I was provided with the Beauty Box 5, free of charge but am not otherwise compensated. All thoughts and opinions are my own.
It is time for another honest to goodness beauty product review for you guys! Beauty Box 5 sends me a box each month for me to try out the products and tell YOU all about them. They aren't paying me to say anything positive about these products. I try them out and tell you what I think. If you don't already know what Beauty Box 5 is, it is a company that sends out one box a month to their subscribers that has five beauty products in it. It is a really fun way to try out new products without having to make a large investment. These subscriptions start at just $12 so you can try out new beauty products every month without feeling guilty about it.
Now, who's ready to see what I got in my last beauty box?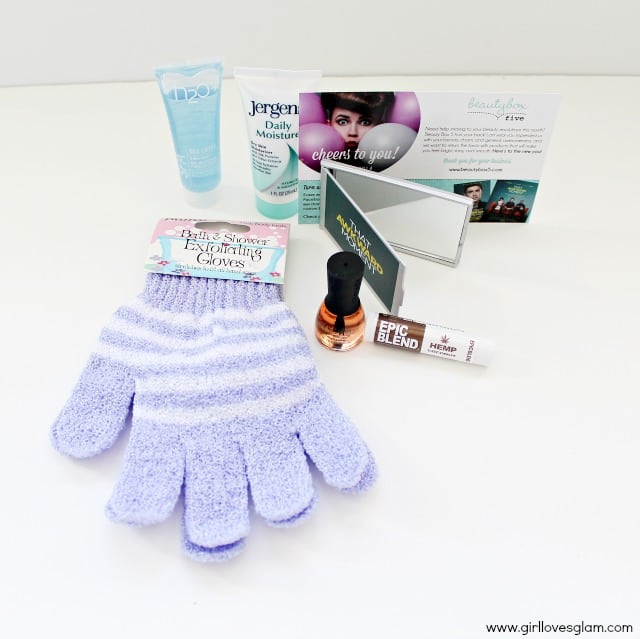 This time, I got some body wash, cuticle oil, exfoliating gloves, moisturizer, lip balm, and a (bonus product) mirror compact. I have been pretty happy with all of them as a whole, but there is one product I literally cannot live without now that I have tried it. Can you guess what one it is? Here are all of the product details and the reviews for each of them…
H2O Plus Spa Sea Lotus Body Wash- I love that this body wash is made to be unisex. You can totally share this with your husband without feeling like he smells like a girl or that you smell like a manly man. It has a really great, refreshing scent too. The full size bottle retails for $17.
Nubar Cuticle and Nail Oil- I love cuticle oil. I hadn't ever tried this brand before, but I really liked it. My poor cuticles get pretty bad during the winter months and this stuff does wonders to them. This retails for $10.
Swissco Bath and Shower Exfoliating Gloves- Guys! These are literally life changing. These may be my favorite product of all time. These are the perfect way to get baby soft skin. If you use self tanner or get spray tans, you need these gloves in your life for sure. My skin feels awesome and it takes no time at all. I think everyone needs a pair of these gloves. These retail for $5!
Jergens Daily Moisturizer- My skin gets so sad during the winter. This moisturizer gave my skin just the right amount of moisture it needed to get through the harsh weather. I hadn't ever tried it before and I am a total believer. This retails for $6.99.
Epic Blend Hemp Coconut Lip Balm- This lip balm felt like any other lip balm to me. The selling point for it, is that it is organic, gluten free, and not tested on animals. If you are a fan of being gluten free, petroleum free, and non-GMO this could be your new favorite lip balm. It retails for $3.39.
That Awkward Moment Mirror Compact- This was just a bonus product they sent to promote the new movie, That Awkward Moment.
Well, that is all for now! If you want to try out new products like this every month, sign up to get your own Beauty Box 5!
Check back next month for more beauty product reviews too!