Color scares a lot of people. I am not afraid to admit that I was totally afraid of color for a long time. I grew up loving color and I think that my brightly colored bedrooms may have scared me for life as an adult because too much color would scare me like crazy! Thankfully neutral rooms are in style because I rocked that (and however else my mom would help me decorate) for a long time. Over the years, I came into my own style and realized that color isn't as scary as I had originally thought. You don't have to commit to painting an entire wall a bright color in order to introduce a good amount of color into a room.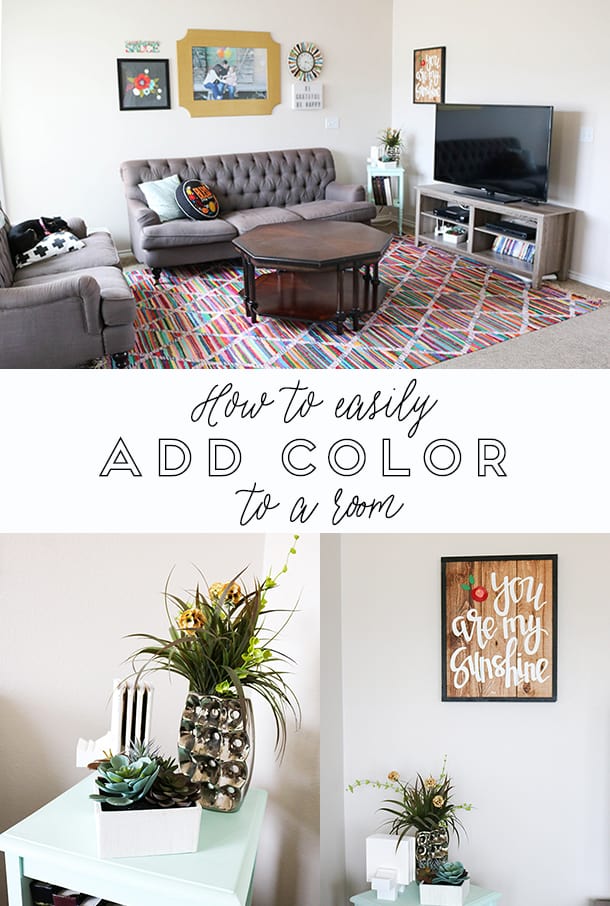 I have found that my home decor style is what I like to categorize as a little modern, a little traditional comfort, large neutral items, and splashes of bold color. I realize that I am not about to become a full time interior decorator in my life, therefore I can't really give my style a "name" like designers can. My style is if I love it, I get it and it all kind of works in its own way.
My biggest piece of advice for adding color to your space is to keep your major pieces neutral. This is what I would consider as your couches and your walls. Unless you have unlimited funds to keep purchasing the newest hot color in couches, I would recommend keeping them fairly neutral. I have owned my gray couches for about 3 years now and still love them as much as the day I purchased them. They have been able to go along with decor in three different houses too!
Add your color with items that can be switched out a little more easily. For my living room, I pushed myself beyond my personal comfort zone and got a rug that is way more bold than I would normally go for. I knew that if I went too neutral with the rug, I would regret it. I went bold and I am so glad! Although rugs can definitely be considered an investment, they are a lot easier to switch out than bigger pieces. I found my rug on Rugs USA's website. They have huge sales for every holiday. I snagged this rug for 70% off on one of their holiday sales!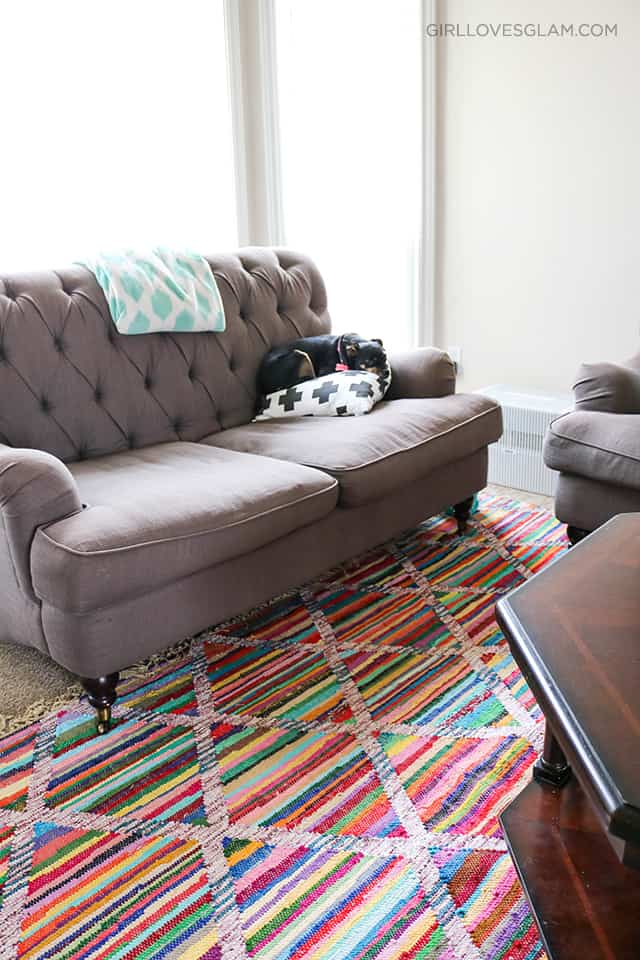 My goal when adding color to my living room was to create a warm, welcoming environment that my family and guests would feel comfortable in. I would say by the look on my dog's face, that I was successful in that!
Color can be brought to a space by more than just textiles like rugs, pillows, and blankets. Adding accent furniture with a bit of color can be a really fun way to bring color to your space. If you are brave enough to paint your coffee table or entertainment center, go for it! I opted for a small accent table in my living room. I still love my other furniture too much to paint them (for now).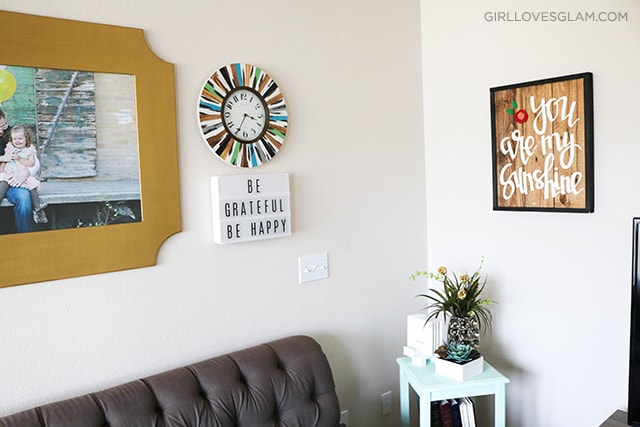 I chose a really light, minty blue color for my table. I wanted it to bring color, without it screaming, "look at me!" over in the corner. If you are going to paint your own furniture, I have learned that the quality of paint supplies has a direct effect on the overall look of the piece in the end. I really love using Purdy products for these types of projects especially!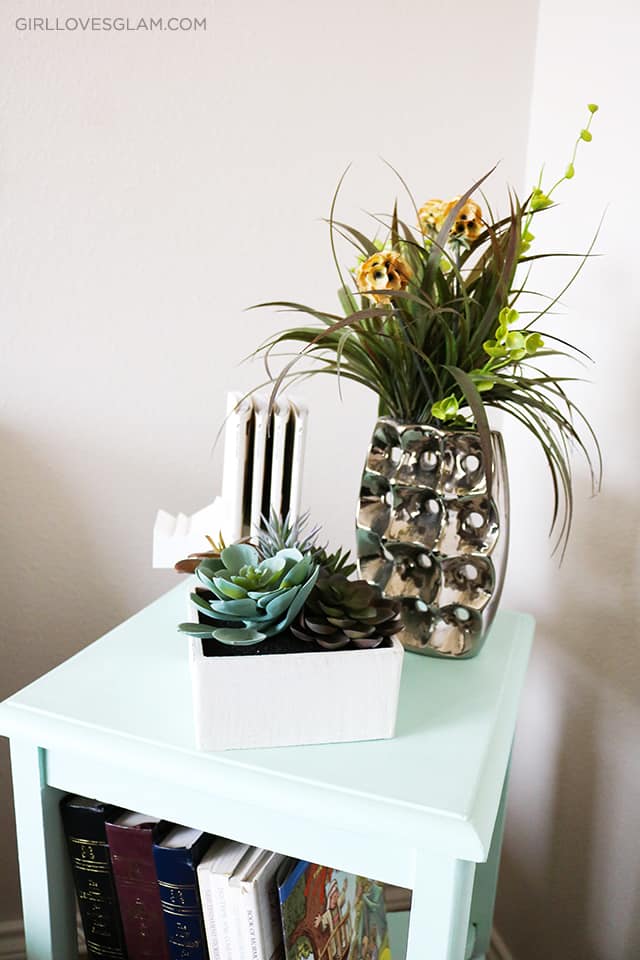 The final way that I like to bring color to my home is with small decor items and wall decor. I am a huge believer in having positive messages used with decor and displaying photos of my family. I love looking at photos of my family as we continue to grow together. I think it is important to have those reminders in your home! Since our actual family photos have a lot of color in them, I went with a neutral, gold paint on my giant Cut it Out frame. I like that I went with a neutral for that frame so that the other pieces on my wall can have more color in them without going overboard.
My most favorite piece hanging on my wall has got to be my "You Are My Sunshine" from Salty Bison. When Dave and I were first married, we would sing this song to each other a lot. It just reminds me of that time in our lives and makes me smile every time I see it.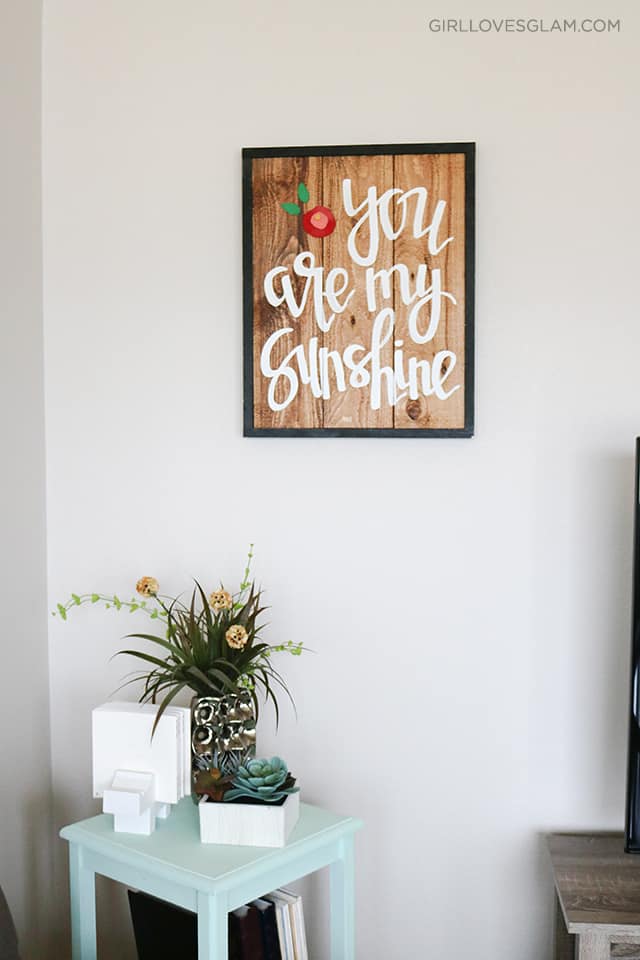 Another great way to bring color to your wall is to use vinyl. I didn't use any in my living room, but you can see examples of how I have done it in previous rooms by checking out my daughter's room, my current office, and my old office. Vinyl can make a huge statement or can be a little more subtle. That is the great part about it! It is totally customized to your style and your home.
What it all comes down to is taking some leaps of faith with color, while using your best judgement. I think it is a very delicate balance! I have experienced both extremes of too much color and not enough color and have found a great balance for myself. Obviously it is going to be different for everyone. I hope these tips help you realize that color doesn't have to be scary and that you can even have a room with color when you are renting!