I was challenged by Silhouette to a gift wrapping competition. I brainstormed about different ways I could wrap a Christmas gift and none of them really felt that unique. Then I started thinking about what Christmas was like growing up. I was born in 1988, so the Christmases of my childhood all happened during the 90's. The 90's were a pretty epic time in music, including Christmas music! So, I decided to combine two of my favorite things into one… my childhood in the 90's and music to bring you this epic gift wrap, inspired by 90's Christmas music. Let the nostalgia begin!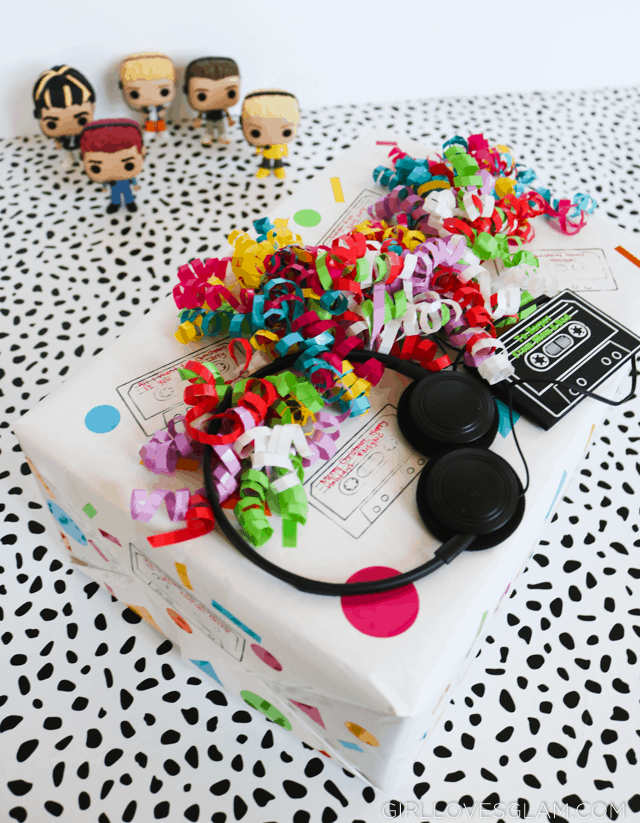 There is nothing that is more reminiscent of 90's music than a cassette tape. I wanted to embrace this throughout the gift wrap, so I made a custom cassette tape stamp out of my Silhouette Mint machine.
Silhouette Mint Custom Stamp Machine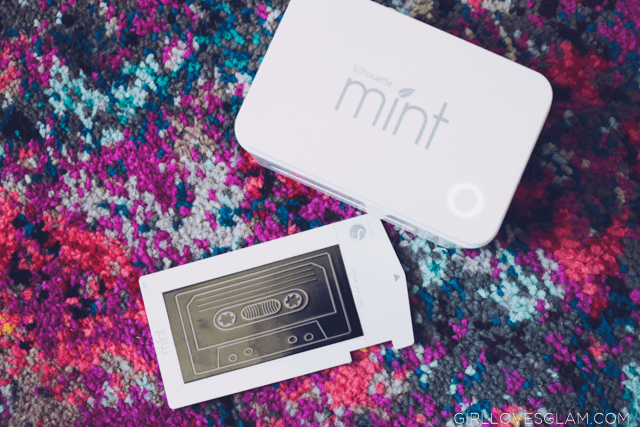 Because I knew there was going to be so much color involved in the rest of the gift wrap, I kept the entire cassette tape stamp black. This helped give a little contrast and allowed the cassettes to stand out a bit more. The nice thing about using the Silhouette Mint is that you don't need to put more ink on your stamp every time you stamp. I just inked up my stamp with the black ink and was able to stamp the entire gift with that one load of ink.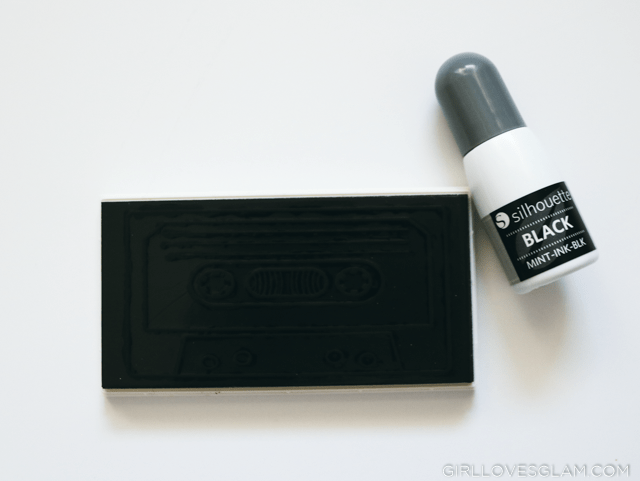 Once I wrapped the gift in white craft paper, I stamped it with my cassette stamp. I was able to stamp it with 14 cassettes that were just screaming to be customized.
90's Inspired Gift Wrap
I had a pretty good idea of what songs I thought needed to be included in the 90's Christmas music but I also got a little help from a quick internet search that told me what the top Christmas songs of the 90's were. I chose some of the ones I remembered the most and wrote the names of the songs on each cassette tape, using a paint pen.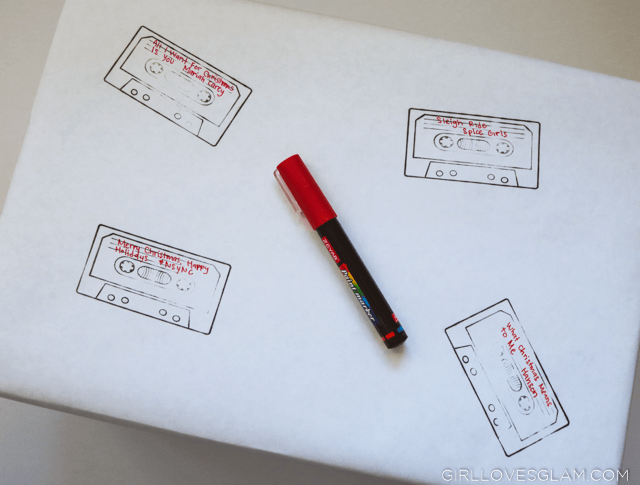 The songs featured on this gift include:
"Sleigh Ride" Spice Girls
"Breath of Heaven" Amy Grant
"What Christmas Means to Me" Hanson
"This Gift" 98 Degrees
"All I Want For Christmas Is You" Mariah Carey
"Merry Christmas, Happy Holidays" *NSYNC
"Christmas Time" Backstreet Boys
"The Chanukah Song" Adam Sandler
"Sleigh Ride" TLC
Cassette Gift Tag
Because no gift is complete without a gift tag, I decided to make a gift tag that looks like another cassette tape. I had a wood gift tag that I painted black for the base. Then, using my Silhouette CAMEO 4, I cut out the same cassette design that I used for the stamp.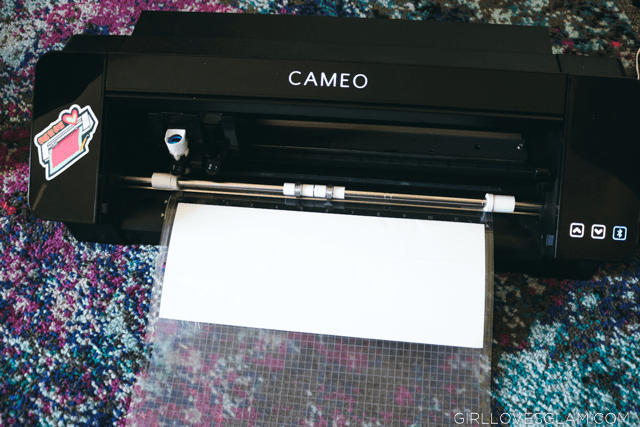 I also cut out words out of vinyl to say who the gift was to and from. I weeded them out and put them on the wood gift tag.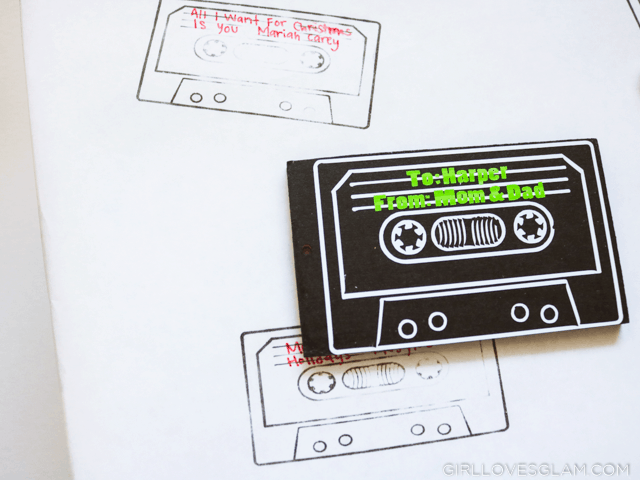 Creating 90's Shapes on the Silhouette CAMEO
When you think of the 90's, there are a lot of neon shapes that come to mind. I created basic shapes in my Silhouette Studio that I cut out in bright colored vinyl. I cut out circles, triangles, and skinny rectangles of different sizes. I just peeled them off and stuck them on the gift, just like a sticker. There was no certain pattern that was used.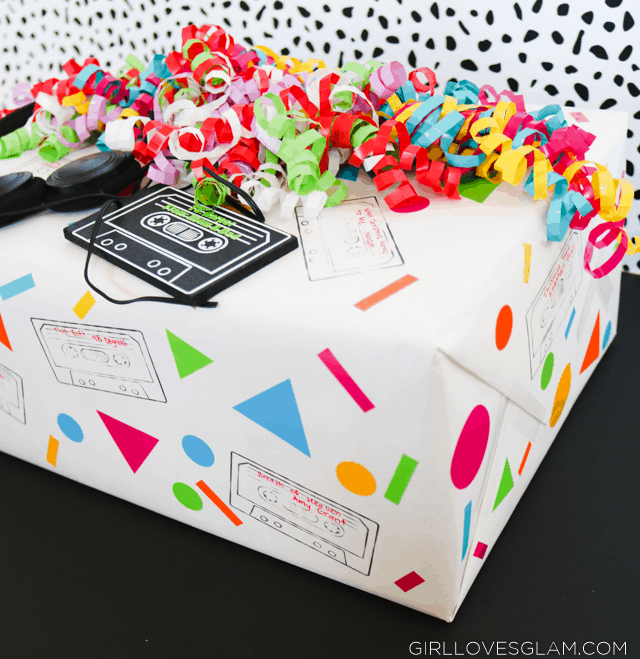 To top it all off, I grabbed some ribbon in coordinating colors and a pair of headphones from the dollar store to really stick with the theme and used glue dots to secure them in place, along with the gift tag.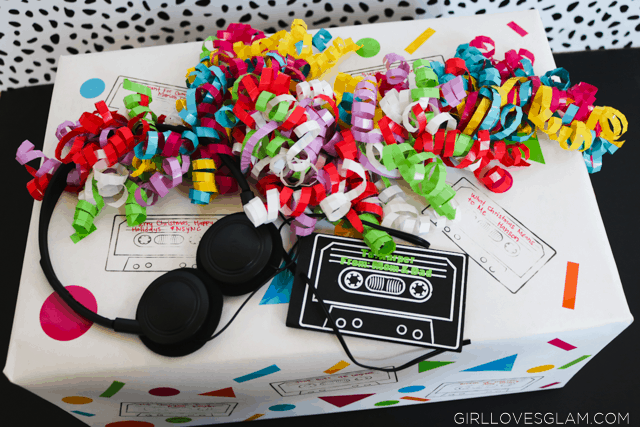 While I know this gift wrap is totally over the top, that is what a gift wrapping competition is for! It was so much fun to create, while taking a trip down Christmas memory lane!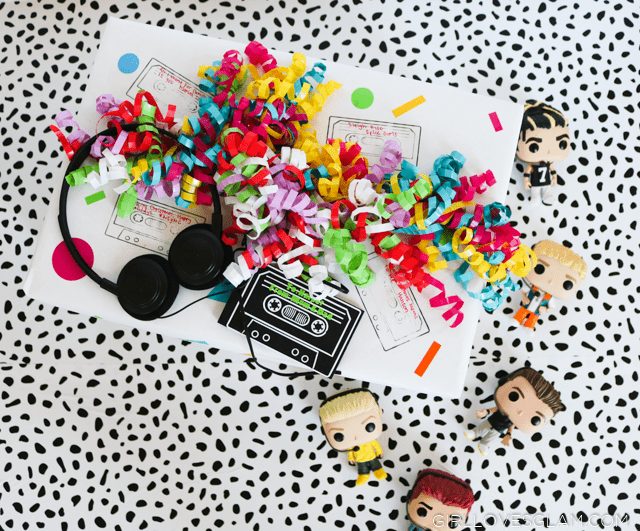 If you could create any kind of gift wrap with Silhouette products, what would you do?