As much as technology has taken over all of our lives, I really appreciate getting traditional mail. I love the act of walking out to the mailbox, pulling out envelopes and opening them up to see what was sent! Everyone knows that this is even better during the holiday season! Seeing family Christmas cards is one of my favorite parts about this season! We have ordered our holiday cards from Shutterfly for the past 7 years! Before we even had kids, I wanted to make it a point to send out cards because I knew that our loved ones would appreciate the thought that went into them.
It is pretty amazing to see how many different styles of holiday cards that Shutterfly has created over the years. There are SO many options now! I usually try a different style each year. This year, we tried out the glitter holiday cards and they are awesome! The sparkle doesn't rub off and they just make the card look a little more festive!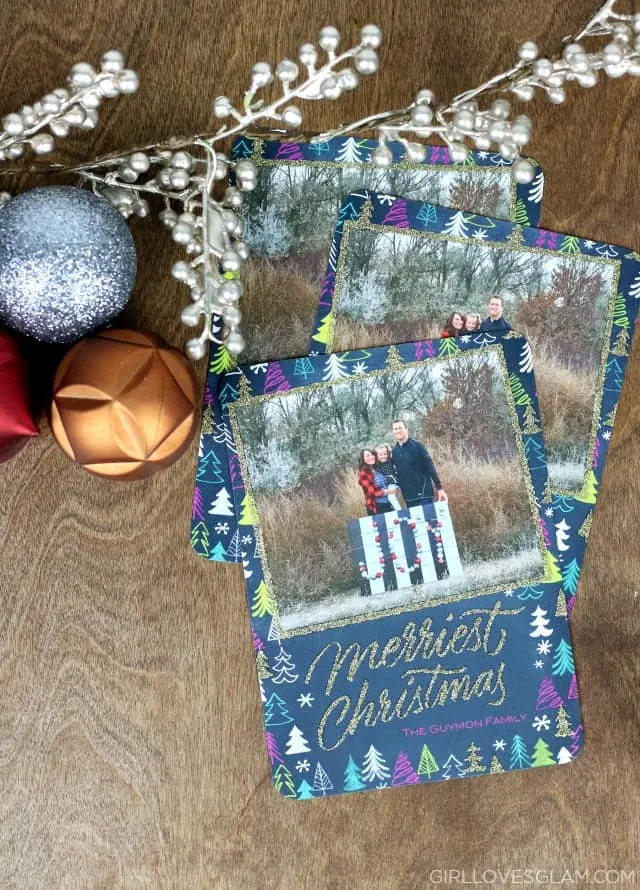 It was a really hard decision to choose between the glitter holiday cards, the foil-stamped holiday cards in the new rose-gold color, or the new pop out photo cards, but I am really happy with the choice we went with! The cards look nice enough, you don't even notice now rough our family picture is on the inside. That photo was taken after we got our family all loaded up to take a nice Christmas photo. We drove for almost an hour, walked for almost a mile, when I realized I had forgotten my memory card for my camera. We stopped walking to the pretty photo spot we were headed to, placed my husband's phone on my tripod, and set the self timer for some family Christmas photos! With as fancy as our cards are, you don't even notice the lack of quality in the actual photo, so it all worked out in the end! We just have a funny story to tell when we see this photo!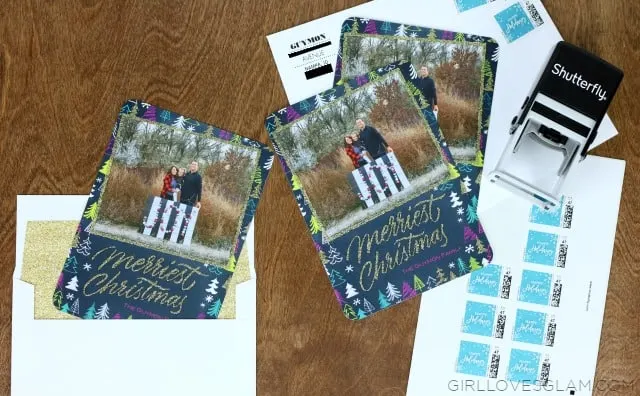 Shutterfly really has such a great selection of holiday cards, but that isn't even the best part about Shutterfly to me. I love all of the additional details you can get too! I have wanted a address stamp for years and I finally found one that I absolutely love that I can use on my holiday cards and my letters all year! I also love that I can order my postage that matches my Christmas cards and I don't even have to step foot in a post office or a busy store to purchase them. The liners inside of our envelopes mimic the glitter on our cards and brings them all together like one perfect little Christmas package!
I seriously, seriously love Shutterfly! I have always been happy with the cards that I get from them and their customer service is incredible. Last year, I had ordered my Christmas cards on Black Friday that had announced a pregnancy that we learned the next week that we were losing. I called Shutterfly in a panic, hoping I could stop them before they had started printing the cards. The kindness that was shown to me through that very difficult time is something that I will never, ever forget. They had so many other things going on, during their busiest time of the year, they had already printed the cards, and they had done absolutely nothing wrong and yet, they were willing to help me out and print out new cards that didn't mention the baby we were losing.
It is companies like Shutterfly who really do make the world a better place! If you haven't ordered your holiday cards yet this season, I really encourage you to order from Shutterfly and support a company who cares so much!