I love receiving Christmas cards in the mail! Christmas cards are one thing that I am glad technology hasn't totally taken away. I love good old fashioned snail mail this time of year. I love seeing smiling families and reading updates on how everyone is doing. It adds a really special feeling to my holiday season. I have always sent out Christmas cards. Even before my daughter was born. I send them because I know how good it feels to receive them in the mail. Every year, we have gotten our Christmas cards from Shutterfly. It has kind of always just felt like a no brainer for me to pick them for my Christmas card needs. Their designs are great and the prices are totally reasonable too! Now without further ado, our Christmas card for 2013…
Could you die?! Isn't it perfection? I can't wait to show you the details about my family pictures, but for now consider this a little sneak peek at them!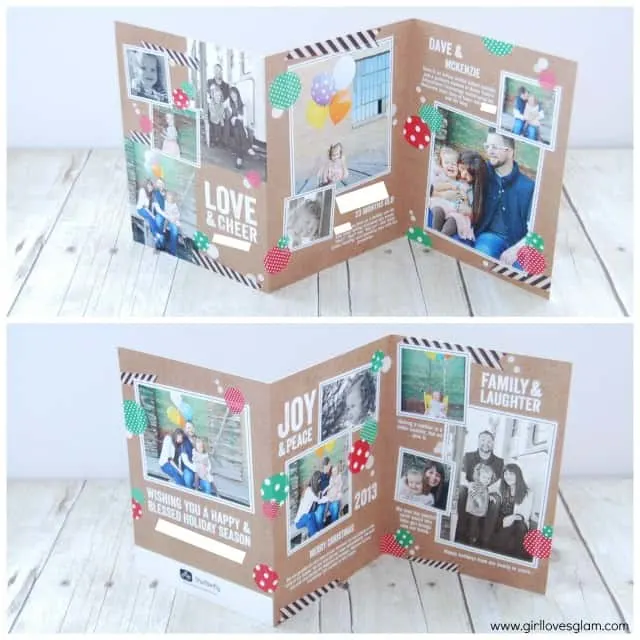 I chose this card from Shutterfly because it was totally love at first sight. I love the color scheme of it. I love that it is mostly brown and that it incorporates the black and white into it too. I think that adds a very modern approach to the traditional Christmas card feel. I also loved that these cards allowed you to talk about members of the family personally. It is easy to highlight the family members that way. I also love that I can write everything I want to on this card without having to type up an entire family newsletter to put in separately with our Christmas cards.
I give my mom a calendar for Christmas every year. I started doing that when I was about 14 years old. I have been doing it for over a decade now so my mom now just expects it! When I first started, I would scrapbook the entire thing. I had to start making it months in advance because it was so much work. It also was very expensive after paying for the photos to be printed and all of the supplies. Eventually I started using Photoshop and I made her calendar on there. It was a little faster, but was still pretty time consuming. I went to get it printed and it was a lot more than I had expected! It was a little discouraging because I knew my mom loved getting these calendars for Christmas. Then, three years ago I saw that I could make a calendar on Shutterfly for my mom. My life got so much easier! I was able to put together my mom's totally personalized calendar in about an hour. The Shutterfly calendar didn't come at all close to costing what the printed calendar costed to print at my local print shop either. It was a Christmas miracle! Now my little Christmas tradition lives on with my mom's Christmas calendar this year! This year is extra fun though because Shutterfly just released their new 12×12 calendar size! It is perfect for my mom because she takes the pages off after the year is done and puts them in a scrapbook. These pages will fit perfectly inside of a scrapbook!
Do you order your Christmas cards from Shutterfly? What ones are you sending this year? Do you give personalized gifts for Christmas?
I was given these products from Shutterfly, but was not otherwise compensated. All thoughts and opinions are 100% my own.