This post contains affiliate links, but is in no other way sponsored.
I am an organization junkie in the purest form. Seriously, I love it. I love tearing apart closets and turning them into organized, functional spaces. I have shared a lot of organization solutions on my blog over the years, but I have several other organization tips I haven't ever shared. There are a lot of them that just aren't big enough to have a post on their own. I decided to compile all of the organization projects I have ever done AND share new tips and hacks I have learned too! Here are my top 20 organization tips and hacks! I hope they help you organize your life too!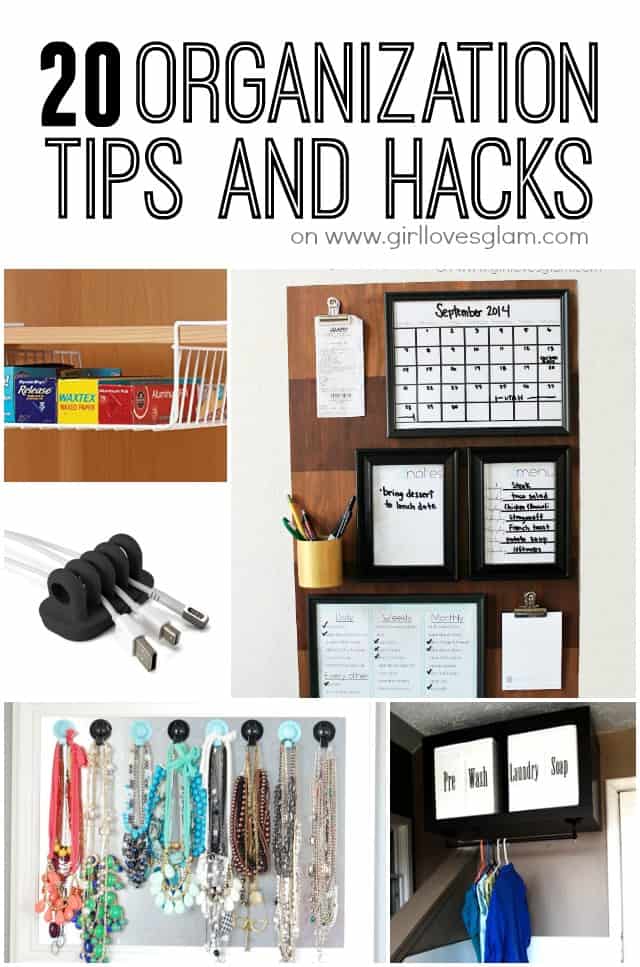 1. Jewelry Hanger Organizer– I couldn't live without this! I use it daily and I love that it is a pretty display of my necklaces, while working as an organizational piece. They are just magnetic hooks on a magnetic board. You can find my tutorial HERE.
2. DIY Jewelry Box– This is a little flashback for you. One of my earlier tutorials, but still a favorite. It is an inexpensive, non-breakable jewelry box that is great for kids! Find the tutorial HERE.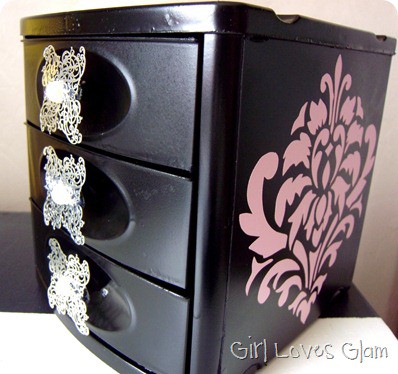 3. DIY Wooden Jewelry Box– Because I clearly own too much jewelry, I have another jewelry organization solution for you. This wooden box was from Ikea and was turned into a jewelry box. I love that it is also a way to display my jewelry. I find that when I can actually see my jewelry without having to open anything up, I wear it more often! The tutorial is HERE.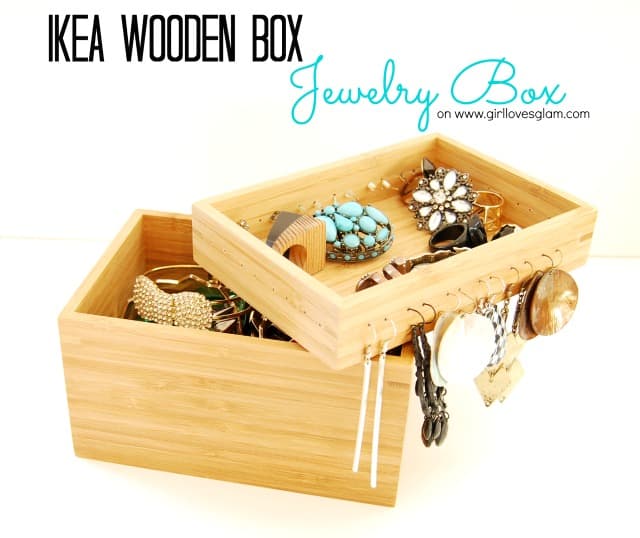 4. Office Organizational Gallery Wall– When you have a small space, turning a wall into a gallery wall that is full of functional decor can be a great option. I love having clip boards hung up to hang up any important papers you need, without it looking too cluttered. A chalk board or white board is a smart thing to hang up too so you can take quick notes. Find all of the details of this wall, HERE.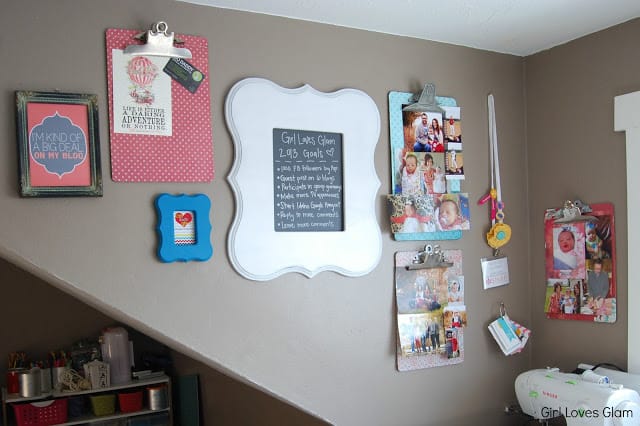 5. Quirky Cord Organizer– I got one of these for Christmas in my stocking (Santa knows the way to my heart) and I LOVE it! It helps me keep my cords nice and organized in my office.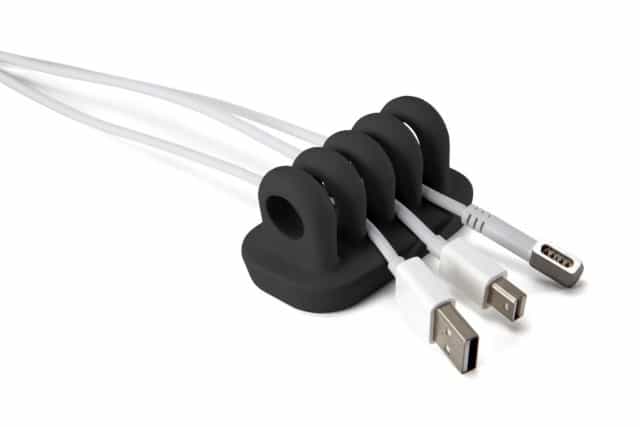 6. Chalkboard Jars– I love these! You can easily organize your office by putting your writing tools in jars. Adding the chalkboard paint to them makes them cute and easy to keep organized once they are labeled. Find the tutorial HERE.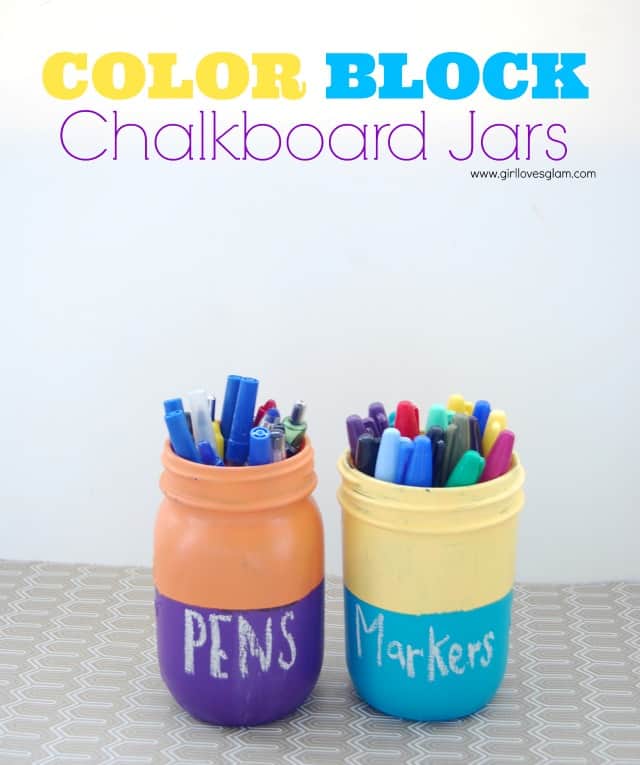 7. Multi USB Charger– I can't believe I didn't know these existed until about a month ago. How could I even survive without one before? Almost everything I own can be plugged in or charged with a USB port. This is the best to have in any room in the house.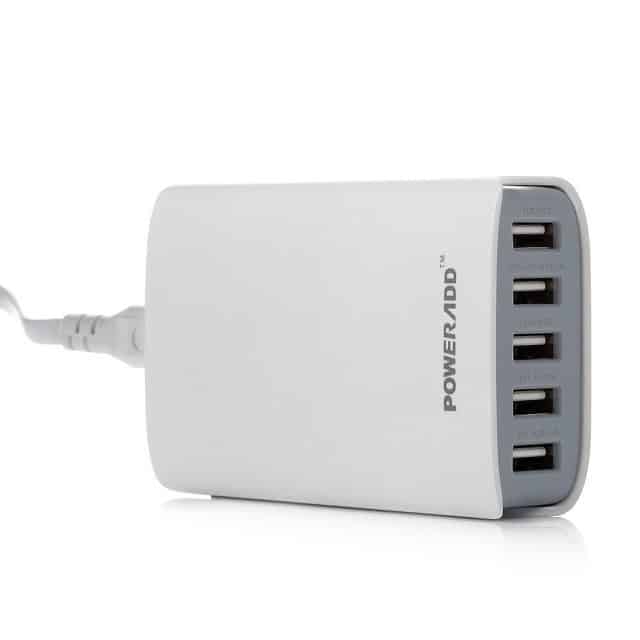 8. Organization Board Family Command Center– I could not functional without this. This is how I know what is going on, what we are eating, and how I can make sure my house stays clean. It is a total life saver! You can find the tutorial HERE.
8 (again). Organization Board– This was the original organization board that I made in 2012. The second one I made pretty much has everything from the first one, but this one still gets pinned like crazy, so people must still like this tutorial as well. You can find it HERE.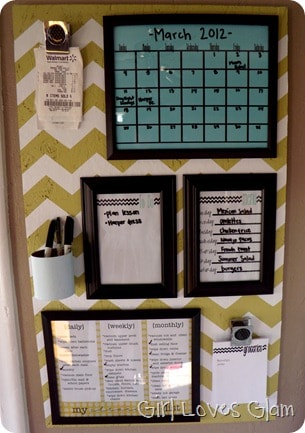 9. Cleaning and Organization Lists– These printables were made for my organization board, but they could be used hung up on your fridge, in a binder, or a magnet board as well. They really do help me keep my sanity. Find them HERE.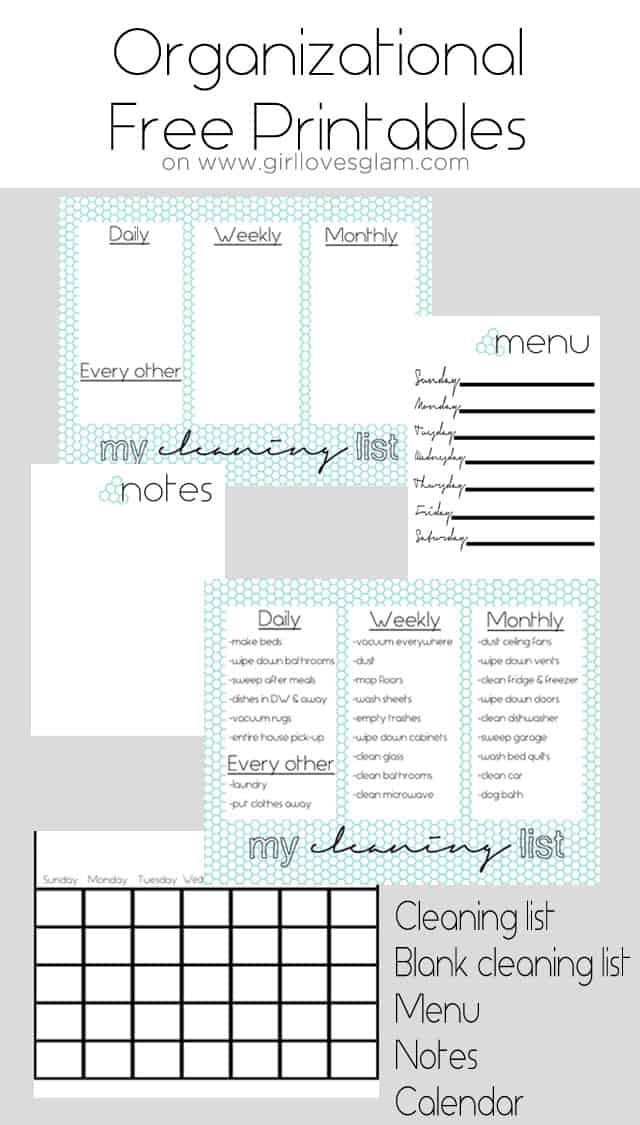 9 (again). Cleaning Chart– This cleaning chart was for my first organization board. It is still one that could be very useful as well! Find it HERE.
10. Meal planning– If I meal plan for my week, I am able to save money and know exactly what I am making all week long. I don't have to worry about coming up with something last minute and my entire family knows exactly what we are going to eat. It keeps me accountable too! It helps keep my life organized. You can see what I do to meal plan in my post HERE.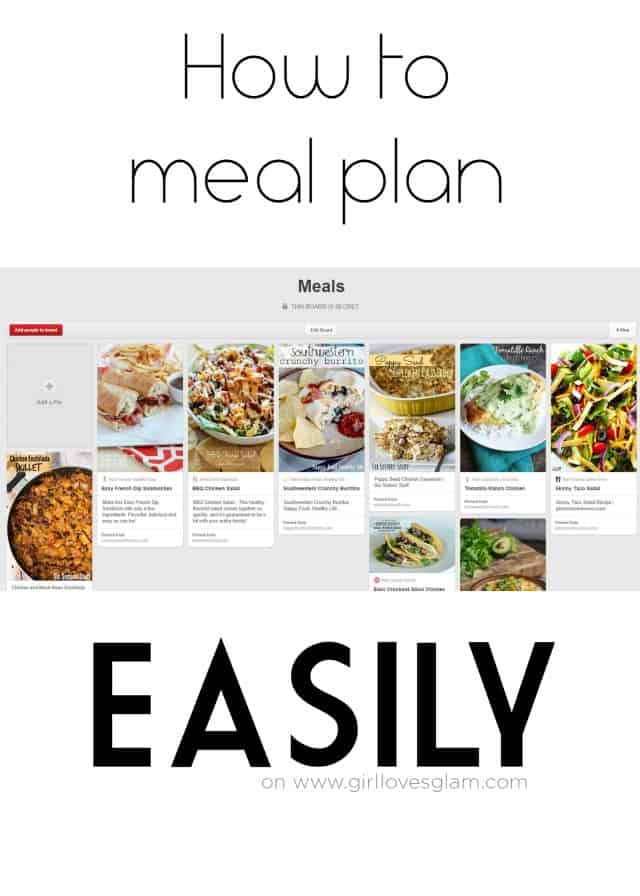 11. Kitchen wrap organizer– This is such a smart use of space! I love using areas that don't already get much use, like the space right below a shelf. These shelves are a major game changer in a small kitchen!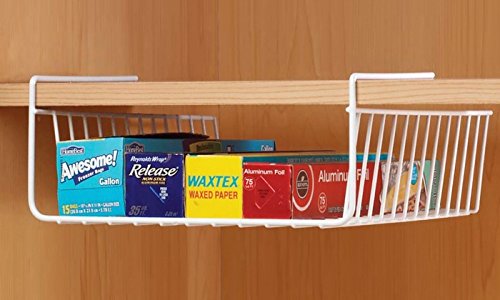 12. Kitchen Organizer– This helps keep my pantry nice and organized. I put my cookie sheets, pizza pan, and cutting boards on it. It works great!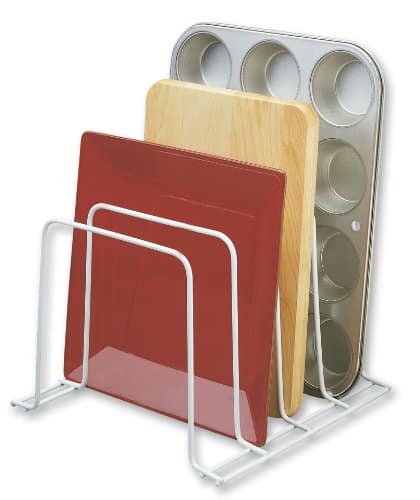 13. Medicine Organization– Another pretty old post. I organized all of my medicine in different bags so that they were much easier to find specific medications. I still use this method today and love it. Find my post about it HERE.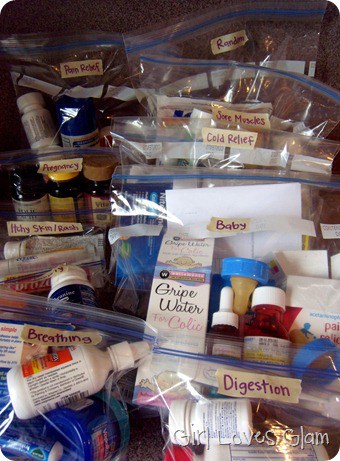 14. Plastic Bag Storage– I know there are a lot of different products specifically designed for storing your plastic grocery bags, but my favorite way of storing them is using a plastic baby wipe container. Even without a kid in diapers, baby wipes seem to be a staple at our house with the amount of sticky fingers, faces, and surfaces I wipe off. This is a great way to reuse that container. I love it because they can just dispense out of the top, just like the baby wipes, or you can just open the top and take a bag out. It isn't so big and bulky as many of the bag dispensers out there either.
15. Bag Organizer used to organize wrapping paper– I know I just got done dogging on bag dispensers, but I actually use them for something else entirely! I love using them to organize my wrapping paper. I actually don't have any room to put my wrapping paper inside, so I store it out in my garage. This would totally work in a closet as well though. I just put my wrapping paper in a bag organizer much like THIS one and I hang it up! I have one that is just for Christmas wrapping paper, one for birthday and wedding paper, and another one that has wrapping paper that would work for any occasion. They work perfectly! While we are on the subject of wrapping paper, something that I learned a few years ago helps keep my wrapping paper nice and neat is that you can take old wrapping paper rolls, toilet paper rolls, or paper towel rolls and cut them into smaller sections and cut a slit in the side and put it around the rolls to make it so they don't come unrolled. it is a great trick!
16. Laundry Organization Center– The house I am living in right now is the first one to have a laundry room that you can close the door and forget about seeing the mess, but I still use my laundry organization center I made for my old house. It is a great way to have storage for your laundry things and a spot to hang up your laundry. We air dry tons of our laundry and it used to be all over the house while it was drying out, but now it can all hang there while it dries. It stays nice and neat too! You can find the tutorial for this, HERE.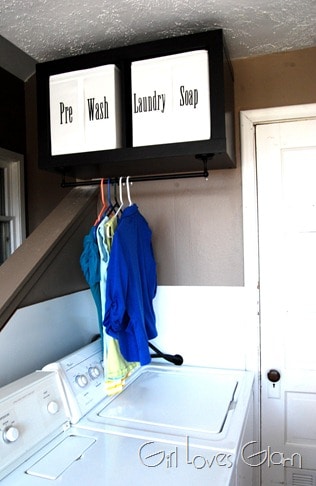 17. Command Hooks– If there was an addiction recovery program for Command products, I would need to be the first to sign up. I use ALL of their products. I have never been disappointed in their products. I love the Command hooks because they can be put in many places. I have used them in entry ways when I need spots to hang up jackets, I put them in my closets to hang up extra coats and jackets that aren't for the current season we are in. I also have some on my pantry door to hang up my aprons and broom. I use them to hang up my Christmas stockings, my bathroom robe, my hand towels in bathrooms… I could go on and on. Bottom line, they are lifesavers and help keep things nice and organized, no matter what the situation is.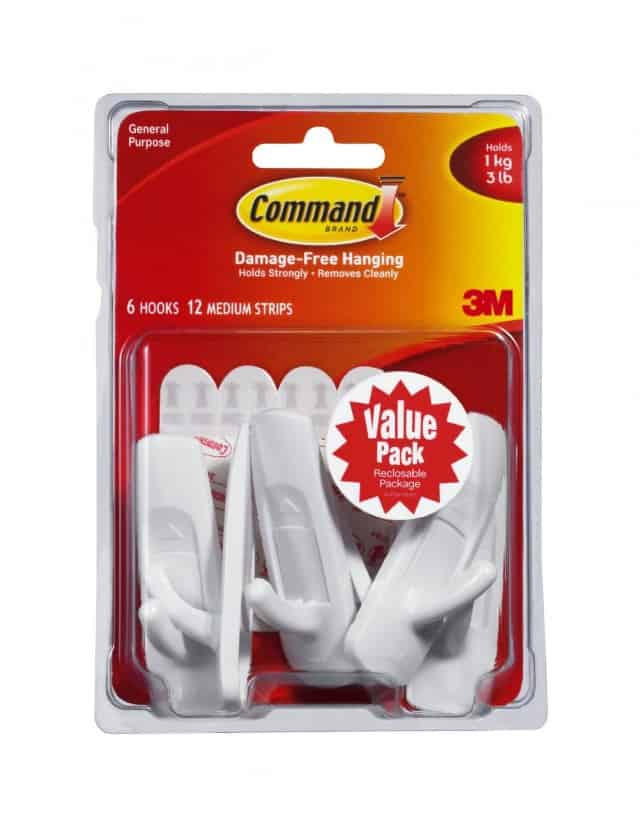 18. Kids' Art Organization Display– I was really tired of finding pictures and coloring book pages scattered all over the house. It made them much less sentimental when I was constantly having to pick them up off of the ground. I came up with a pretty simple solution for the clutter and it lets my daughter show off her artwork a little more. Yes, there won't be enough clips for every piece of artwork, but it is a small solution. Find the tutorial for this HERE.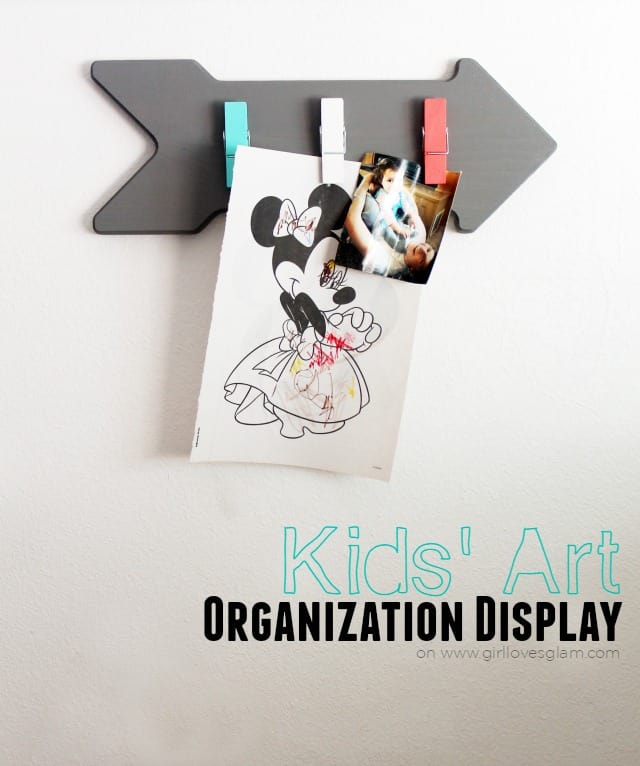 19. Acrylic Cosmetic Organizers– I have these in my bathroom and it instantly makes all of my cosmetics look so incredibly chic and organized. I love that you can see exactly what is in them so you aren't digging around looking for what you need. These would be great in a bathroom, a closet to organize jewelry, or even an office. You can find this one HERE.
20. Closet Organization– There is obviously a lot that goes into organizing a closet, such as storage containers, shelving, etc. This post tells you all that you need to know to get your closets looking ship shape! You can find the post HERE.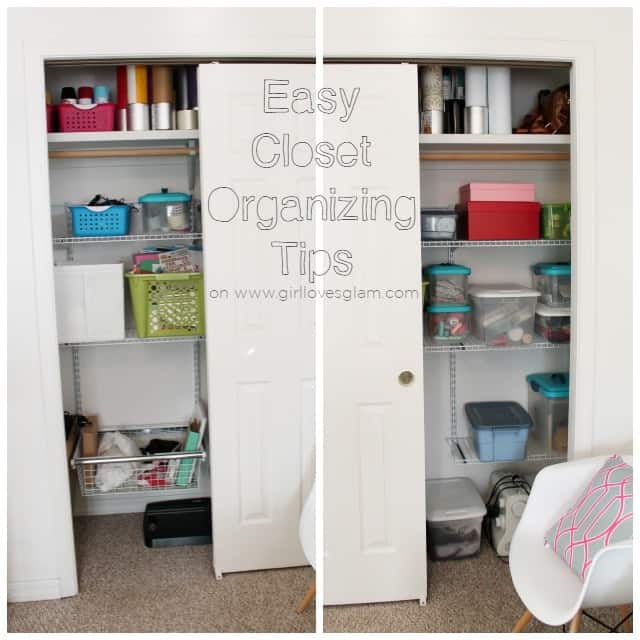 I hope these tips and hacks can help you have a more organized home and life! What space do you need to organize the most?