I did it! I finished Whole30 and can say that I survived during one of the hardest times for me to stay on track, breastfeeding! I don't think there is a time in my life that I have craved more carbs and sugar than right after having my baby. My body thought it needed all of that in order to produce milk, but thankfully I was able to survive Whole30 without all of that junk. My milk production was definitely my number one topic of questions when I would say anything about doing Whole30, so I decided to dedicate an entire post to those frequently asked questions and hopefully they will help you decide if Whole30 is right for you while you are breastfeeding!
I don't be an expert of Whole30, breastfeeding, or babies. These are just answers to questions that are based off of my experience alone. Make sure you consult with your doctor about any type of diet you are going to do before starting it and remember that my tips are 100% based on my own experience and may not be right for you.
Does Whole30 make your milk production go down?
My milk production didn't go down significantly while I was doing Whole30, but there would definitely be times that it would start to go up or down. I think this is pretty normal for breastfeeding in general. I had done some research before my baby was born and decided to invest in fennel seed essential oil to help with my milk production. Whenever I feel like my milk production is struggling, I use 1-2 drops a day for 1-2 days and my milk production has always gone back up.
I think the main thing you have to remember while doing Whole30 while you are breastfeeding, is to make sure you are eating throughout the day. Snacking is really frowned upon during Whole30, but that rule doesn't apply for breastfeeding mothers. It is important that you are snacking throughout the day!
Will Whole30 hurt my baby?
I decided to do Whole30 because I wanted to be the healthiest version of myself and give my baby the best nutrition she could have. I'm not going to sugarcoat things and tell you that Whole30 was amazing for my baby. It wasn't. It was SO hard! Her tummy wasn't used to the amount of vegetables and fruit that I was eating. She would get pretty gassy/fussy and got several diaper rashes during the first 12 days. After that, things settled down and her body was more used to these healthier foods I was giving her.
How do you overcome the intense cravings?
Honestly, the cravings were SO intense! I only was able to pump and feed with my other daughter for about 3 weeks and I don't remember having the cravings that I have had this time around. Maybe my hormones were all over the place as well, but the cravings were pretty intense. I think the only thing that got me through the cravings was the thought that I didn't work so hard to come that far, just to only make it that far. I was determined to finish Whole30. My number one recommendation would be to have a cheerleader or an accountability person. I couldn't have survived Whole30 without Dave doing it with me!
Were you able to lose weight, even though you eat more while breastfeeding?
Yes! I was so excited with the results I got during the 30 days of Whole30. I lost 9 lbs, 4.5% body fat, and 7 inches (4 of which were around my stomach). It was the perfect way of kicking off my weight loss. Ever since finishing, I eat a paleo diet mostly, with some cheat meals sprinkled in with it. I am so glad that I am taking my nutrition so much more seriously this time around.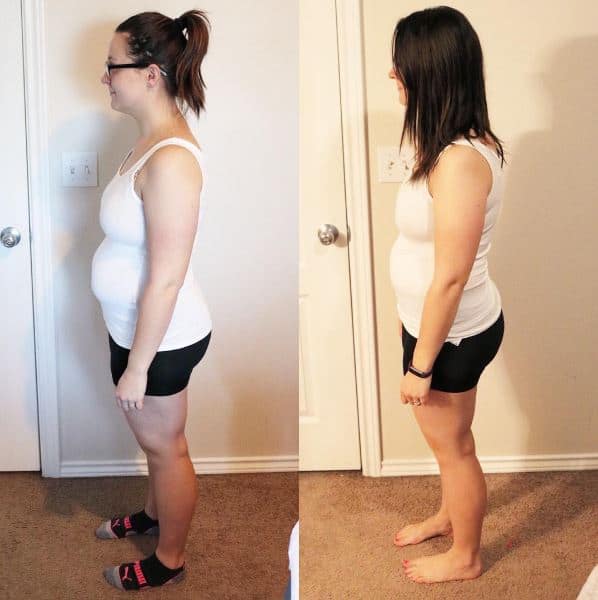 How did you make sure you didn't lose your milk supply?
So this question is similar to the first one about milk supply, but besides the fennel seed essential oil, the main thing I did was to make sure I stayed on top of feedings and pumping. Personally, I choose to pump and feed with bottles exclusively. So for me, I just needed to make sure I kept pumping as close to every 3 hours as I could, to keep my milk supply up and have a little to store that I could fall back on if we needed it when my milk supply would spike down a little.
If you are breastfeeding exclusively, I would recommend trying to pump a little here and there to try to keep your milk supply growing more. The main thing is just listening to your body! If you don't feel like you can pump, don't pump!
What kind of snacks do you eat?
Again, it is kind of frowned upon to snack much with a typical Whole30, but that rule doesn't apply at all if you are breastfeeding. I always, ALWAYS kept a couple Larabars in my purse in case of emergency situations where I needed a snack NOW. Larabars are great because they can help relieve the craving for sweets because they mimic the taste of some of my favorite sweets! I also would eat olives because they had more calories in them and I knew they would help my milk production. I would also buy the travel packs of carrots and celery and grab one of those when I would be headed out the door and I knew I would need a snack. You could prepare ahead of time and put carrots and celery in sandwich bags, but with a newborn, that never was going to happen for me! Another item that is kind of frowned upon in the Whole30 world would be smoothies, but I would have smoothies made with 100% pineapple juice or coconut water, frozen berries, and spinach. I didn't feel guilty having it because it wasn't something I had as a dessert everyday, but was a great thing to whip up in my blender when I was hungry and couldn't handle the thoughts of eating anymore eggs or avocados.
I hope that these answers to frequently asked questions help you decide if doing Whole30 while breastfeeding is right for you! If you have any other questions, please feel free to ask them in the comments!