Photography by: Stayc Smart Photography. This post contains affiliate links.
I have a confession to make. I love black. As much as I love color, I am a true black loving girl. When I was in beauty school, the dress code was all black all of the time. I would hear girls complain about having to wear black everyday, but I didn't mind at all. I felt like I was totally in my element. When I was put in the honor program, I got to wear black and white. I love black and white together almost as much as I love black by itself. What I am getting to is that I have always been a fan of black and no matter what time of year it is, I will be wearing black! I think there are definitely appropriate and inappropriate ways to wear black in different seasons. I want to teach you how to wear black in the spring.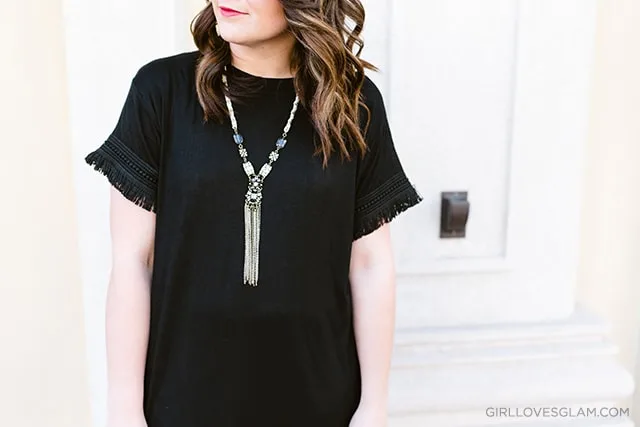 The first thing you need to decide is if the black that you are wearing is going to be the focal point of your outfit. Black can easily be the focal point or it can be a perfect way to accessorize so that it isn't competing with your focal point. If you are wanting black to be the focal point, look for clothing that has some sort of detail to it. Black pants with moto details, a black dress with lace or beading, or even a shirt with fringe on it.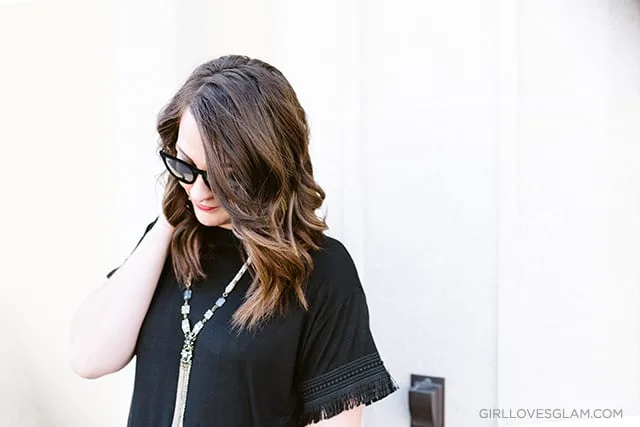 Black doesn't have to be boring if you look for items with other details on it. In the Spring, you want your black to still feel pretty light. This fringe tunic from Cents of Style is incredibly soft and lightweight, so it doesn't make my outfit look too heavy.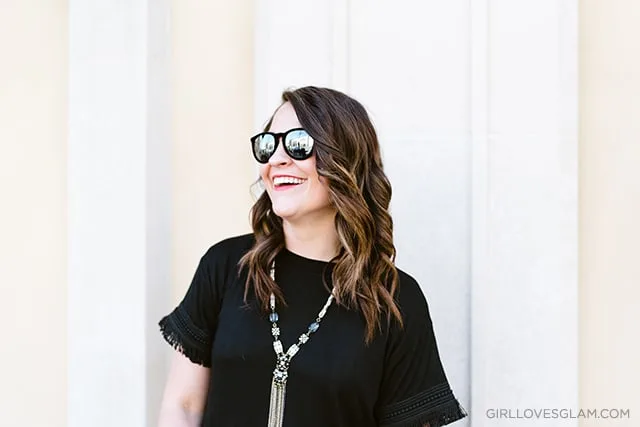 When it comes to accessories, you can add color if you are wanting that to be more of the focus of your outfit. Since I wanted to make the black top the main focus, I chose to go with a long silver necklace. I liked that the necklace had the same kind of fringe vibes to it. The same rules apply to jewelry in the spring as the layers that you wear. Don't do anything too heavy looking. The idea is that you are stripping off some of that heaviness from the winter, keep it that way when it comes to jewelry too!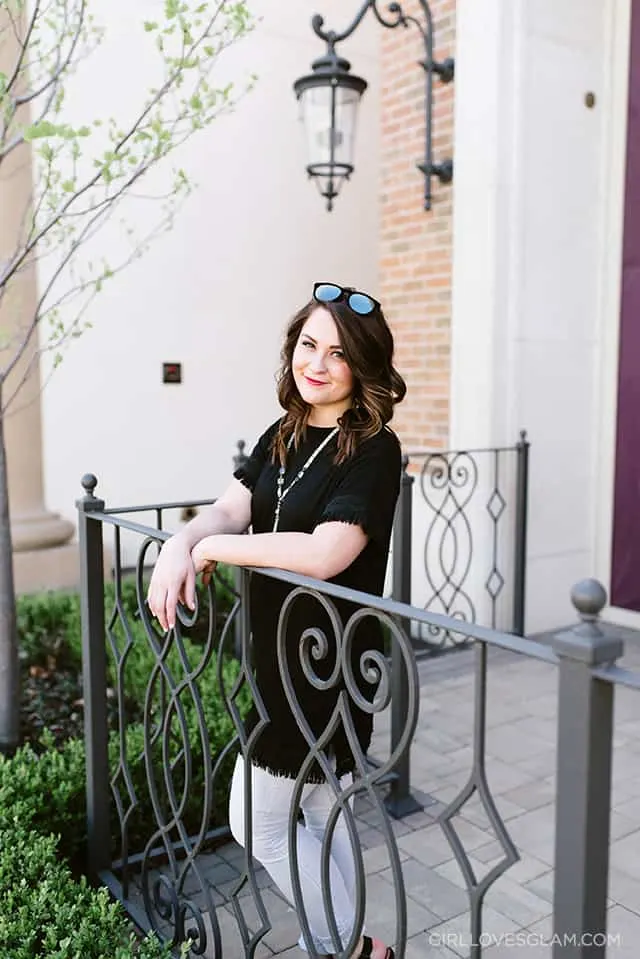 Sunglasses can instantly make an outfit feel like the sunshine is shining down on you. Make them more than just something that keeps the sun out of your eyes. Sunglasses can be an extension of your wardrobe, so own a few different pairs that work well with different styles of clothing that you wear. I am pretty obsessed with these velvet Rayban sunglasses I got last year. What is there not to love about VELVET Raybans?! I love that they are subtle but when more focus is put on them, they can have their own little moment.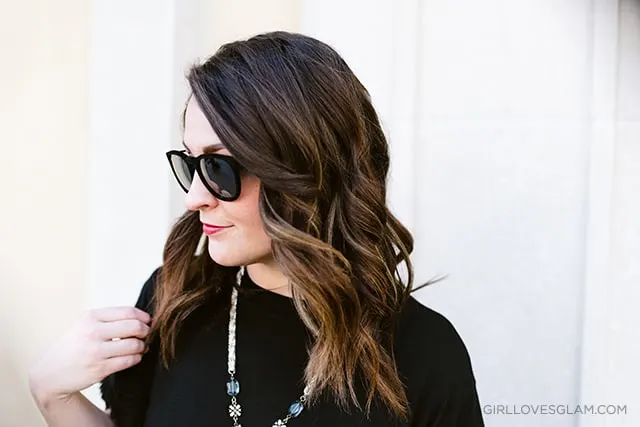 When choosing bottoms (or the top if you are wearing black pants), make sure they compliment black. It might sound obvious, but there are so many blue denims out there that just don't go well with black! Try to go with something that isn't black, but don't go too blue either. Gray or white is always a good option.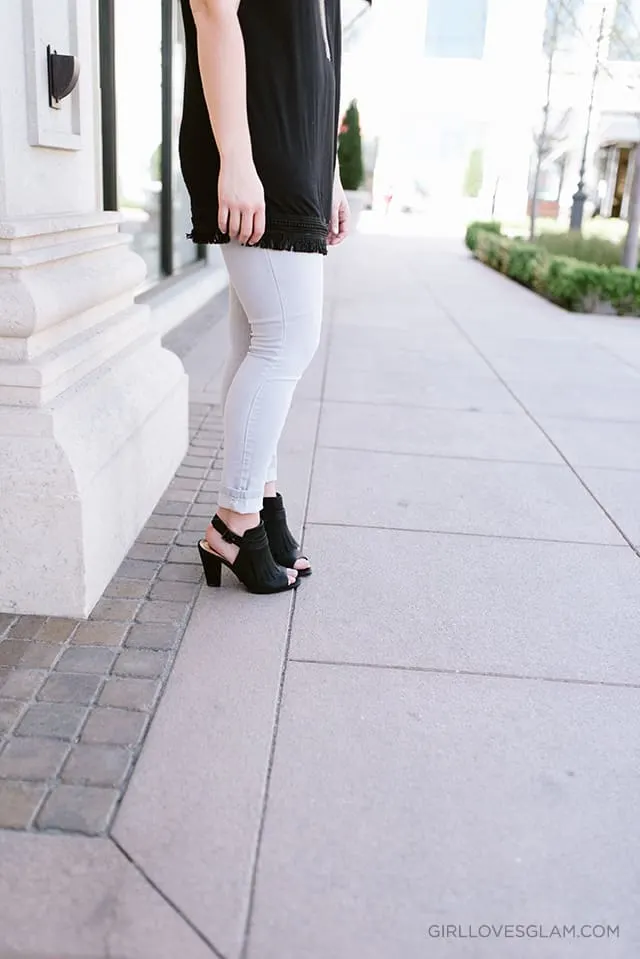 Let's talk about SHOES! Shoes is where it can be pretty easy to miss the mark when it comes to wearing black in the spring. If you have a lot of black in your outfit, shoes can give you the perfect opportunity to bring in some color. If you are wanting to have black shoes, make sure they feel appropriate to the season. Don't bring out your big black boots. I love the fringe shoes from Cents of Style that I wore with this outfit because they kind of feel like a bootie, but with the open toe, they feel totally appropriate for spring. The fringe adds detail so they don't feel boring.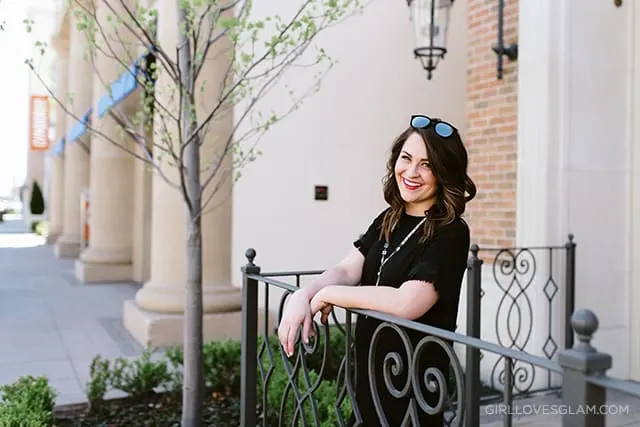 Now go out there and rock some black this spring!