On July 15, 2015 I experienced something that I thought was on my bucket list… Go to The Tonight Show starring Jimmy Fallon. I say that I thought it was on my bucket list, because typically when someone says that something is on their bucket list it means they only plan on doing it once in their lives and there is NO way I am only doing that once! Attending The Tonight Show was one of the coolest things I have ever done! I have had so many people ask me about how to get The Tonight Show tickets, what the experience is like, what attending the monologue rehearsal was like, what Jimmy Fallon himself is like, so I decided to put it all in one place for all of you!
If you are new around these parts, you may not be aware that I LOVE Jimmy Fallon. I am a married woman and I don't mean it like I would leave my husband for him type of love. I love his show, his sense of humor, and I have been a fan of his since is days on SNL. He isn't bad on the eyes either… I'm not going to lie! I just don't want anyone thinking I am some weirdo because I am sure there are plenty of those people out there! It has been really fun to watch his career skyrocket over the years. He is totally a household name now and I think that is really incredible!
So, jumping right in to the main question
UPDATE: The way that I got the tickets the first time has changed. I got tickets and went a second time in July 2016 and it was seriously just as incredible as the first time. The second time was with my husband and it was just a really fun experience to be able to share with him. You can read below about my first experience and get an idea about the ticketing process and at the bottom will be the updated ticketing info on how we scored our tickets this time around.
I was asked over and over again… How do you get tickets to The Tonight Show Starring Jimmy Fallon?
I am not going to lie to you and tell you that this was easy. It was actually pretty crazy and stressful! In order to get tickets to the show, you need to see what day the tickets are being released. The best way to do this is by following @FallonTonight on Twitter and subscribing to their tweets so that you get a notification each time they send out a tweet. You can turn this off again once the tickets have been released. The tickets are typically released the first week of the month and the tickets that are being released are for the following month. So, since I went in July, I had to get my tickets the first week of June. They were released on June 4th at 11am EST. The day totally varies though, so make sure to check and see before the first week of the month so that you don't miss out.
Once they announce when the tickets are being released, you will go to the link to where you get the tickets and you need to go there about 5 minutes before the tickets are released and start refreshing your browser. I went to the show with my best friend, Holly and between the two of us, we had 11 people on computers trying to get tickets for us. There are THOUSANDS of people trying to get tickets for a show that at the most will have 5 shows a week and only about 200 seats per show. The odds are NOT in your favor, but the more people you have trying for you, the better! Out of the 11 people trying, only one person was able to actually get through to get the tickets. Craziness! Everyone was sitting and refreshing until the tickets were released and once they are, your screen will change and tell you that you are in queue, waiting your turn to get tickets. Tickets are released in the order that people are in queue, but you have no idea where you are in that line. You don't need to refresh again once you are on this screen. Your screen will eventually refresh to either a screen where it allows you to choose the date that you want your tickets, or it will refresh and tell you that all of the tickets are gone.
My brother was the lucky one to have his browser refresh first and I acted like I was an 11 year old girl about to get NSYNC concert tickets or something. I was kind of freaking out. Kind of is a total stretch because there was literally no "kind of" about it. It was full on freak out! It didn't ask for tons of information when I was registering for the tickets. I think it was just my name, email address, the amount of tickets (you can only get up to 4 tickets), and maybe my address. I received a confirmation email and I was done with that part. We had sealed the deal on attending the show! I know that the ticketing process changed a little recently. It is recommended that you go on the 1iota website they link to and sign up for an account so that all of your information is already filled out for you before you request tickets. Once the tickets are released, you can be put on a wait list for the show and they contact you 2 weeks in advance if you have tickets. If you don't hear from them, you didn't get tickets. I am not positive that the first 200 people who request them and have tickets for sure have to wait that long, but people on the wait list would have to wait. I think they just like to be sure that people are going to be using the tickets that they are requesting. Tickets can't be sold or transferred, so I am sure it is just a way that they can make that even less of an issue.
Like I mentioned earlier, all 10 other people who were trying to get tickets for us didn't get them. So, I highly recommend having your friends help you out!
When it came to the actual day of the show, we had to be at Rockefeller center at 2:30. Don't quote me on this because if you happen to get tickets, read your instructions in case anything changes! The actual taping didn't happen until 5. We had to show our ticket confirmation on my phone and were let up to the second floor of the Rockefeller center at 3. Once we were up there, there was absolutely no photography, food, or drinks allowed. So if you are going to the show, make sure to eat before you go! On that floor, there are enormous screens that wrap around the entire room with The Tonight Show logos all over it. It is pretty surreal! It starts to set in that you are really about to go and experience this! You stand in a line in that room and then they start checking everyone in. Everyone from your party must be with you when you check in! You receive wristbands and tickets, go through security (they don't let you bring backpacks, but purses are okay), and then you sit in a waiting room. This waiting room was the one thing that I really wished I could have gotten a picture of. It is awesome! There are big ledges that look like they are shelves holding up giant canvases of different sizes, but they are actually holding up different sized screens and the photos change constantly. They are all photos from the show. There are big pillars in the room with huge screens on them that the photos change in too. It is fun to look around and get the giggles as you remember each of those moments on The Tonight Show. We were in the waiting room for quite a while, but honestly it wasn't bad at all! It was really fun to just soak up the experience. You can have your phone on, but you can't take any photos in this room. The cellular service was so bad though, I just turned my phone off at this point.
When it gets closer to the time of the show starting, they announce to everyone to make sure that their phones are turned off. They remind you of this about 15 times before you go into the studio. It is a BIG deal! They start calling people over to line up in the order of their tickets. On the back of each ticket, they write a letter or a number on it. They start with the alphabet and then work into the numbers, so letters are better to have than a number. We were letter O, so we were right in the middle of the pack of the people lining up in the alphabet. They bring your group over and guide you to the elevators where you ride up to the floor that the studio is on.
Once you are up there, they have you give your ticket to someone as you walk into the studio. It was such a surreal moment to see the sign "Studio 6B" as we walked into the studio. This was FOR REAL! It was happening! As we walked in, there was a guy who pointed to which aisle we needed to walk down and we saw another guy who we had chatted with in the waiting room and he showed us our seats. They seat you totally random, but we lucked out big time! We were on the 3rd row! Our row only had 2 seats on them, so the fact that we only had 2 of us helped us to get those amazing seats! Our new friend who we had talked to in the waiting room totally hooked us up too. We sat down and were kind of freaking out again. Just looking at the entire set was crazy! It is much smaller than I had pictured it. Once we got a little more composure, I looked for the clover on the floor. That is where Jimmy stands to give his monologue. I looked for it out by the blue curtain and didn't see it. My eyes slowly moved closer and closer to where we were sitting and I saw it! The clover was only about 6 feet away from us! I grabbed Holly's hand and pointed it out to her and we had another little freak out/excited moment! Right about then, Seth Herzog came in. He is a comedian who comes in and gets the crowd warmed up. He gets to know the audience a little bit and was a great way to start the show. He brought The Roots out and they got us pumped up too! I have loved The Roots for a long time and it was so fun to see them. Shortly after they came out, the show started! Steve Higgins came out and introduced Jimmy and it all went from there!
It was crazy to see how many people are involved during the show. There are cameras everywhere, hair and makeup people, cue card holders, etc. SO many people! The guests for the show were Amy Schumer and Ian McKellen, with Alan Jackson as the musical guest. They all did a great job! While the crew was getting everything set up for Alan Jackson, Jimmy came and interacted a lot more with the crowd. He let audience members ask him questions. The questions they asked were pretty lame, so if you go on the show and have the opportunity to ask him a question, don't blow it! Actually ask him a question! Don't use that opportunity to tell him about your mom's neutered cat named Jimmy Fallon. (Yes, that actually happened) Jimmy was really nice about all of these random comments, but I think other people in the audience were a little annoyed.
After the show ends, Jimmy runs up the aisle and gives people high fives. Holly caught the whole high five and I caught his pinky. I will take it! I always assumed he just ran up this one aisle because that's all you see on TV, but he actually goes back down the other aisle and then thanks everyone for coming and leaves. They send Seth Herzog back out to keep everyone entertained while they excuse row by row to leave the studio.
As we left, we both mentioned that we would be really sad at this point, but knowing we had monologue rehearsal tickets the next day made us excited for another day of Tonight Show fun!
Monologue rehersal tickets aren't as crazy to snag up. They released these tickets a few days after they had released their regular show tickets. I had kept my @FallonTonight tweet notifications on and I saw right when they mentioned that the tickets were available and tried for the tickets then. You could probably go on later than that and still be able to grab a ticket. There were several days that said they had them available still. I went on there and was able to get our names on a waiting list. We received an email about a week before our trip, letting us know that we had tickets for the monologue rehearsal! The main thing to remember is that you can't go to the monologue rehearsal on the same day that you are attending the actual taping of The Tonight Show. If you go and try to get standby tickets for the actual taping, this would interfere with monologue rehearsal scheduling as well because you would be checking in with your standby ticket at the time of the monologue.
For the monologue, we checked in at the same place at Rockefeller at 2:45. We had to go through the same type of check in process that we did for the show. We got tickets, wristbands, and had to go through security again. We sat in the same waiting area as we had for the actual taping the day before as well. They called us up and had us go up the elevators again and when we got up there, one of the writers of the monologue was waiting for us up there. She gave us a little background information about how they go about writing the monologue and told us all about the importance of a monologue rehearsal. It was really interesting to hear about all of the work that goes into such a short part of the show! The Tonight Show monologue is a truly historical part in television and I appreciate the hard work that they put into the monologue in order to maintain the legitimacy of that.
The crowd for the monologue rehearsal is about 1/4 the size of the taping of the show. They took us into the studio and Jimmy was sitting at his desk with two other men who I assume were writers or producers of the show. There was a big group of writers sitting in the audience who were ready to take notes the entire time in case anything about the monologue needed to be changed. Jimmy came and welcomed us to the monologue. He went ahead and did the monologue after that. It was really fun to watch this because I felt like I got this special behind the scenes look at the show. Jimmy does his monologue rehearsal in normal clothes. He isn't dressed up in a suit and things are much more casual. After that, he practiced going over his hashtags for the night as well. Because he had two things he needed to go over, he didn't have time to visit with the audience as much, but I appreciated being able to witness it all!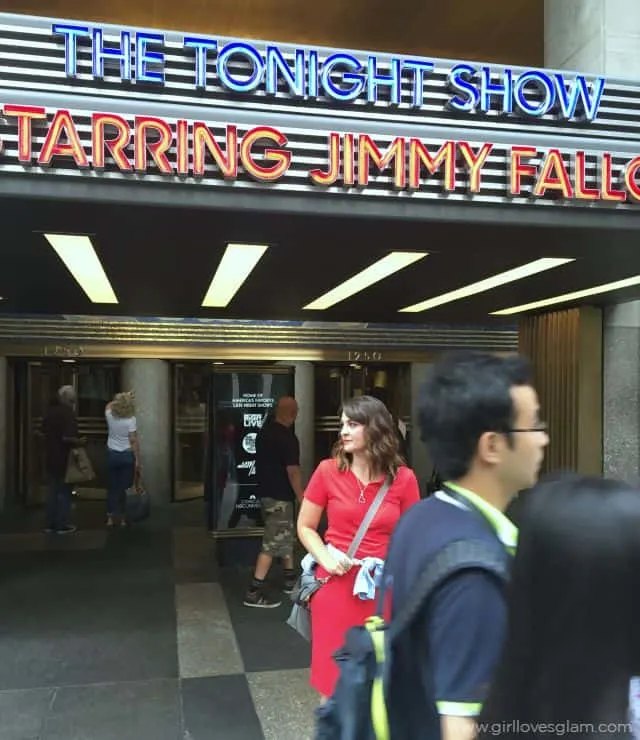 I have had a lot of people ask me which experience was better, the taping of the show or the monologue rehearsal. Honestly, I don't think I can really answer that! They are totally different experiences! My answer is always "I recommend trying for both!". The taping of the show was really exciting, I got to see celebrities Jimmy interviewed, and got a longer experience, but I loved the more intimate setting and the opportunity to watch The Tonight Show team work behind the scenes for the monologue. Try getting tickets for both experiences if you can!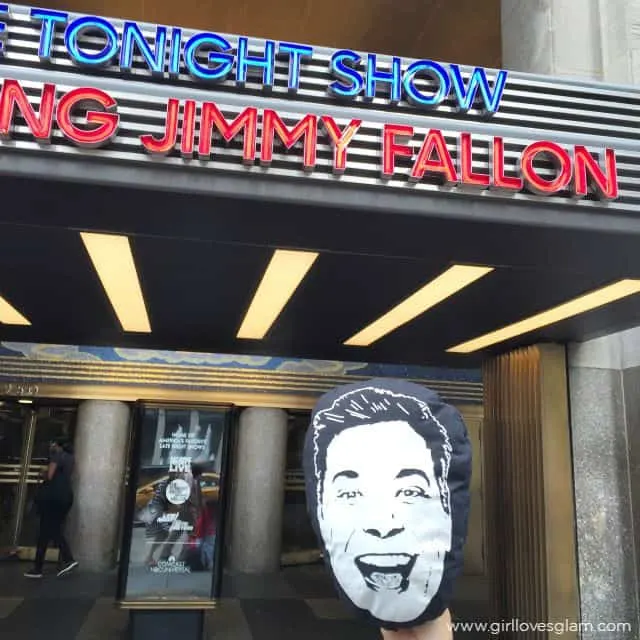 Another question I have been asked a lot is about Plush Jimmy. If you don't know who Plush Jimmy is, he is our version of "Flat Stanley". Plush Jimmy has his own Instagram, Twitter, and Facebook accounts so you can check him out in those places. A lot of people have asked if I took Plush Jimmy with me to the show. The answer is yes, BUT I didn't take him out of my purse! I was too afraid of getting kicked out to take him out. I didn't want to be "that girl" to take it out of my purse during the show. I didn't want to take it out to create any sort of distractions. I really could have taken it out when Jimmy came and welcomed us to the monologue but I forgot! We were way too excited over the fact that he blew Holly a kiss and waved at me all crazy… exactly the way I was waving. Ha! Apparently I wave like an idiot when I am around celebrities I adore. So no, Jimmy didn't get to see Plush Jimmy. I haven't lost hope that maybe he will see him on social media someday and appreciate the account as a funny thing and not think we are total weirdos/idiots!
So the moral of this entire post? Whatever you do, if you are going to NYC you have GOT to try to get tickets to see Jimmy Fallon. That could be for the taping of the show or the monologue. Either way, you will have an incredible experience and leave Rockefeller center with a whole new respect for Jimmy and the entire team who puts on The Tonight Show. You will probably find yourself with something from the NBC store too because after experiencing something like that, you can't pass up the opportunity to rock a shirt with that The Tonight Show Starring Jimmy Fallon logo on it!
UPDATED TICKETING INFO:
To get tickets now, it is very similar to how it was before for the monologue rehearsal. You will be getting the tickets from 1iota. The big thing is to make sure that you go ahead of time and make your 1iota account and make your profile as complete as you can. Upload a photo, fill out all of the info you can so that you can have your profile percentage high. I don't know how much it plays into who they choose for tickets but on the 1iota page it says that it can play a major part for some people.
Another thing to keep in mind is that you can only request tickets to three different events for each 1iota account. So for every person that will be going to the show, have them create their own 1iota account so they can request tickets as well. We only had two of us going to the show, but we had 6 tickets that we were going for because we could each request three different events.
We made a Google Sheet that I put our 1iota usernames and passwords in and then put the dates that we were trying to get tickets for. On the day that the tickets opened up, I logged in as well as my husband and then I had 4 other friends who logged in as us to try for tickets too. We all started refreshing our screens a few minutes before the tickets opened and then joined the waitlist as soon as they opened. When you click on that, it will ask you why you want to go to The Tonight Show. Just give a simple answer so that it doesn't take up so much time.
The bummer is that the way that it is set up now, you won't know if you got tickets or not until about two weeks before the show. It is a bummer to wait but you will get an email when you find out if you got your tickets or not. It stinks to have to wait but it is SO worth the wait if you get tickets.
Good luck! Please leave a comment if you have any questions and I will answer them on here.
So, when do you plan on checking off your bucket list to see The Tonight Show?