This post is sponsored by HP Sprout. All thoughts and opinions are my own. My mom used to be a teacher's aid in a developmental preschool class. I would substitute teach in the class every once and a while and I was always in awe of just how much children that age can learn and how eager they are to learn more! Now that I have a preschool aged child of my own, I am even more in awe because I am able to see her learn and grow each and every day. One thing she absolutely loves to try is to use the computer. With both of her parents working on the computer a lot, she is bound to have some interest in technology too! I think it is really important to let your kids discover the computer at an early age. It helps develop fine motor skills, they learn to problem solve, and they will be able to adjust to new technology as it is introduced throughout their lives. Thankfully, I have a husband who is a certified teacher and currently is a technology coach for teachers. He has really helped me teach our daughter computer skills that are just right for her age. You can teach computer skills to preschoolers too!
The perfect computer to help teach her these skills has been the HP Sprout. I love that it is a touch screen computer, but has the capabilities to work with a mouse and keyboard too. It even has a projector to put images down on the table for some activities. It is perfect because she can use the touch screen for different games that would maybe be a little too advanced for her motor skills when it comes to using the mouse, but the games might be just right for her mentality. When it comes to using the mouse, I love the trick that my husband uses with our daughter.
Since she is still trying to remember the concept of left and right, it is hard to teach her how to use a mouse when you tell her to click with the left clicker. My husband put a little sticker on the left clicker of the mouse so that she remembers where to click when she is using it. This has helped her a lot! I try to find games that she can play that makes her use the mouse as well as some that she can use the keyboard with so that she gets practice with them.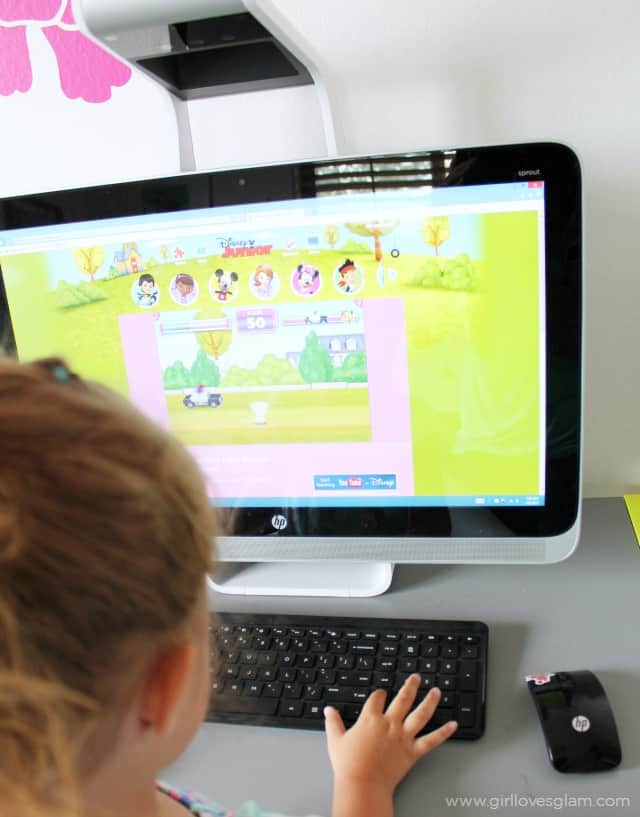 There are a lot of computer games out there that I am sure are great, but they cost a pretty penny! We have been able to find some really great preschool level games online that are totally free and are educational. The great thing is that they also have a great mix between using a keyboard, a mouse, and the touch screen computer. We love the PBS Kids and Disney Junior websites for a great variety of educational games that are free. The best part is that they feature some of the preschooler's favorite characters too! I have been really impressed with just how educational they are too. They have matching games, games to help kids learn how to sort shapes and colors, mazes, and many more! I have really loved watching my daughter learn how to play each of the games. She gets better at them each time!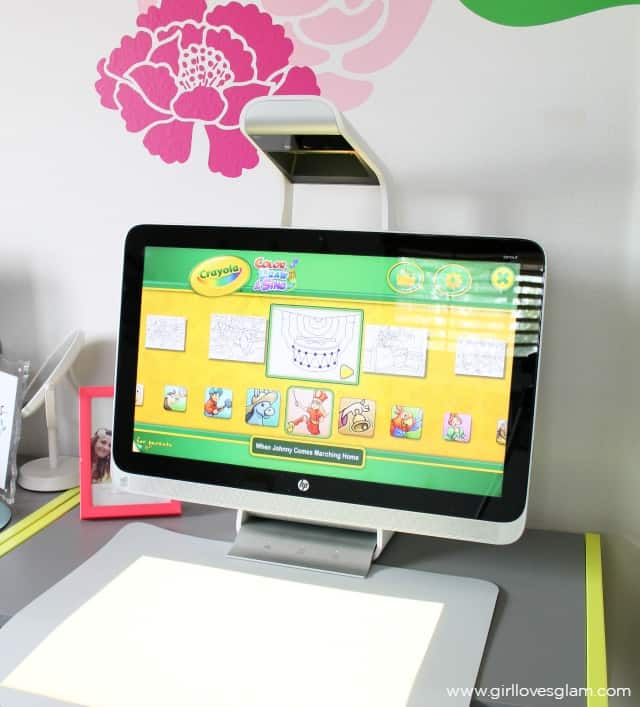 The Crayola Color, Draw, and Sing game is something that makes the HP Sprout extra special for preschool aged kids. This game is amazing! It uses the projector to project a coloring page onto the table and the child can color on there while it shows up on the screen. They can color on the screen as well. It sings different songs and it encourages children to use more than one color because as they do, more instruments are in use! As you can tell, my daughter loves pink and this game has been really good for her to learn to use more than just pink in her pictures.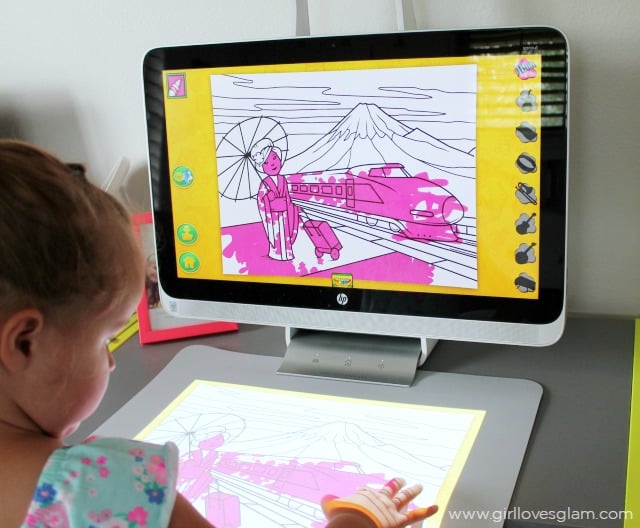 One of the great things about letting your children play educational games on the computer at an early age is that they are also learning computer basics while they are doing it. My daughter now knows how to print things off. That is a basic computer skill that she will be able to build upon throughout her life. We have absolutely loved teaching our daughter how to use the computer while using the HP Sprout! How do you teach your children computer skills?