This shop is part of a social shopper marketing insight campaign with Pollinate Media Group™ and Rubbermaid and Sharpie but all my opinions are my own. #pmedia #RubbermaidSharpie http://cmp.ly/3/8vNxcO
In my world, there are three good things about the Super Bowl.
1. The food.
2. The commercials.
3. Professional football season is finally over.
Can I get an amen?! Don't get me wrong, I love a good football game. I just love high school and college football games. I haven't been one for NFL games… unless it is the Super Bowl.
Just when the holidays are over and you start making resolutions, Super Bowl Sunday comes around and gives us the ultimate cheat meal. Can you tell that my Super Bowl Sunday revolves around the food?
Well, when we throw a Super Bowl party, everyone brings different snacks to munch on, thinking people will scarf it all down. The problem is that EVERYONE does this, so there is a lot of food leftover. If you are hosting a Super Bowl party? Why not buy some Rubbermaid food containers for your guests so they can take home an assortment of food that was at the party?
Awesome idea, right? Well it just got even better! What do kids do during the Super Bowl? I would say that most kids under the age of 8 aren't going to sit down and watch an entire football game. That leaves the moms in the crowd left to keep them entertained and out of the way of the TV. I decided that this year, I am going to do something extra special! I am going to have the kids use Sharpie markers to color on the Rubbermaid containers that their family will take leftovers home in!
Here is what you need for this project…
*Rubbermaid food containers
*Sharpie markers
*Table cloth
Make sure to get your Rubbermaid containers and Sharpie markers at Target! They have a mobile text line that will give you coupons for both of them! Text COUPONS to TARGET (you literally write in Target where the phone number would usually go). From January 25 through February 8, Target will have a coupon for $1 off of any Rubbermaid food storage and another one that is $1 off Sharpie 4 pack or larger. That is a great deal! How awesome is it that Target will text you their coupons now? I love technology!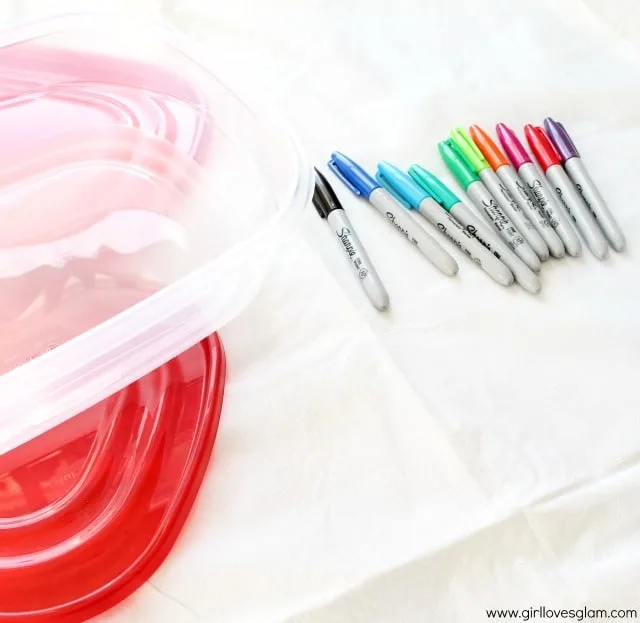 Lay out your table cloth to protect your table from the Sharpie markers and sit the kids up to the table with the Sharpies and the Rubbermaid containers. I put my daughter in a pajama shirt just to be sure that she didn't get permanent marker on her clothes.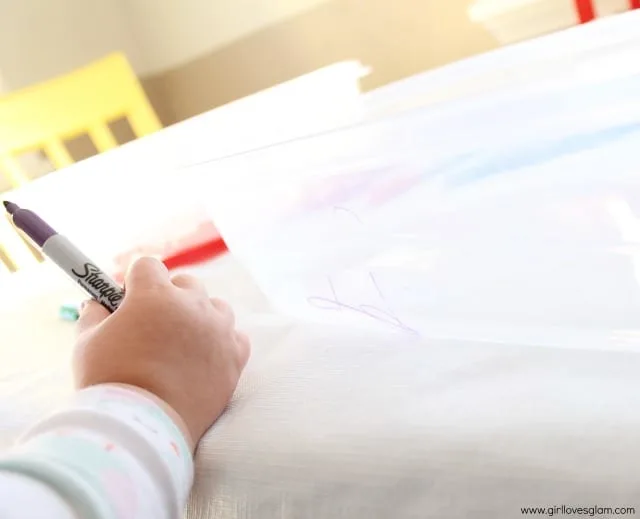 She was SO excited to be able to color with markers. I don't usually let her color with them, so this was a total treat for her. I think the kids on Super Bowl Sunday will feel the same way! They will be able to color with permanent markers!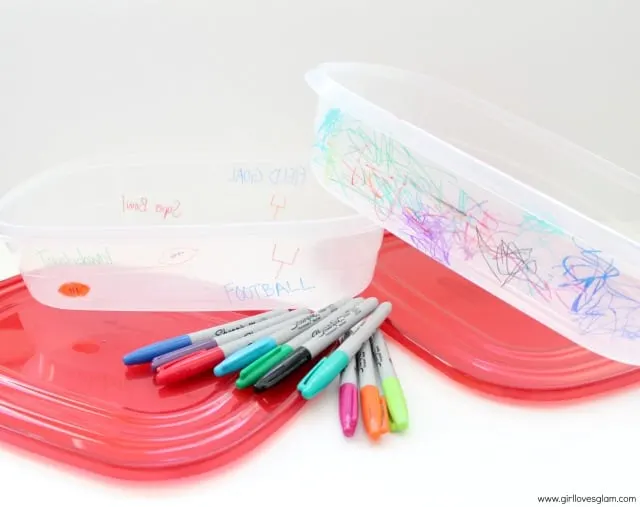 I decorated a Rubbermaid container with the Sharpie markers too while my daughter enjoyed scribbling all over the container, the table cloth, and her hands.
I think this idea will be a total hit with kids on Super Bowl Sunday and it is a piece of artwork that their parents can actually use!