This is a sponsored conversation written by me on behalf of St.Ives. The opinions and text are all mine.
Summertime is all about easy beauty rituals that can make you feel great, but not weighed down by the time commitment of getting ready for the day or the stress of your look staying the way it needs to look all day long with the summer heat. I put together a few of my summertime beauty secrets and I hope they help you too!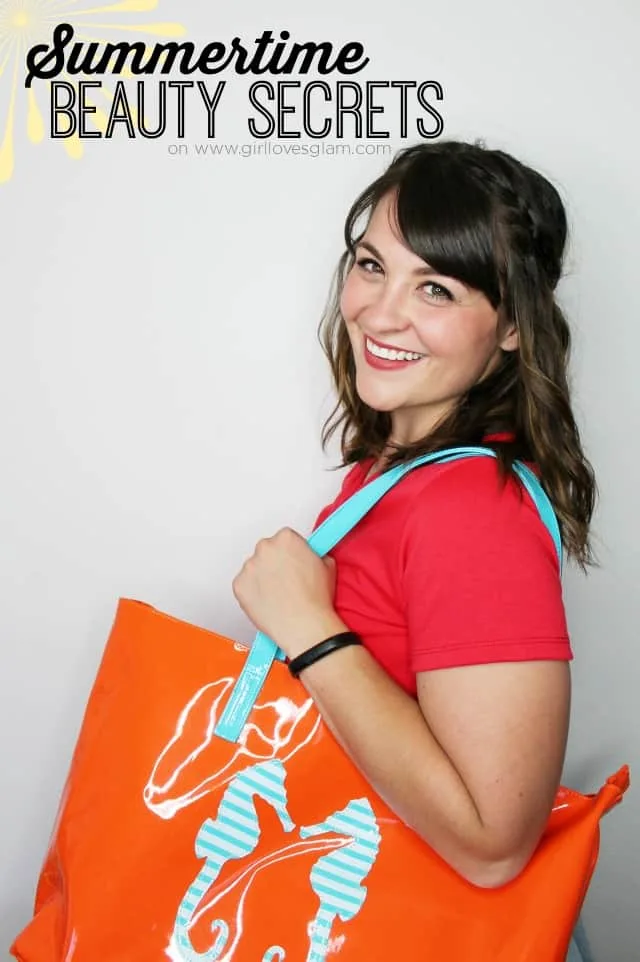 When it comes to my summertime beauty routine, I like to keep things simple and pretty easy going. I let my natural hair texture come out much more often. I don't even blow dry it! My first beauty secret is to embrace your natural hair texture! If it is curly, wavy, or straight… embrace it! Try to stay away from hot tools. It will heat up your house and chances are, whatever you do with the hot tool will end up being undone by sweat, swimming, or just the sweltering weather. I love to use sea salt spray in my hair to embrace my curly waves. If I need to add a little more to my hairstyle, I will add a braid or pull it up somehow.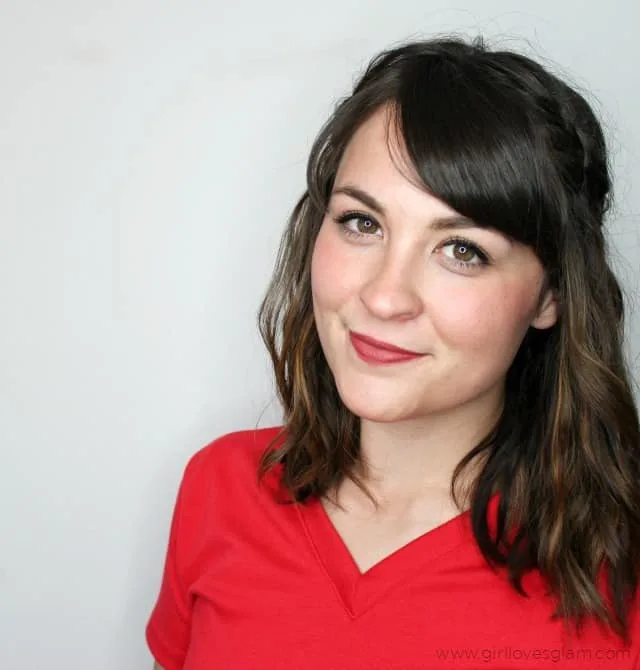 When it comes to makeup, dress up your face in a simplistic way. Often times, I just go for a light moisturizer with sunscreen in it and then use a tinted moisturizer on top of that. Add some bronzer and blush to add some color to my face. I fill in my eyebrows, put some liquid eyeliner on, and mascara. I top it all off with a lip color. I love wearing lipstick almost everywhere I go, but if I want a more casual look I will grab the lip gloss instead. If you are around a lot of water during the day or if you are in a very humid area, I recommend using waterproof eyeliner and mascara.
Don't over accessorize. Jewelry can really heat up your body and it isn't worth the hassle! I don't wear many accessories during the summer. If I want to wear something, I will go for small earrings, a dainty necklace, or a headband.
Drink tons of water! Your body always needs water, but the heat takes an extra toll on your body. All of that water makes your skin look amazing too!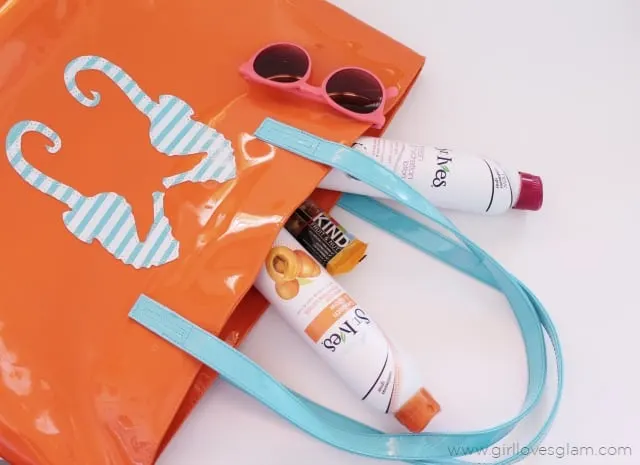 Keep your beach bag stocked with items you always seem to need. I like to keep a small snack on hand so that I am not so tempted to go for junk food! I also am sure to have sunglasses with me all of the time because I don't want to be squinting in the sun all of the time. When I was in middle school, I learned this lesson the hard way after I spent a weekend away and I didn't have sunglasses. When I came home, my face was tan but I had two white lines in between my eyebrows that didn't get tan at all because I had been squinting in the sun all of the time! I am totally aware of my squinting outside now! It is also important to keep lotion with you. With all of the swimming and outdoor activities that go on, your skin can really suffer from it! I love these St. Ives Spray Lotions! They are perfect for beach bags.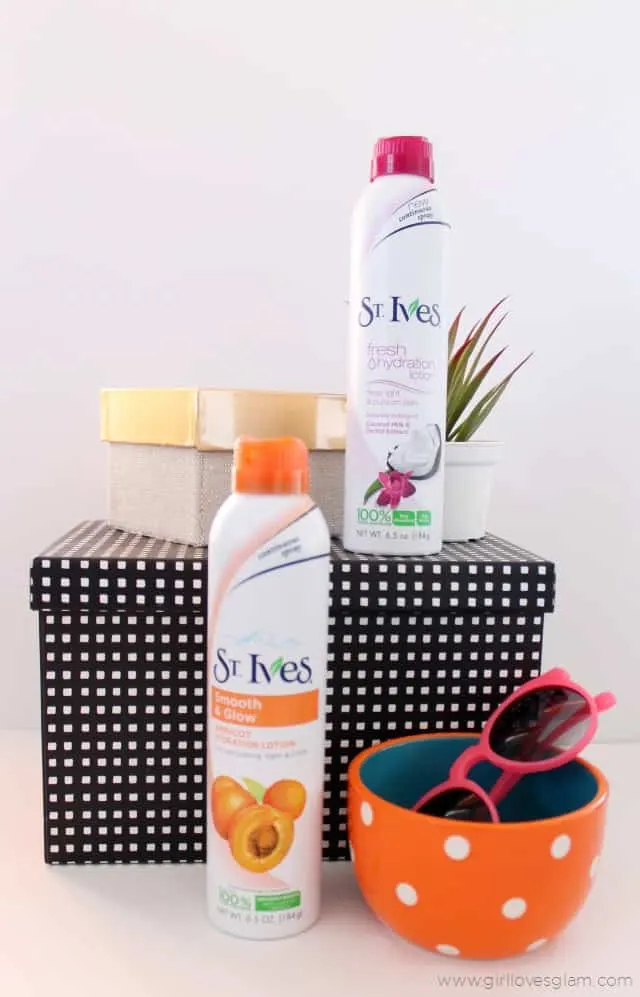 I have loved the St. Ives Naturally Indulgent Coconut Milk & Orchid Extract Fresh Hydration Lotion and the St. Ives Smooth & Glow Apricot Spray Lotion! I love how convenient they are to apply and that I don't have to worry about the lotion opening and squirting all over my stuff when I pack it in my beach bag. They come in different scents as well. I have loved the apricot scent!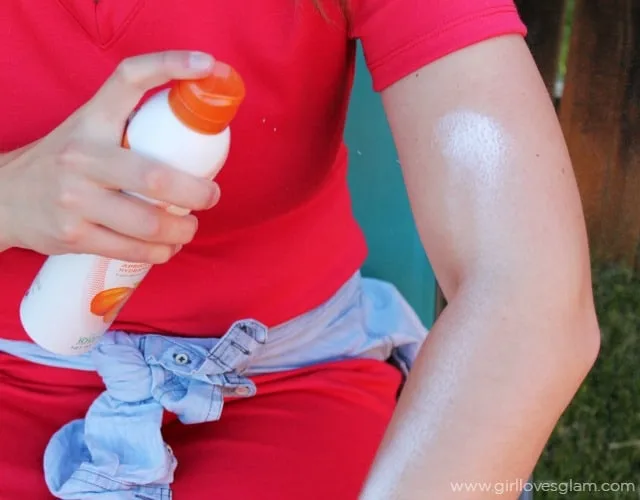 They are made with 100% natural moisturizers and it is really quickly absorbed into the skin, so you can get on with all of your summer activities!
My last beauty secret is to not stress too much over the small stuff. Just enjoy the summer fun happening around you. When you are having fun, people can see the joy on your face and the true beauty within can totally shine through, no matter how your hair or makeup looks!
This is a sponsored conversation written by me on behalf of St.Ives. The opinions and text are all mine.