This post is sponsored by Robert Jones Beauty Academy. I am being compensated through the academy and in no other way. All thoughts and opinions are 100% my own.
Words can't even describe how excited I am to share this news with you today! Dreams really do come true!
A few months ago, I was given the opportunity to go listen to Robert Jones speak. If you don't know who Robert Jones is, you are missing out. Just because you don't know his name, doesn't mean you haven't seen his work. He is a celebrity makeup artist who has done makeup for celebrities like Selena Gomez and Cindy Crawford. He has also done the makeup for many makeup ads, especially mascara!
Robert was charming, funny, and crazy talented. He reminded all of us that it is okay to be a perfectionist! It is actually good to be a perfectionist. I also loved that he pointed out that it is beneficial to do your hair before doing your makeup. I am a strong believer in that! Don't melt your makeup off with your hot tools, ladies!
Well, here is the exciting part! Robert Jones has started his very own Robert Jones Beauty Academy! Let me explain to you what that means. It means, that up until now, if you want to become a makeup artist, you were pretty much self taught. Many makeup artists have gone to special effects makeup school, cosmetology school, or gotten a degree in some sort of art. Robert Jones created an online course to teach people how to be makeup artists without having to go to school for something they aren't interested in. It is amazing! You have to test out of each level in order to move up in the system, so you know you are becoming a real pro as you learn more. To attend the Robert Jones Beauty Academy, it is only $24.95 a month, or $299 a year (it is actually on a special for $249 right now)! Amazing, right? I am going to be starting as a student in his academy next month and I can't wait to tell you all about my experience! I will keep you updated. If you are interested in becoming a makeup artist through the Robert Jones Beauty Academy, you can find more info HERE.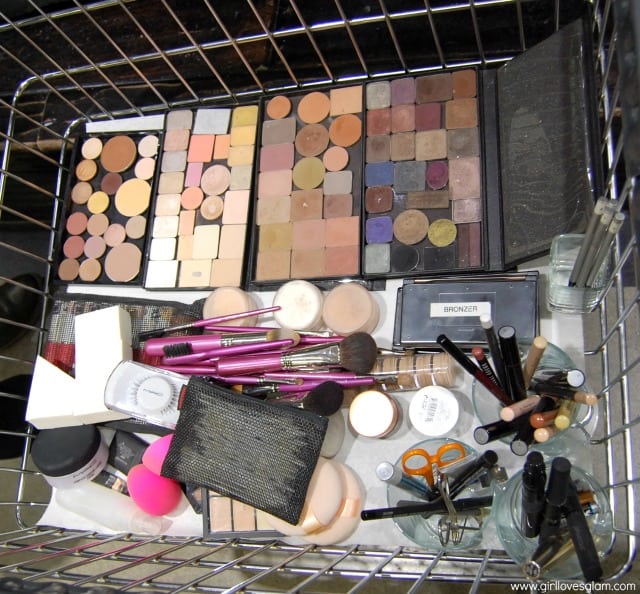 This is the makeup that Robert brought to teach one class. It was out of control amazing!
But what if you don't want to be a makeup artist? What if you just want to learn how to do your own makeup? Robert Jones has an option for you too! He is offering 7 days of free lessons for real girls like you! Learn about your face shape, your eye shape, and how to customize your makeup to who you are! You can sign up for free, HERE.
Who's excited to join me in my Robert Jones Beauty Academy journey?!