Curly hair can be pretty delicate. Protecting those precious curls is the secret to keeping them looking and feeling their best!
This lesson doesn't include a video because it is a short one! But just because it is short, doesn't mean it isn't vital. Protecting curly hair is so important!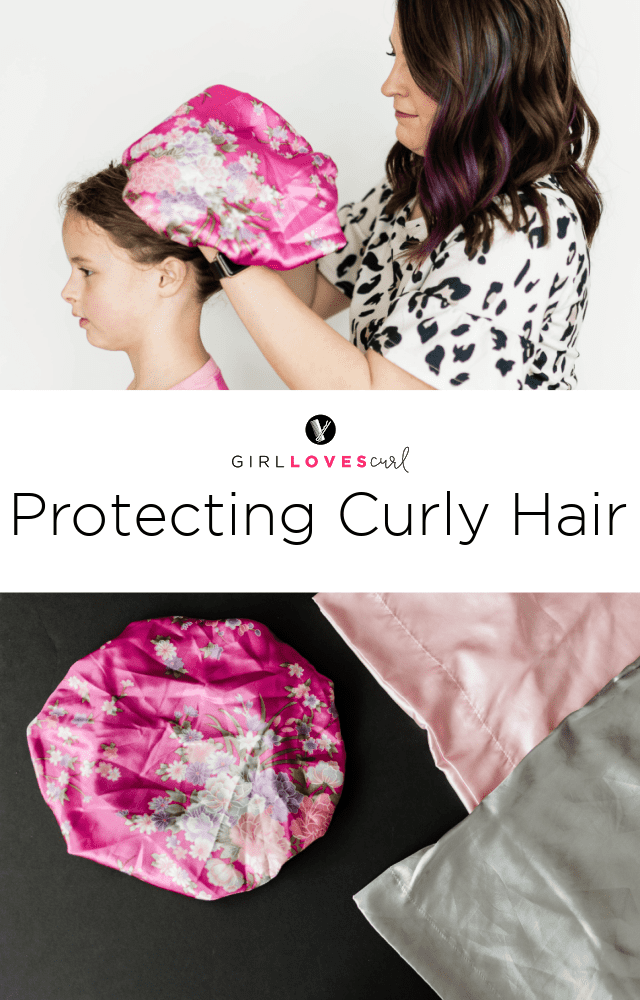 Sleeping with Curly Hair
Wearing silk or satin caps help keep curls from tangling up together, causing breakage. Wearing a cap also locks in moisture. Silk or satin caps can be worn around the house as well if you are concerned about sitting in a chair or couch and having fabric rub up against the curls. This is absolutely not required but it is a common practice for curly hair.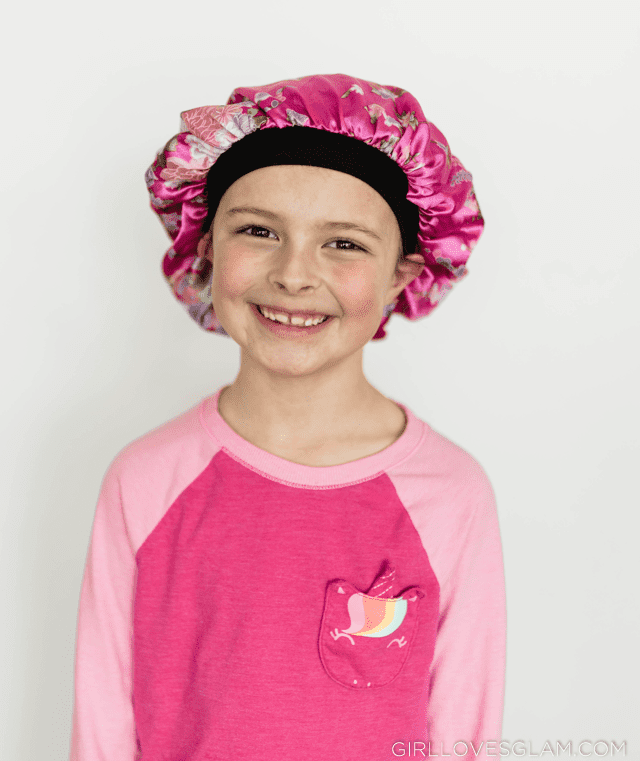 When putting curly hair into a cap, it works best to create a "pineapple" on top of the head. Do this by turning your head upside down and lightly twisting the hair together and pinning it up. Place the cap over your entire head.
If wearing a cap while sleeping isn't something you want to do, using a silk or satin pillowcase is another good option. Putting your hair up in a "pineapple" is still beneficial with this method as well, even though the pillowcase won't hold the hair together quite as well as a cap.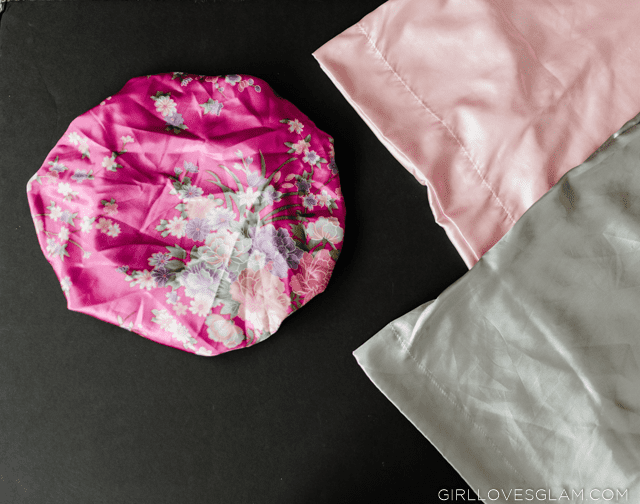 Protecting Curly Hair While Showering
While there will be days the curls will need to be refreshed in the shower, it isn't typically something you will want to do everyday. Leaving the curls alone and not manipulating them a lot everyday will keep them healthier. So, keeping them covered up in the shower is a great option. We love using large lined shower caps to keep the curls protected, while we are in the shower.
Sometimes the humidity from the shower can be welcomed, so you might want to skip the cap. But if you are having a particularly good curl day, covering them up is a good option!
Using the Right Towel for Curly Hair
I know this was covered before but I just want to cover it one more time. Using a jersey knit material towel for curly hair is going to prevent a lot of cuticle damage. Terry cloth tends to rough up the cuticle of the hair, causing micro amounts of damage. It can create a lot more frizz. The more you use a terry cloth towel, the more severe the damage becomes. Don't splurge on an expensive jersey knit towel though. Just buy some jersey knit material from a craft store and you have yourself a towel!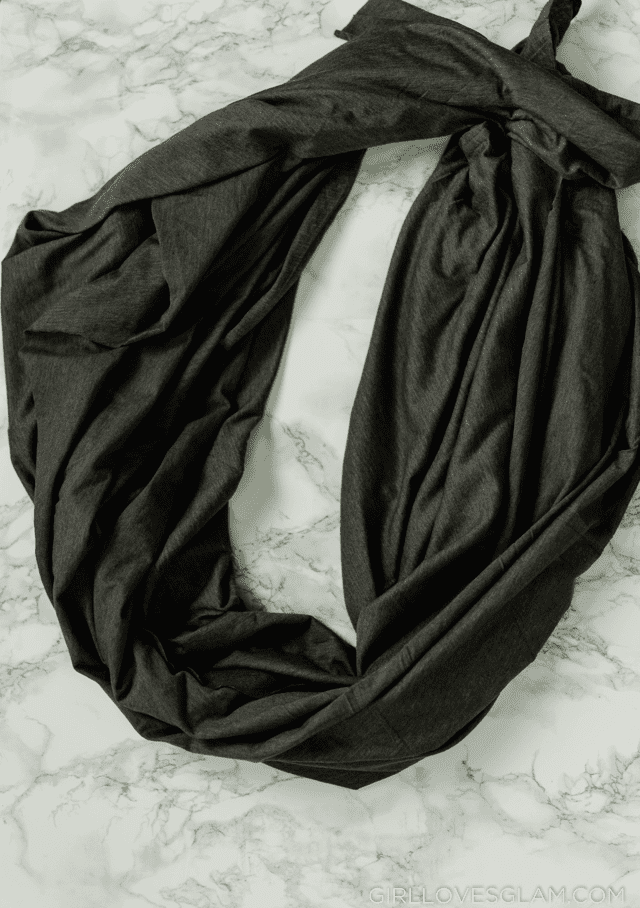 Protecting Curly Hair from Heat
All hair types need to be protected from heat but curly hair is so fragile that it is especially important to keep it protected. In a perfect curly world, you would avoid heat all together but that isn't very realistic. Blow drying and hot tools add heat but they also can add a lot of style. I don't believe they should be avoided all together.
To prevent as much damage as possible, ALWAYS use a heat protectant. Spray a heat protectant on the hair before any type of heat comes in contact with your hair. This isn't a product you use one time and then it stays on the hair until the next wash. This is a product that needs to be applied every time, because it is made to protect the hair and burn off from the heat.
There are several heat protectant options available. It comes in both aerosol and pump cans. I haven't found a certain product that works better than others but you will still want to try out several to find the one you prefer. Some will add extra shine, some will smell better, while some will make the hair more wet when you spray it. It is all a matter of preference.
I will be talking more about straightening curly hair in a future lesson, where we will go into more detail about heat tools and heat protectant.
Girl Loves Curl
I hope this has opened your eyes a little more about protecting those precious curls! Our next lesson will be on brushing and combing curls!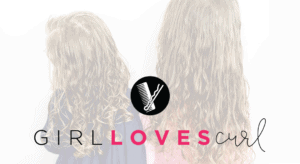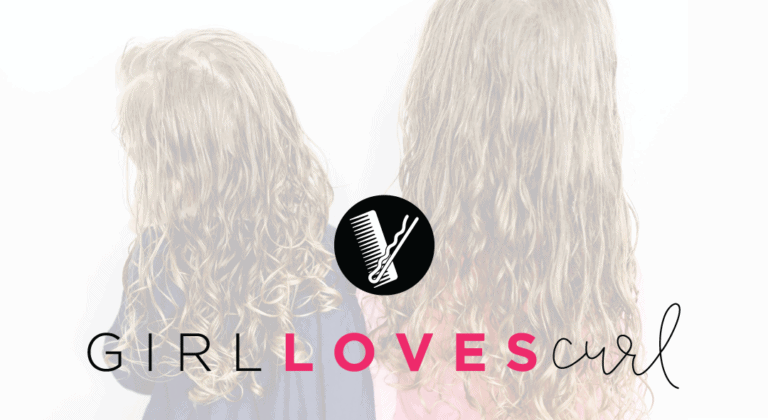 If you missed the previous four lessons, or haven't subscribed to the free Girl Loves Curl course, sign up to get the lessons sent straight to your inbox!