We are in full blown nesting mode at our house, trying to get ready for baby number two. Part of our plan to make room for baby was to move the queen sized bed in the guest bedroom into Harper's room so that the guest bedroom could become baby's room. The guests will still get to sleep in the queen bed when they come to visit and Harper will sleep on the air mattress. It took a little convincing but she finally got excited about getting a big bed. Part of getting her excited was telling her that we could give her room a little makeover at the same time. We pretty much just decorated her room since we have only been in this house for a year, but there were a few other things we could do to make her feel like this was a special experience for her and she wasn't just getting kicked out of her little bed. One of the things that we decided to do was refinish her dresser. I LOVE how it turned out!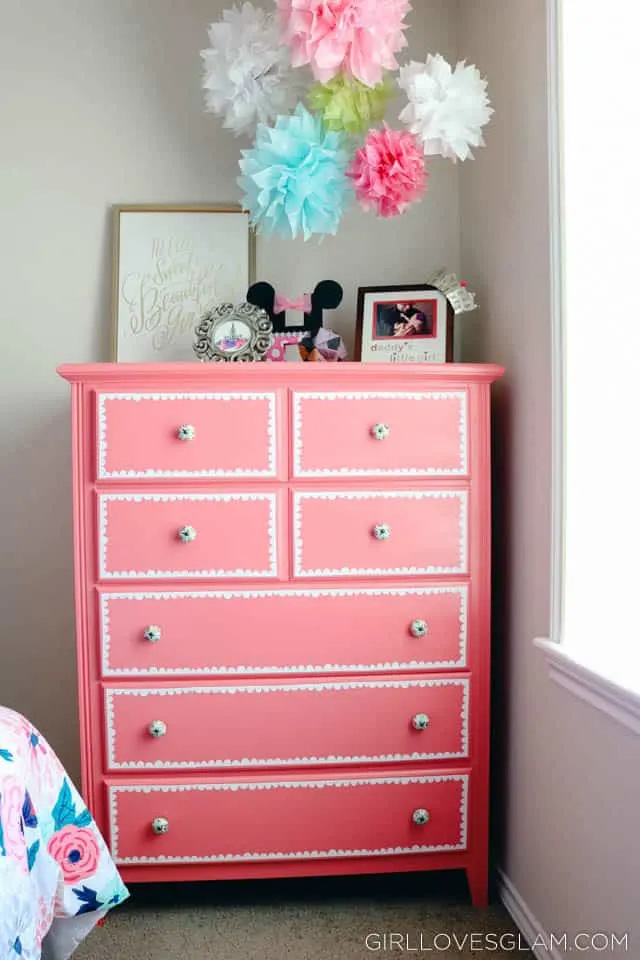 If you have been a reader for a very long time, you may remember the little makeover this dresser got before. It was a huge improvement from before, but it is really so much better now! It was like it was always meant to be pink. This is what the dresser looked like before.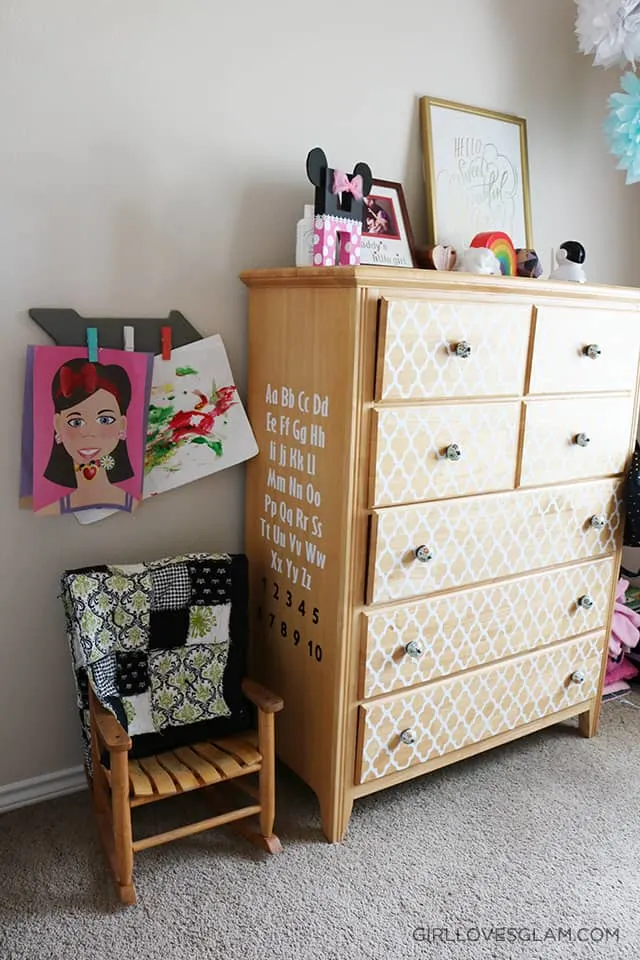 The first thing I had to do to refinish the dresser was taking off the hardware and the previous vinyl. Then I got Citristrip and stripped the finish off of the drawers and the dresser's body.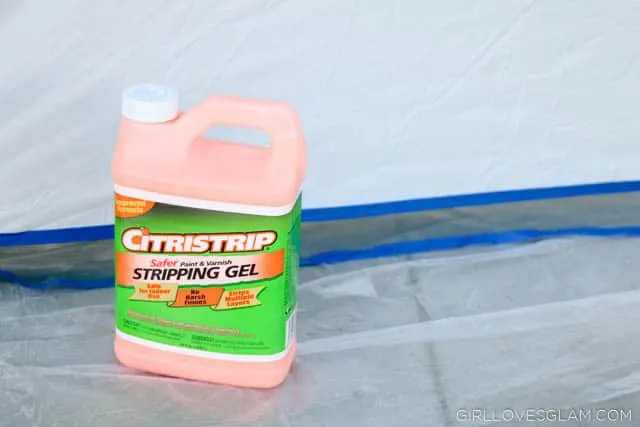 This was the first time I have ever used Citristrip and it kind of makes me sick to think that I have refinished furniture without it! It is a total lifesaver, especially for a pregnant woman refinishing furniture. All you do is put a coat of the gel on the furniture, let it sit, then scrape it off. It is pretty rewarding to watch the finish come right off as you scrape it off! I put a coat of the gel on all of my drawers and then a coat of it on the dresser and let it sit for a few hours before stripping the gel off.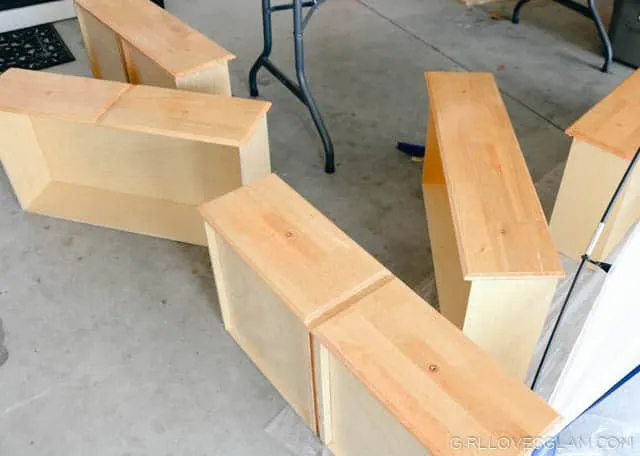 After stripping all of the finish off, I mixed together three different colors of the Americana Decor Maxx Gloss paint. There isn't a pink color that is available that was quite the pink I was going for, so I mixed Juicy Melon, Candy Apple, and White China together until I got the perfect color I was looking for. It ended up being roughly one bottle of the Juicy Melon, 1/2 bottle of Candy Apple, and 1/2 bottle of the White China.
I put the paint in my Homeright paint sprayer and sprayed it with two coats of paint to get the base color on there and then I used a brush to paint the last coat so that it would have that nice, glossy finish. The nice thing about the Americana Decor Maxx Gloss Paint is that you don't need to follow with a poly finish. The gloss looks really nice without that extra step!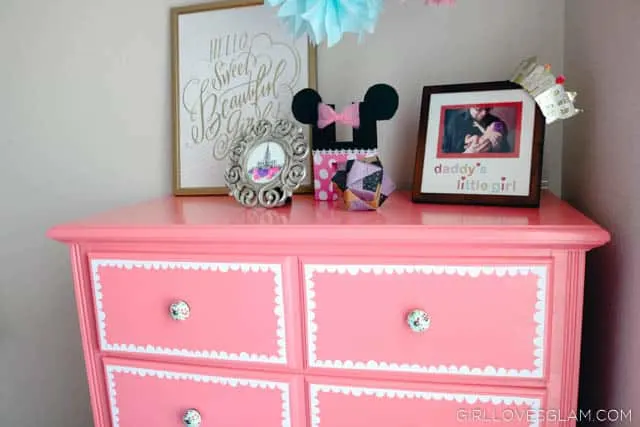 After letting the paint cure for a few days, I put the vinyl on. It took a few different designs before deciding which one we loved the most, but I am so glad we went with this fun scallop design! All we did was purchase the design from the Silhouette Studio store, cut it out on indoor vinyl from Expressions Vinyl, and put it on. It just gives the dresser so much character!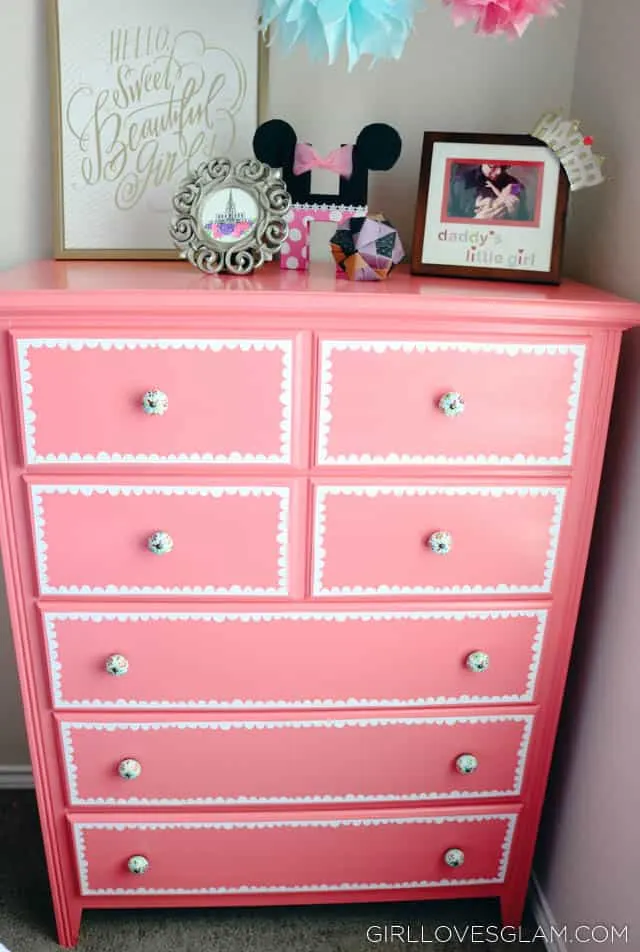 For her big bed, I found a headboard I really liked on Craigslist. It was only painted white on the front, so I sprayed the front and the back with the Maxx Gloss White China color and it worked great!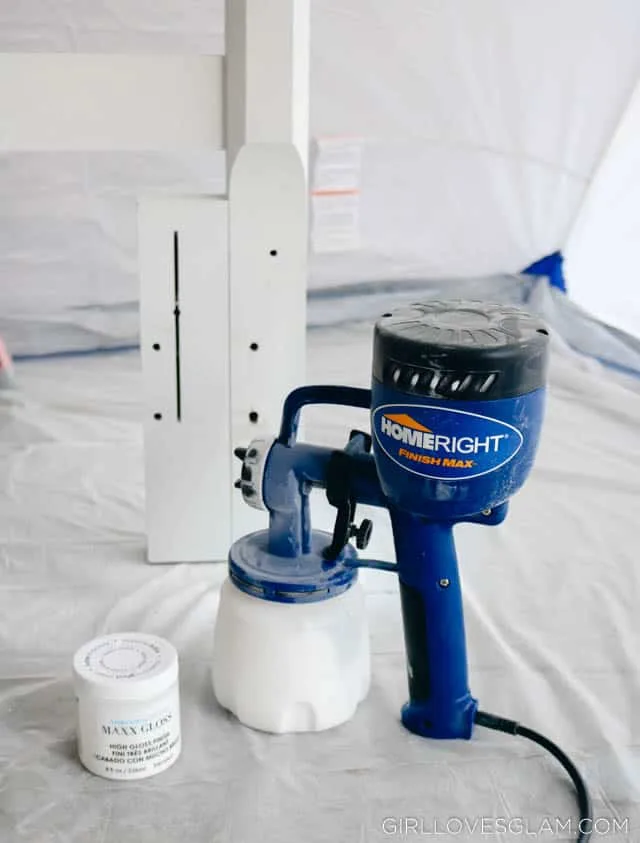 Because we are renting, I was a little worried about using a paint sprayer on these projects. I didn't want to get paint anywhere that would be there permanently. The Homeright Spray Shelter was a HUGE lifesaver. It kept all of the paint in the shelter and I didn't have to worry about spraying the walls of the garage.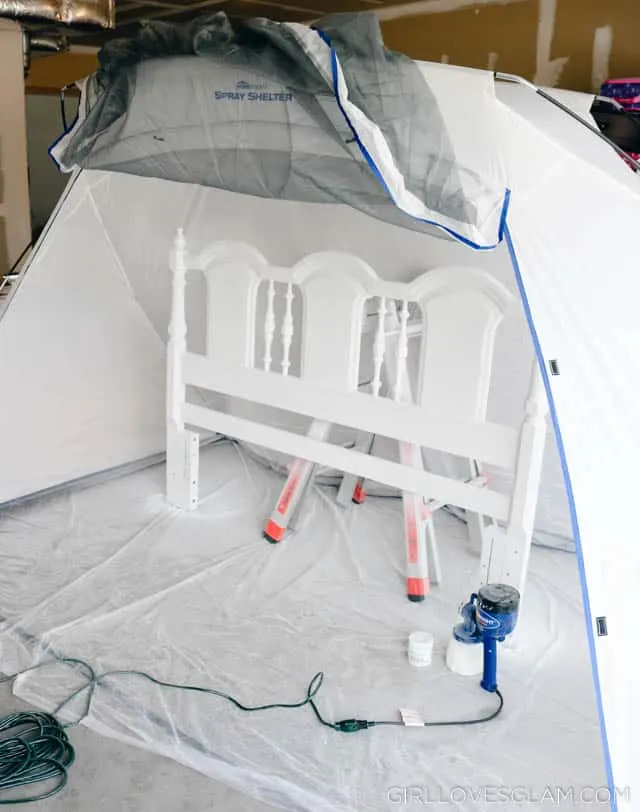 I can already tell you that this shelter is going to be getting a lot of use! If you use a paint sprayer, I highly recommend investing in one. There is so much room in it, too! I had a queen headboard in there and still had room to spare and there was plenty of room in there when I was spraying the dresser as well!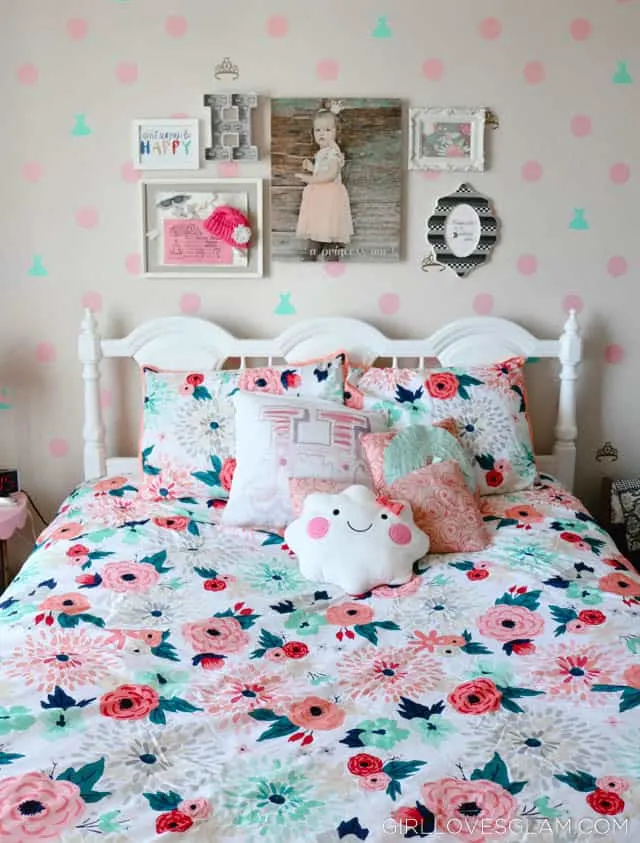 The headboard fits in perfectly with her room! We found this adorable bedding from Target that did a great job of tying in the blue colors that we had already brought into her decor. It was a great find for us!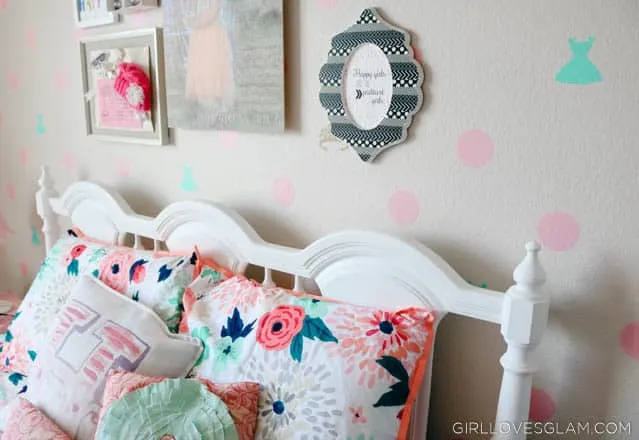 I think this headboard has enough character that it will feel juvenile while she is younger, but it can also totally work for her as she gets older.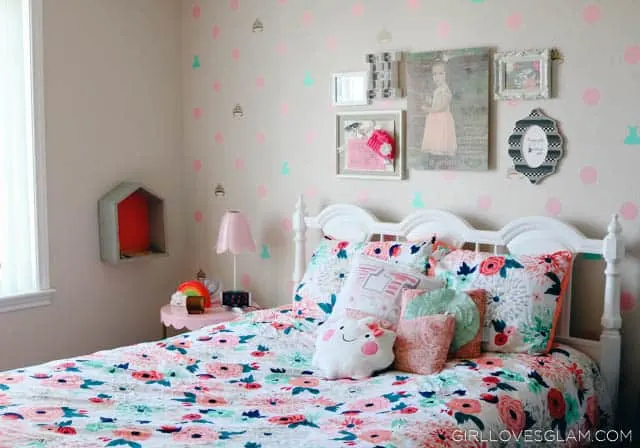 One thing that she was really excited about was getting a nightstand for her room. We found the pink scalloped nightstand from Target and it fit right in with her decor. I can tell that she feels really grown up having a big bed and having a nightstand of her own in her room.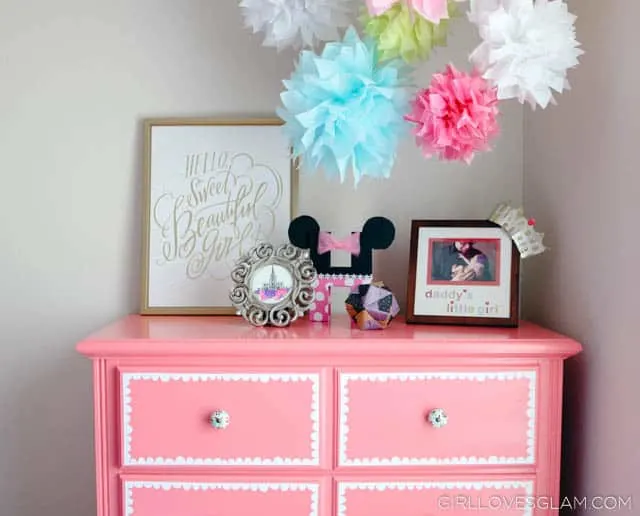 Overall, we are super excited with the way that her room turned out! I know it is a place that she will continue to enjoy and that guests can feel completely comfortable in while they stay with us as well.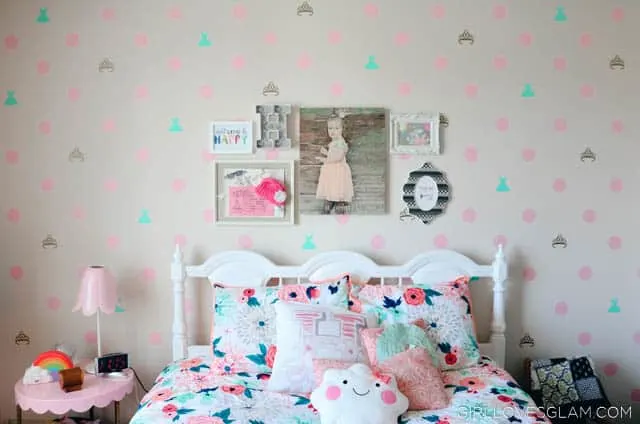 Now to go through the rest of our list of things we need to get done before baby sister joins our family!