This is a sponsored post written by me on behalf of TempTraq. All opinions are 100% mine.
Unfortunately, the time of year has come upon us. That time of year when illness seems to be making its waves through each family. If you are lucky, you family will only get hit by an illness once during cold and flu season. We don't ever seem to be that lucky at our house! I hate seeing my child sick. As a mom, I feel so helpless!
It also seems to never fail that I am the next one to get sick after taking care of a sick child. I think a huge reason why I get sick is because I don't sleep very much when I have a sick kid to take care of. Even when that child is sleeping, I feel the constant need to check on them and make sure they are alright. It gets exhausting really quickly!
I was so thrilled to learn about TempTraq. It is the only wearable Bluetooth temperature monitor that continuously monitors body temperature. It is a soft patch that senses, records, and transmits temperature data for up to 24 hours. All of that information transmits onto the free TempTraq app and can even send temperature alerts.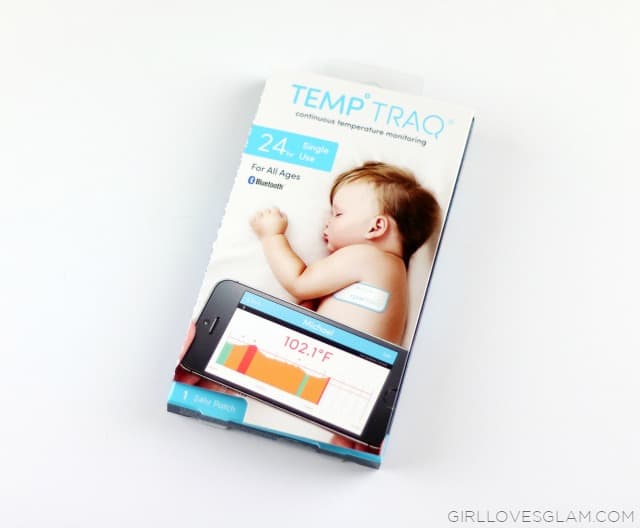 I can't even begin to tell you how much peace of mind that brings me as a parent, knowing it can monitor fevers. I think that part of my worry about checking my daughter's temperature when she is sick comes from the fact that I had to check her temperature hourly as a newborn. We had to leave her in the NICU because her body just couldn't regulate her temperature the way it needed to.
Her body is completely healthy now and we don't have to check her temperature unless she is sick, but I think those old habits and fears as a mother seem to creep in from time to time and it heightens when she is sick.
I love knowing that I don't have to wake her up to check her temperature and that I can get my rest, knowing that if her temperature gets to an unhealthy number, I will be alerted.
Another really great feature about TempTraq Temperature Monitor is that you can easily email your temperature data to your health care professional. This would have been a huge lifesaver for us when we were constantly having to track my daughter's temperature as an infant.
Now that we have another child coming to our family soon, I love knowing that I will be able to monitor multiple TempTraq patches simultaneously as well. I don't like the thoughts of having more than one sick child at the same time, but I know it will happen eventually! I am glad to know that checking their temperatures is one thing I won't have to worry about when that time comes.
You can find Buy TempTraq now at Target, CVS, and Walgreens stores nationwide, as well as from TempTraq.com.