It's the most wonderful time of the year, and I'm excited to share another year of My Favorite Things Giveaway! I've joined with 30 creative bloggers total, also sharing their favorite things, and each of us are having a giveaway. That means 30 winners total! Not only is it a fun prospect to WIN, but they make great gift giving ideas as well.
Here are the goodies I'm giving away, make sure you scroll down to the very bottom of this post to enter MY giveaway.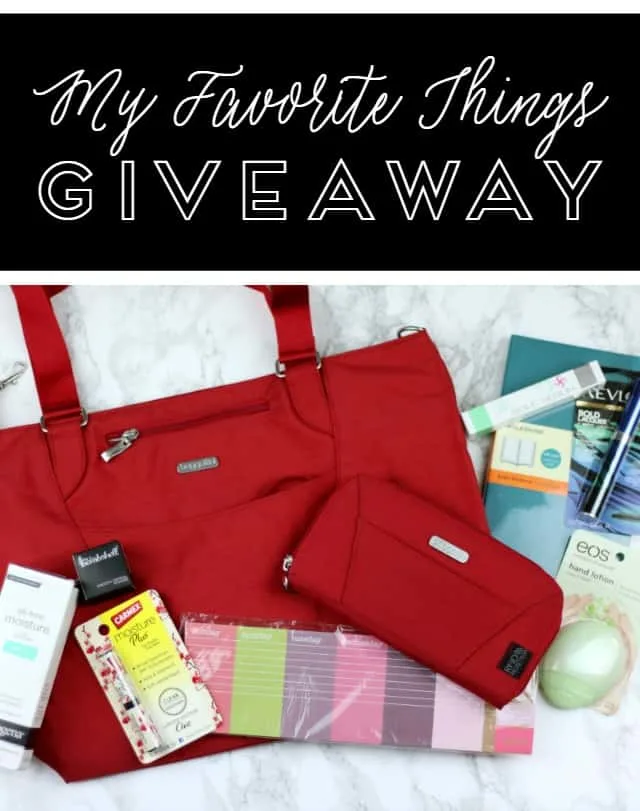 For more details on my giveaway, scroll below the collage.
Below are the 30 gifts from 30 friends. I just love to see new things, or be reminded about something I had forgotten. Each of them can make great gifts for your loved ones. To see each gift up closer, and to enter to win, you must HOP to each site to fill out the entry forms. It's possible you could win more than ONE!
To enter–
Check out the 30 gift collage below
Scroll to the bottom of this post to enter to win MY gift giveaway
HOP to all of the other sites to enter to win their gifts
Look around and enjoy the sites of the other creative bloggers–they will not disappoint!
*Note- if you receive an error message w hen you HOP, click to the blog's home page, then it should be the top post (some times there are glitches on day 1)
Behold, the collage of goodies…
***Make sure you HOP to each site, and enter for each gift on those pages.***
The numbered images above, correspond with the numbers/blogs below
1. Capturing Joy //2. Thirty Handmade Days // 3. Bombshell Bling //4. Fun-Squared // 5. Pretty Providence //6. A Pumpkin & A Princess // 7. Just a Girl and Her Blog // 8. Yellow Bliss Road // 9. Honeybear Lane //10.All Things Thrifty
11. Dawn Nicole Designs // 12. Cupcake Diaries // 13. Your Homebased Mom // 14. Over the Big Moon // 15. Girl Loves Glam // 16. Landeelu // 17. Eighteen25 //18. Becky Higgins // 19. The Pinning Mama // 20.Tatertots & Jello
21. The Idea Room // 22. C.R.A.F.T. // 23. A Girl and a Glue Gun // 24. One Little Minute // 25. My Name is Snickerdoodle // 26. Lolly Jane // 27. My Sisters Suitcase // 28. Lil Luna // 29. I Heart Naptime // 30. One Crazy House
>>>>>>>Enter to win MY gift RIGHT HERE! My giveaway is valued at $230!
Ok, so a few more details about MY giveaway gift:
I am OBSESSED with Baggallini products. I first fell in love with them when I took my Baggallini Avenue tote to NYC last year. This bag is PERFECT for travel. It has a slot to slide over your suitcase handle so you don't have to worry about carrying it and there is literally a spot for everything! This bag alone is valued at $98! I love the red color and decided to throw that one in for the giveaway. I own the gray (pictured above) and I am obsessed with it too!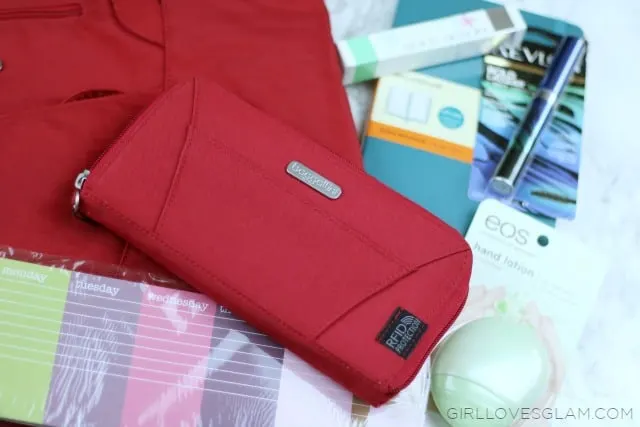 Because I love Baggallini and all of you so much, I am also including this incredible Baggallini RFID wallet! This is valued at $65. It is amazing! It is a high tech wallet that keeps your things safe inside. There is a RFID-blocking liner that can stop identity thieves from scanning your ID and cards when they are in close proximity. It is a little sickening to think that they can even do that, but I love knowing that my security is safe with this wallet.
Also pictured above and included in this giveaway is mascara, hand lotion, and Sole Serum. I always keep a variety of these types of things in my purse and love having them handy when I need some mascara after a long day of errands, need some moisture on my hands, or if my feet get sore from walking around all day. I also am a crazy note taker and always like to keep a notebook handy. I am including a nice Moleskin notebook as well! These four items combined are valued at $45!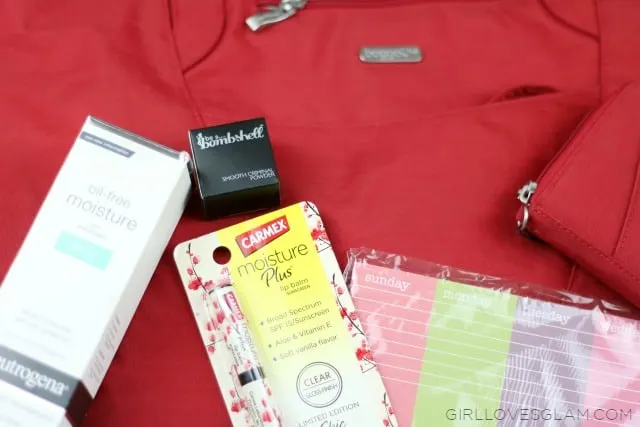 The last few items that I just love and had to include in the giveaway are some great facial moisturizer because I live in basically the desert and always need moisture on my face. Carmex lip balm because like I mentioned, I always have to moisturize in this dry climate. I also am including finishing powder that is perfect to put on after your makeup is done. It sets your makeup, minimizes fine lines and pores, and is just amazing stuff! And lastly, I am including a notebook to make to-do lists because heaven knows, I own about 12 of these and I use them ALL! The items combined value at $22!
If you are keeping count, that values this entire giveaway of my favorite things at a whopping $230! I can't wait to give all of these goodies to one of you. Be sure to enter my giveaway and all of these other giveaways to discover some of our favorite things!