We are all finding new roles for ourselves these days. School teachers, chefs, and trying to juggle work from home, while parenting. It is a lot! Then to add more on top of that, you also are suddenly the in house hairstylist. As an actual hair stylist, I am here to tell you that there ARE a few things you can do from home. One of the things that you can totally learn to do from home is how to cut men's hair! Another is cutting your own split ends to get you through until your next salon visit. I shared that tip already, so head over to that post to see that trick as well!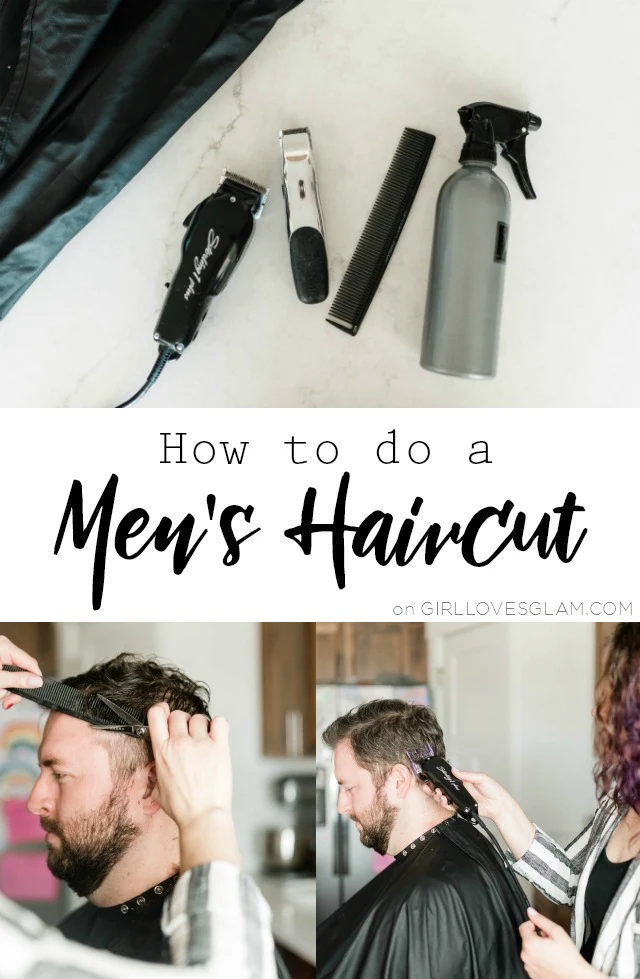 How to Do a Men's Haircut
This haircut video will show you all that you need to see and teach you everything you need to know to do a basic men's haircut. I show you how to use clippers, cut with scissors and a comb, and how to texturize thick hair.
Tools for Cutting Men's Hair at Home
It is worth having the right tools for a men's haircut at home. You don't know how many times you might be doing this before salons are in full service again. It is nice to have them on hand anyway for the times that you are in a bit of a pinch! Something to point out is that it is important to have actual hair cutting shears. They don't need to be really nice, but there is a huge difference between scissors that are made for hair and scissors that are not! There are great hair cutting scissors for under $20 on Amazon and another pair of hair scissors for even cheaper on there that has pretty great reviews as well.
For a men's haircut, you will definitely need clippers. These come in a variety of different sizes, types, and prices. The most important things to look for is that it is made for hair, not just beards and that it comes with a variety of guards. There are several options on Amazon but this hair clipper set comes with scissors as well and has really great reviews.
I highly recommend cutting with a cape. Many people will just have their boys take their shirt off, or put a towel around their neck. It is so much easier to cut with a cape on. The hair generally stays in one place, making it easier to clean up and you aren't ruining your towels. There are lots of options available on Amazon but this haircutting cape is under $15 and has really great reviews. You will thank yourself for having a cape!
These last two tools are totally optional but I talked about them both in the video. The first are thinning shears. This is only something I would use if your client has thick hair or if you are wanting to smooth out any lines on the sides of the head. When it comes to buying thinning shears, you will want to stick with a pair that has the blade cut outs close together. The ones that have them further apart take out big chunks of hair and are only for the professionals. I would recommend ones that look similar to this pair of thinning shears on Amazon. The other more optional item would be a pair of trimmer clippers. You totally can do edges with the standard clippers, it is just a lot easier when you use a smaller pair, like these edging hair trimmers.
Men's Haircut Tips
You can watch the video to get the full tutorial of how to do the actual male haircut but I wanted to leave you with a few tips to remember.
Always start in the back! If you choose a guard that is too short, if it is in the back, it is a little easier to camoflauge.
Have your first swipe with the clippers be a relatively small one. You don't want one giant swipe of the clippers, only to find that you have too short of a blade on.
Cut with the hair wet. Not only is it easier to see the lines that you have cut to help guide you along, but you aren't going to get as many hair slivers. It sounds crazy, but hair slivers are a real thing and are the worst!
Invest in some semi decent tools now, instead of wishing you would have from the beginning!
Good luck in your kitchen beautician endeavors! I am happy to answer any questions that you have about haircuts for men and boys!
Don't forget to check out how to cut your own split ends as well!