If you have been a semi-long time reader, you know that we have a thing for Disney. I mean, who doesn't? Saying you don't like Disney is like saying you don't like Santa Claus! Our love of Disney definitely skyrocketed when we became parents. Our little Disney loving princess made quite the impression on our family. In fact, on a phone call with Dave yesterday the point was made that there was no way he would have known that Minnie Mouse's nieces were named Millie and Melody prior to being a dad. Gotta love the useless information kids put in our brains sometimes!
Speaking of that Disney loving child, I made her a new little outfit inspired by her favorite Disney diva, Minnie Mouse!
I love creating character inspired clothing because I know I can make it in a way that is modern enough for mom to like, but is character enough for the little to like!
These Minnie Mouse patch pants and shirt were the perfect combination of both! They were insanely easy to create!
Here's what you need to make your own…
Shirt
Pants
Heat Transfer Vinyl from Expressions Vinyl
Glitter Heat Transfer Vinyl from Expressions Vinyl
First, pull up your Silhouette Studio and create your design. To make the Mouse ears, I just took three circles and erased the extra parts of the circles so they will be one solid line. For a more in depth tutorial on how I did that, you can check out my post I wrote on the Minnie Mouse birthday party we threw. I used the same image for this since I had already created a Mickey/Minnie head on Silhouette Studio before.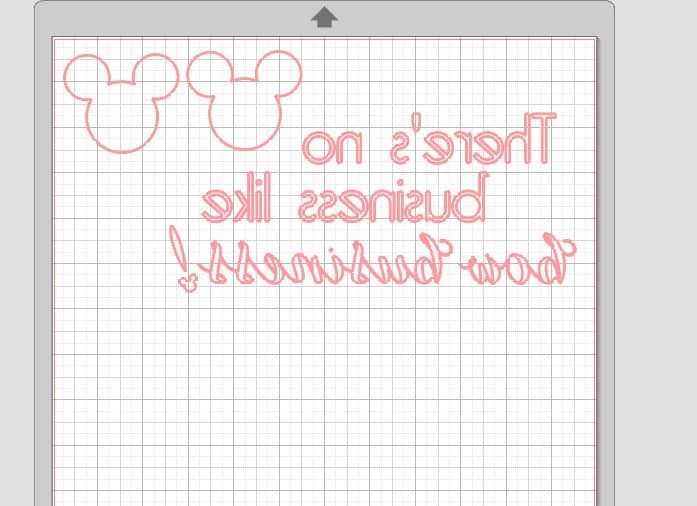 Then I went on and created the phrase I wanted on the shirt. I think the phrase "There's no business like bow business" that Minnie says on Minnie's Bowtique is really cute, so we went with that. The biggest thing to keep in mind is to mirror your image for your text. Nobody wants to waste vinyl and that is exactly what will happen if you don't make those letters backwards before you cut the vinyl out.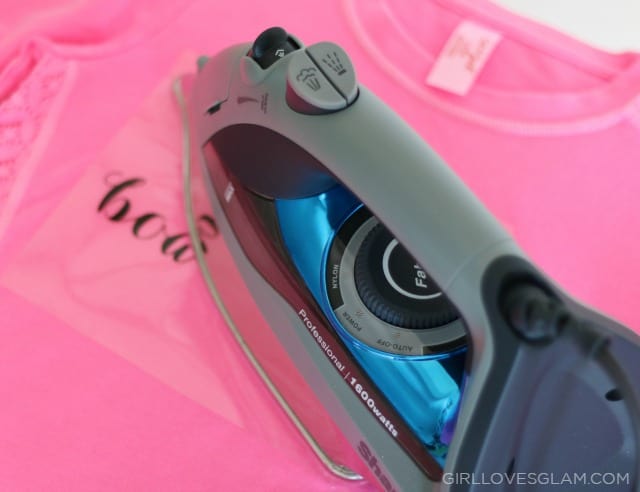 Weed the vinyl by peeling the excess vinyl off and cutting off the vinyl as you peel it off. Lay it on the shirt where you want it to be and iron it on. Make sure to push the iron onto the vinyl with a good amount of force and move around so that all of the vinyl gets ironed for about 30 seconds.
Repeat the steps for the legs of the pants. I put the pants up to my daughter's legs to get an idea of where her knees would be and ironed on the Mickey/Minnie heads in that spot.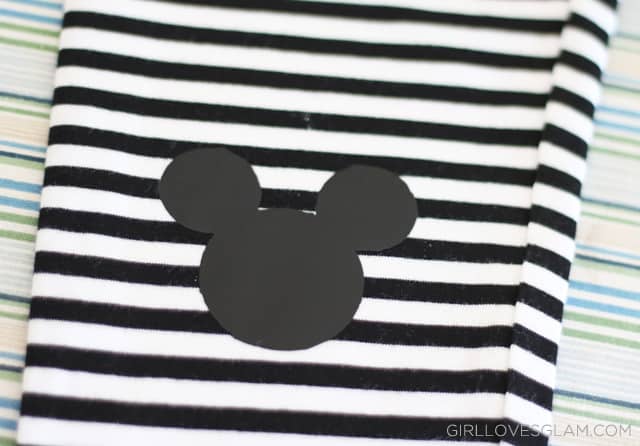 I wanted to add a bow to the shirt, so I cut out a bow in white vinyl and put it on the shirt.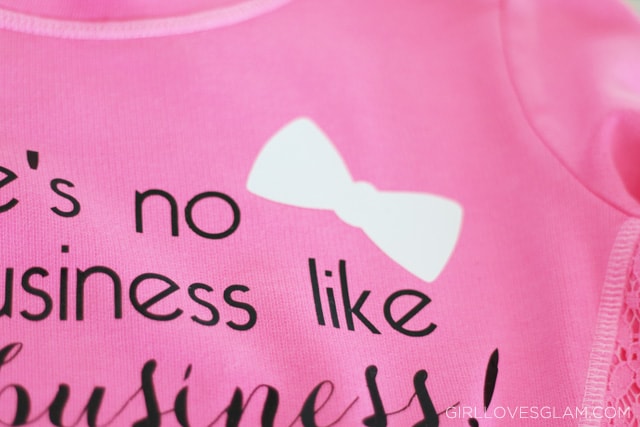 I cut out a slightly smaller bow in the pink glitter vinyl and layered it on top and also cut out pink bows for the knee patches as well.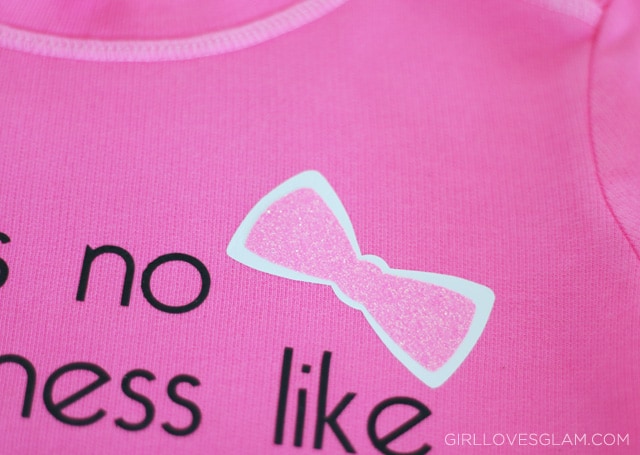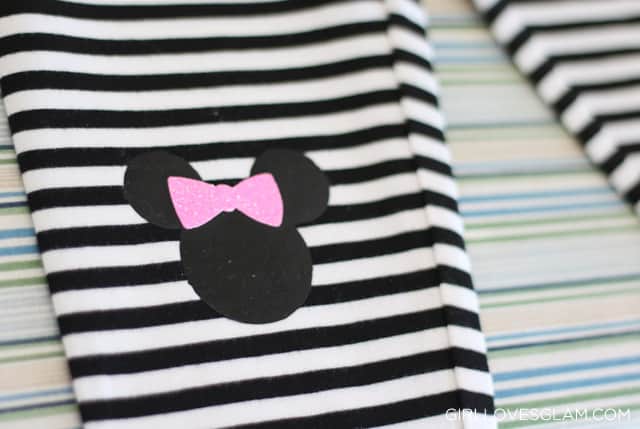 Now you have yourself an adorable Minnie Mouse inspired outfit that isn't incredibly cheesy like most of the outfits out there!
I just love these little knee patch pants because I feel like she could totally wear them with other shirts and it won't feel too Disney themed either.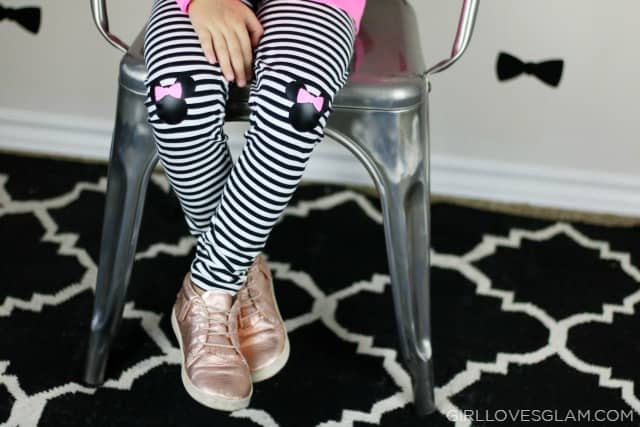 Now that you have made your kiddo a cute Disney outfit, you need a fun Disney vacation to take them on, right? Well I teamed up with Expressions Vinyl, Get Away Today, and other Disney loving bloggers to give away a vacation!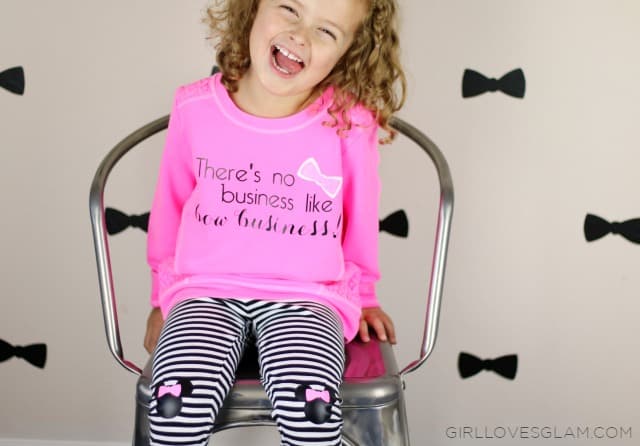 Before I give you all of the details to enter, check out the epic amount of Disney awesomeness that everyone created!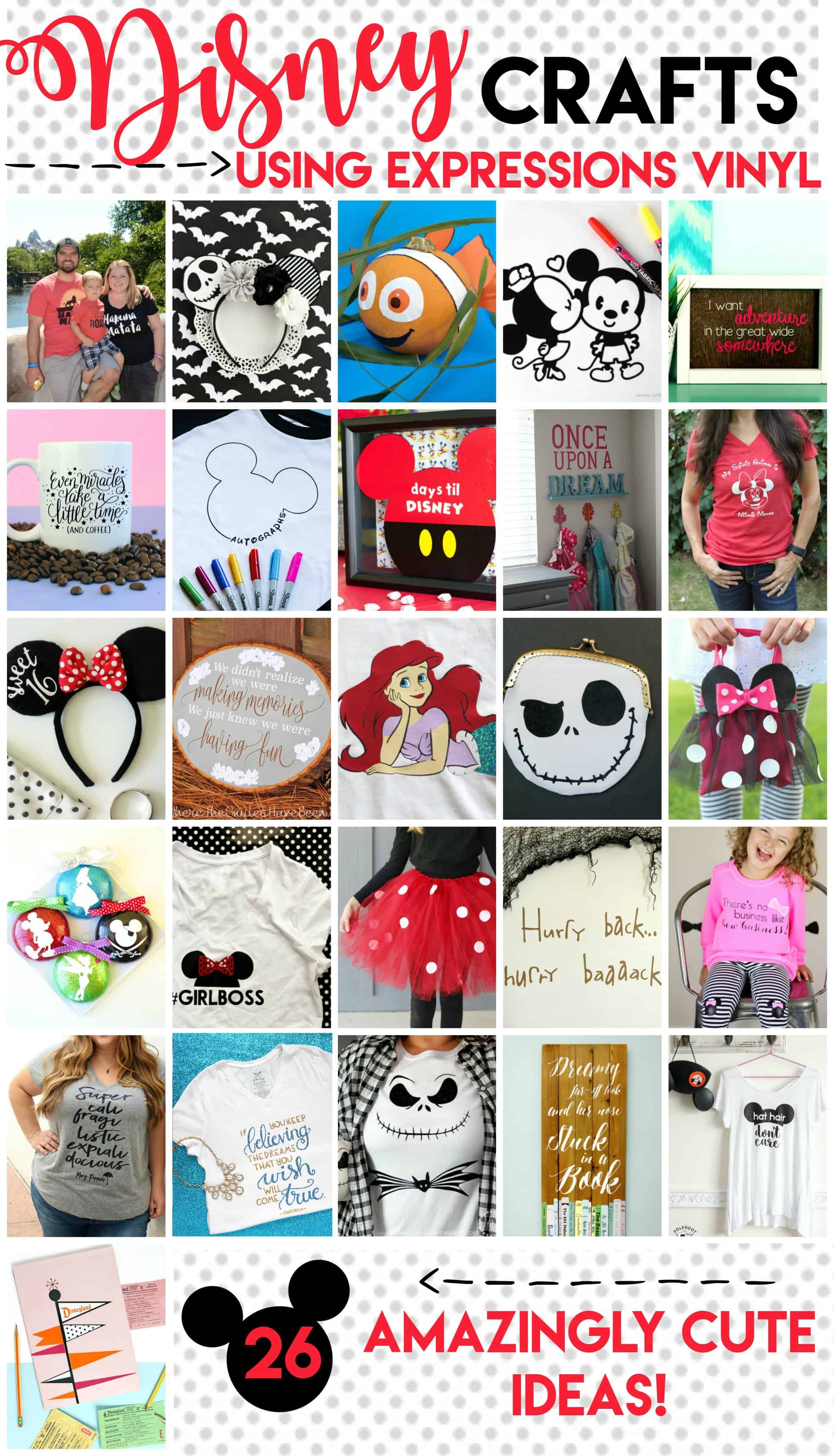 1. Lion King shirts by Play Party Plan
2. Jack Skellington Ears by A Pumpkin and a princess
3. Nemo pumpkin from C.R.A.F.T.
4. Disney coloring shirt by Artsy Fartsy Mama
5. Belle framed art by Crafting in the Rain
6. Miracles free cut file By Dawn Nicole Designs
7. Autograph shirt by the Pinning Mama
8.Disney countdown by Frenchie Wraps
9. Girl dress up by Over the Big Moon
10. Spirit animal shirt by Smashed peas and Carrots
11. Customized Minnie Ears by Inspiration Made Simple
12.Winnie the Pooh quote from Where the Smile Have been!
13. Modest ariel from Kiki & Company
14. Jack Skellington coin purse by Tried and True
15. Minnie Mouse purse by A girl and a glue gun
16. Disney ornaments by Happiness is Homemade
17. Girl Boss shirt by Sweet Rose Studio
18.No Sew Minnie tutu by Sugar Bee Crafts
19. Haunted Mansion door design by Simple simon and Co.
20. Minnie Mouse bow shirt by Girl loves Glam
21. Mary Poppins design by the Crafted Sparrow
22. Cinderella hand lettered shirt by Pitter and Glink
23. Jack Skellington shirt and pumpkin by the Scrap Shoppe
24. Beauty and Beast book sign by Flamingo Toes
25. Hat hair shirt by Polka Dot chair
26. Vintage Disneyland by Persia Lou
Okay, now it is time to enter the giveaway! Thanks to Get Away Today, we are giving away an awesome Southern California getaway! Use the Rafflecopter widget below. Good luck!