This Christmas is extra exciting for our family because we are in our new home! With such a wild year it has been, it was fun to feel a little normalcy by decorating for Christmas. Seeing our old decorations finding new life in our new home was really special but adding a few new things was really fun as well! Welcome to our Christmas decor tour for 2020!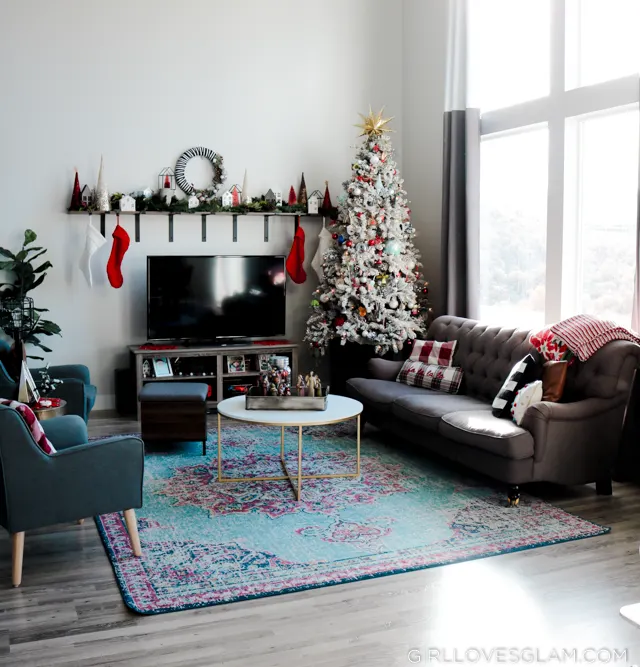 Something that I learned this year is that I am very fond of fresh flowers and plants. They instantly make you feel good! Along with all of our Christmas home decor, I wanted to bring fresh flowers into the design as well.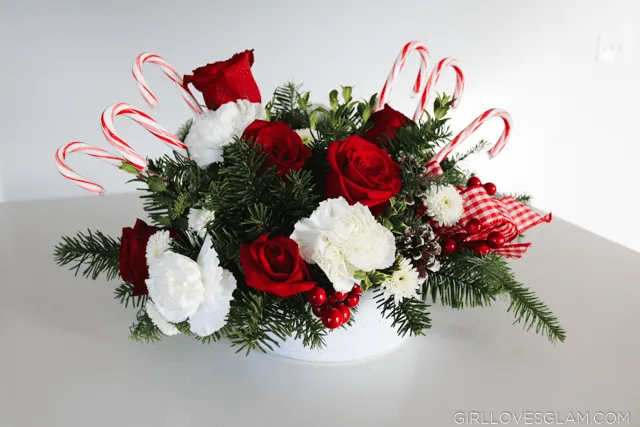 My mom used to be a florist, so fresh floral arrangements have a special place in my heart! Every year, she would get a huge order from the hospital. She made fresh Christmas centerpieces for every doctor. It was a huge project that required all hands on deck. I spent several Christmas seasons, making Christmas centerpieces with my mom. It is another reason why I love having this darling candy cane floral centerpiece. It reminds me of my mom!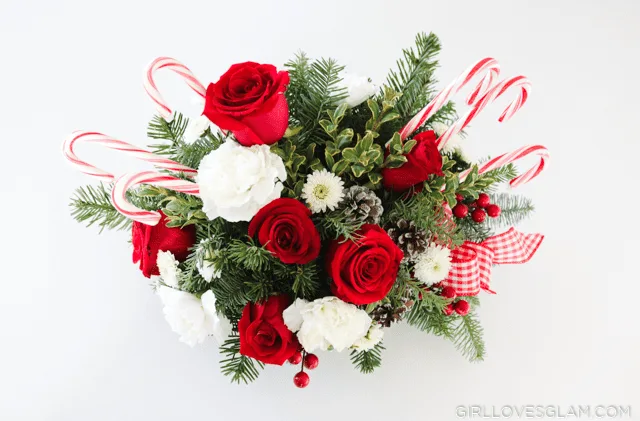 When you order flowers, you don't always get a lot of say in what you are ordering. That is why I love
Teleflora
! They have a large selection of types of flowers and colors, so you can easily find what floral arrangement fits your style. Plus, every bouquet is arranged by a local florist and delivered right to your door with contactless delivery, ready to be displayed! This means every order with Teleflora supports a small business, which makes it easy to support local even if you don't live nearby your loved ones. While there is always going to be some variation, you have a better idea of what to expect when you are ordering from
Teleflora
.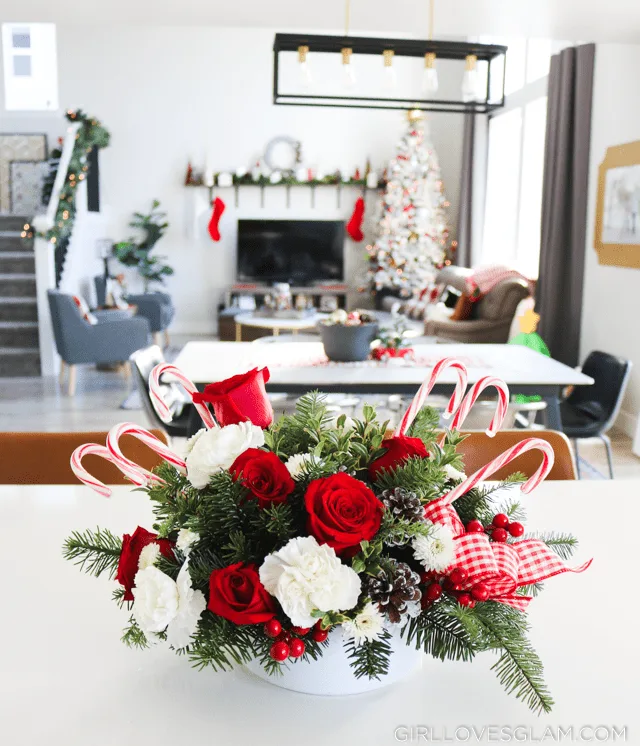 My house was completely decorated for Christmas when my centerpiece was delivered, so it was like the perfect icing on the cake to polish everything off. I have loved having it on my kitchen bar. I helps bring all of the Christmas decor together, from the living room into the kitchen.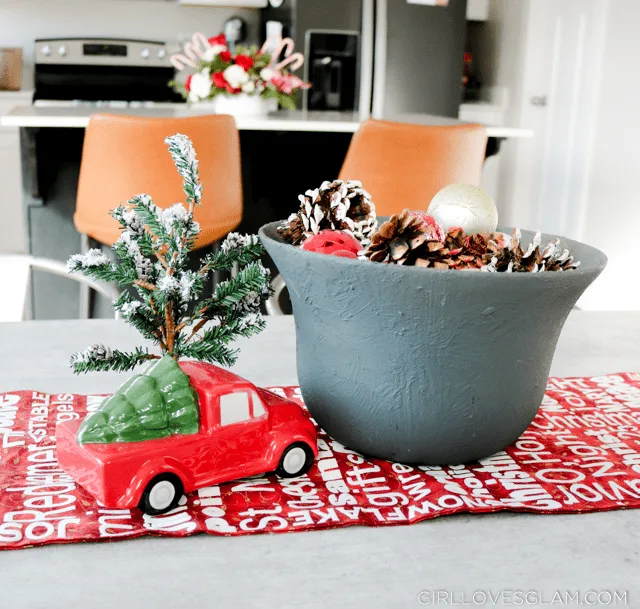 I wanted the fresh flowers to be the focal point of the kitchen, so I accessorized the rest of the kitchen with smaller Christmas decor items.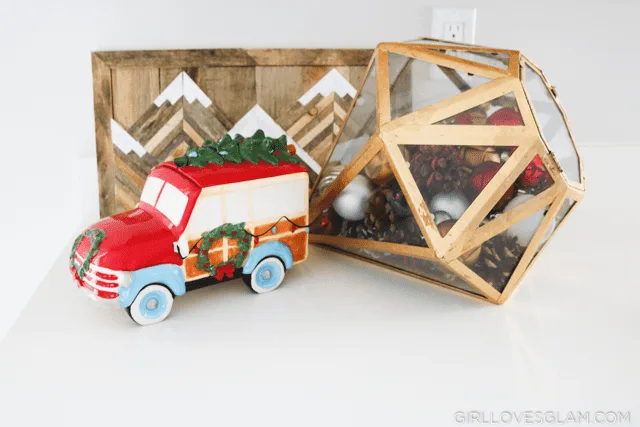 One of my favorite, simple ways to decorate is by putting pinecones and Christmas ornaments in bowls and vases. It is inexpensive and a really easy way to bring your color theme into different areas of your home.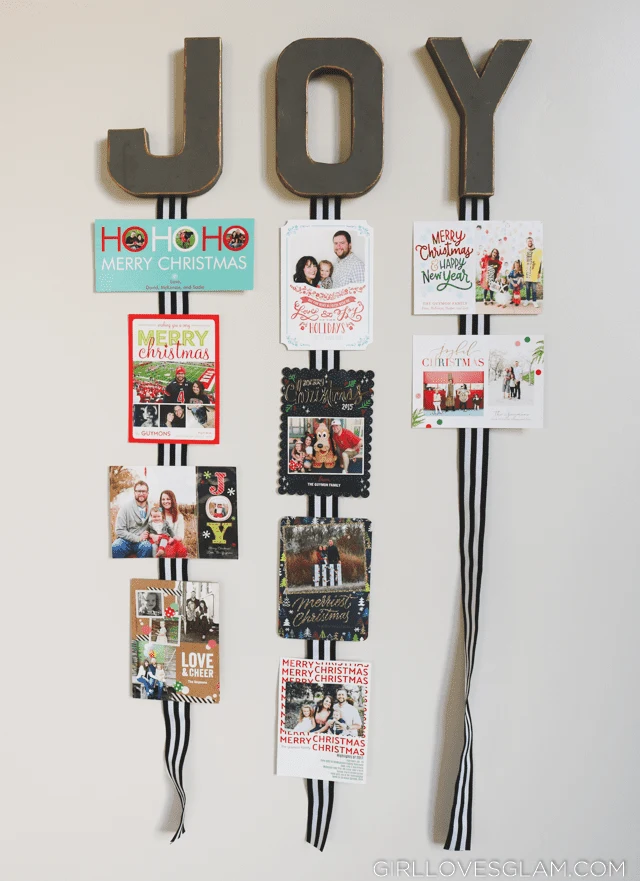 I have been keeping one Christmas card of ours each year, as a keepsake. But I haven't known what to do with them! I used these old "Joy" letters that I painted several years ago and glued ribbon to the backs of them so that I could display each Christmas card there. It is a really fun walk down memory lane.
Living Room Christmas Decor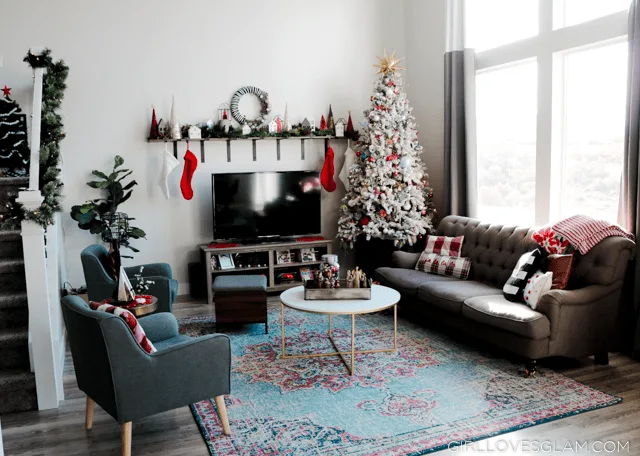 The majority of our Christmas decorations are in the living room. It is where we spend most of our time, so it feels natural having most of the decorations there. Our decorations are mostly red, white, gold, silver, and touches of mint green. I like our Christmas decor to feel like an extension of our normal home decor style.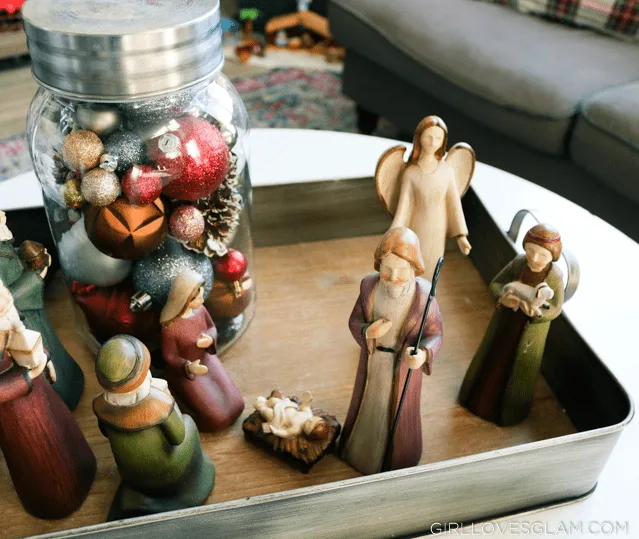 On the coffee table, we have our nativity, but it doesn't have much height. I used my favorite trick and filled a large jar with ornaments and pinecones to help add a little more height to the display.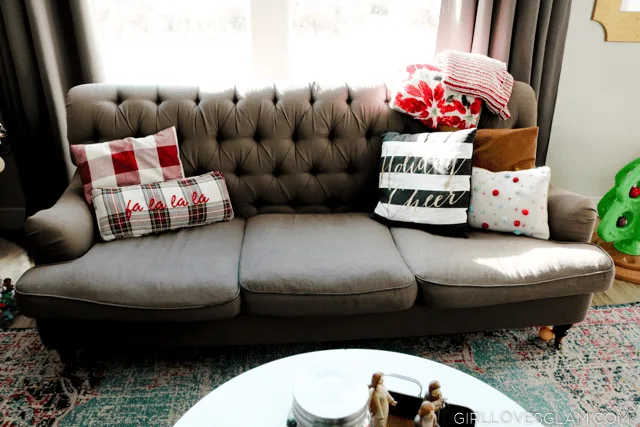 I love switching out my pillows for Christmas. One trick that I do is just switch out my floral pillow covers for buffalo check pillow covers. It lets me have festive pillows, without having to store and invest in entirely new pillows. However, sometimes I find good deals on holiday pillows (usually after Christmas) and can't live without them. That is the story with my lumbar pillows and the striped Holiday Cheer pillow.
Christmas Decor Toys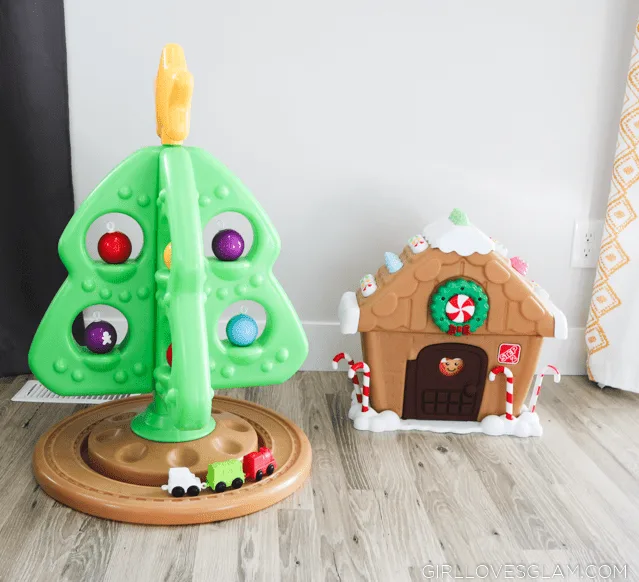 I believe that Christmas decor needs to be inviting. What is more inviting than interactive Christmas toys? This Christmas tree was a huge hit when we got it, so we had to have the gingerbread house to go along with it. My kids love to play with them and I love that they add a little more cheer to our house, without it looking like my kids just didn't pick up their toys.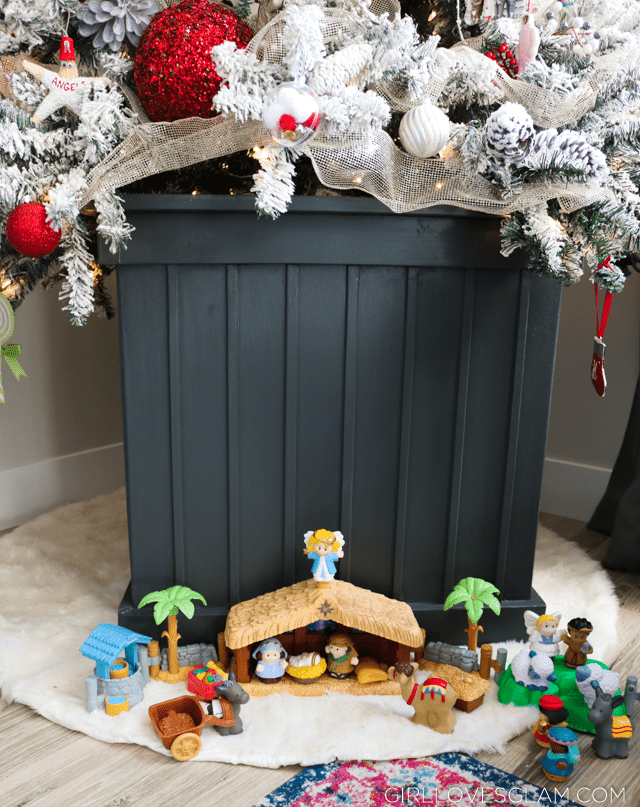 Another toy that we keep out is our Little People Nativity. I adore it! My girls love to play with it and it is special to have something they can interact with, that reminds them of the true meaning of Christmas.
Modern Christmas Box
Now, let's talk about this gorgeous box that my Christmas tree is sitting in. I LOVE it!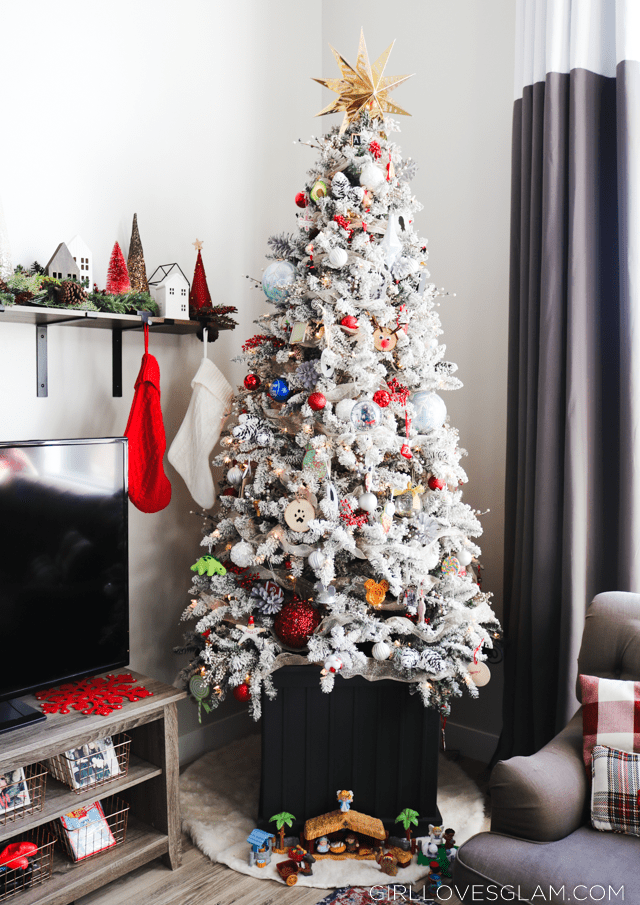 I love the idea of Christmas tree boxes but many of them feel too farmhouse for my taste. I wanted something that would fit right in with our decorating style, so I gave my husband the task of creating one for us. I love how it came together! We painted it Iron Ore from Sherwin Williams, which is a deep charcoal color that has hits of green in it. I love the subtle stripes on it that add a little more dimension and style. It has been nice to not only be able to add a little more style to our tree with our tree box but to be able to lift up our tree to give it more height and give us more space underneath.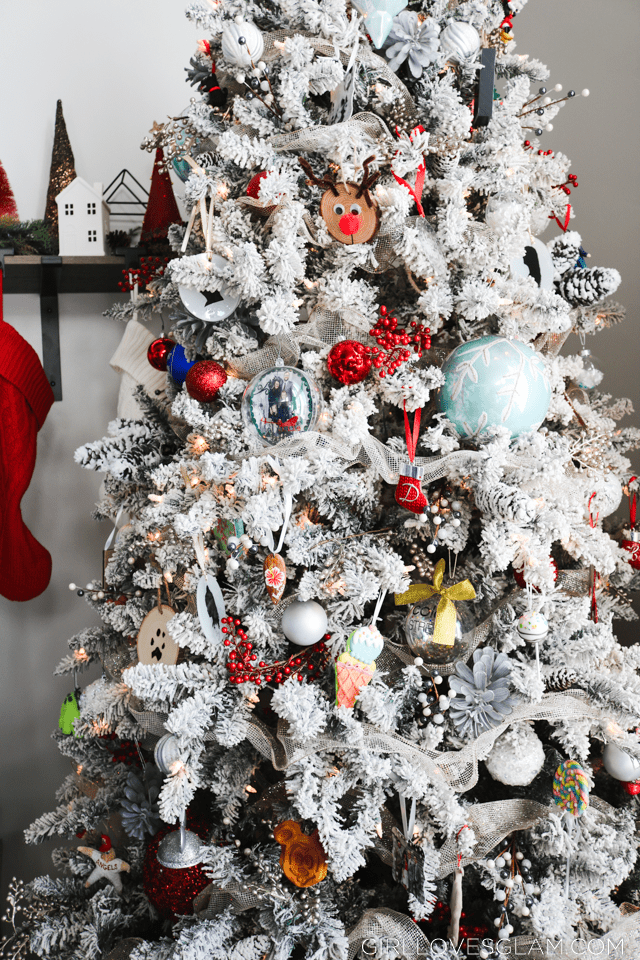 When it comes to decorating my tree, I choose the ribbon, sprigs, and base colored ornaments. Beyond that, I let the tree be a representation of my family. I always loved having a Christmas tree full of ornaments that reminded me of vacations and other memories. I wanted the same of my own kids. Themed trees are absolutely beautiful but this just feels better for our family. I think that having the base colors, ribbon, and additional pinecones and sprigs keep the tree looking beautiful, while still being able to decorate it with a variety of different sentimental ornaments.
Christmas Mantel Shelf
Something we did in our old house was putting up a giant shelf to be able to decorate, like we would a mantel. I loved it! When we moved to our new home, we had a much larger wall to decorate but I loved our shelf "mantel". So, we upgraded and got a larger one!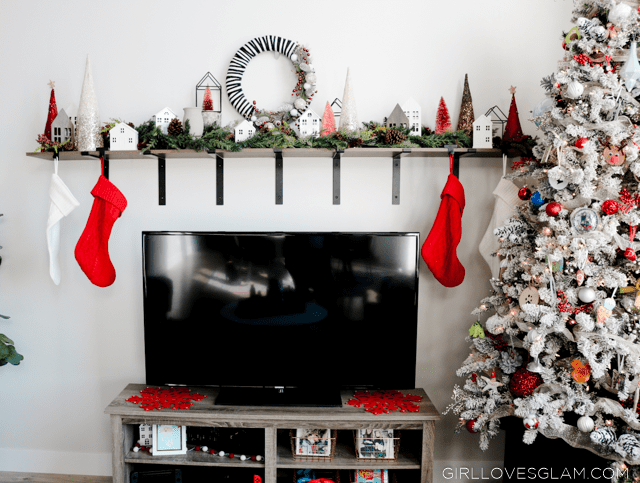 For Christmas, I like to decorate our mantel shelf with garland, Christmas village houses, cone trees, and bottle brush trees. It fills it up, without making it too busy.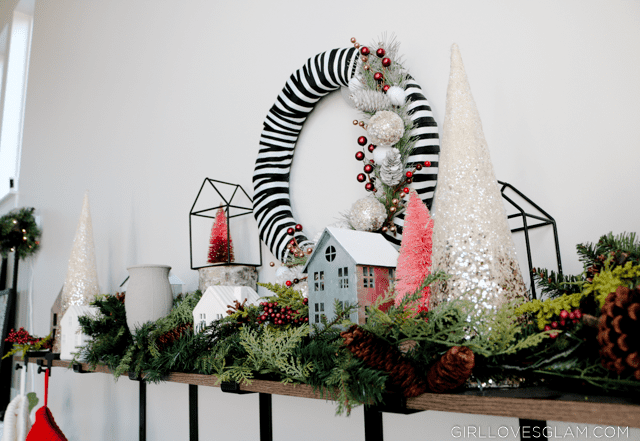 I also really love displaying the striped Christmas wreath that I made a few years ago above the faux mantel shelf. It helps add just a little more height.
Christmas Stair Bannister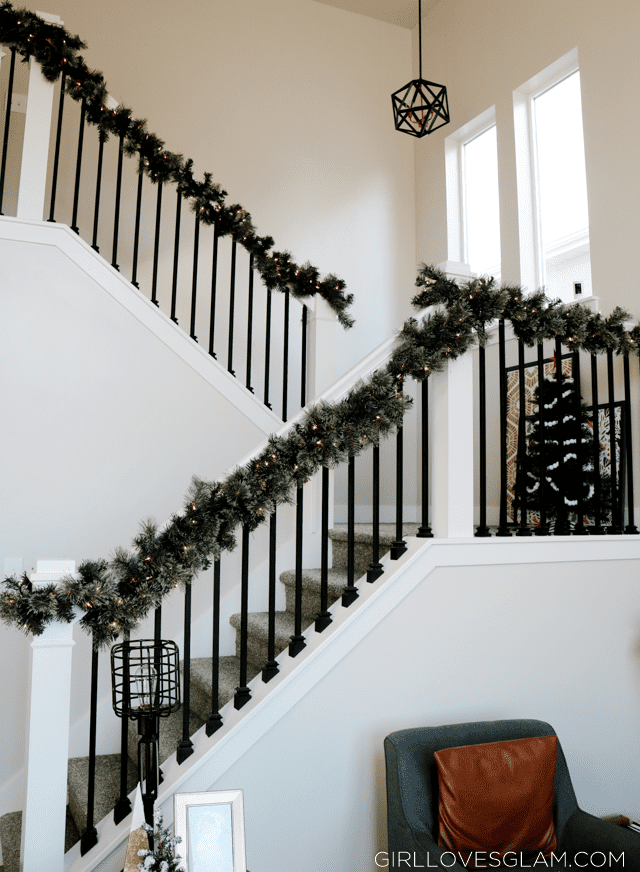 In our new home, we have a beautiful bannister that I just knew needed garland. I found the steal of a lifetime when I went into Walmart and found this prelit garland for only $11.99! I haven't ever been able to find it online but if you are looking for garland, I highly recommend going to Walmart. Things like this tend to sell out quickly, so look early!
Entryway Christmas Decor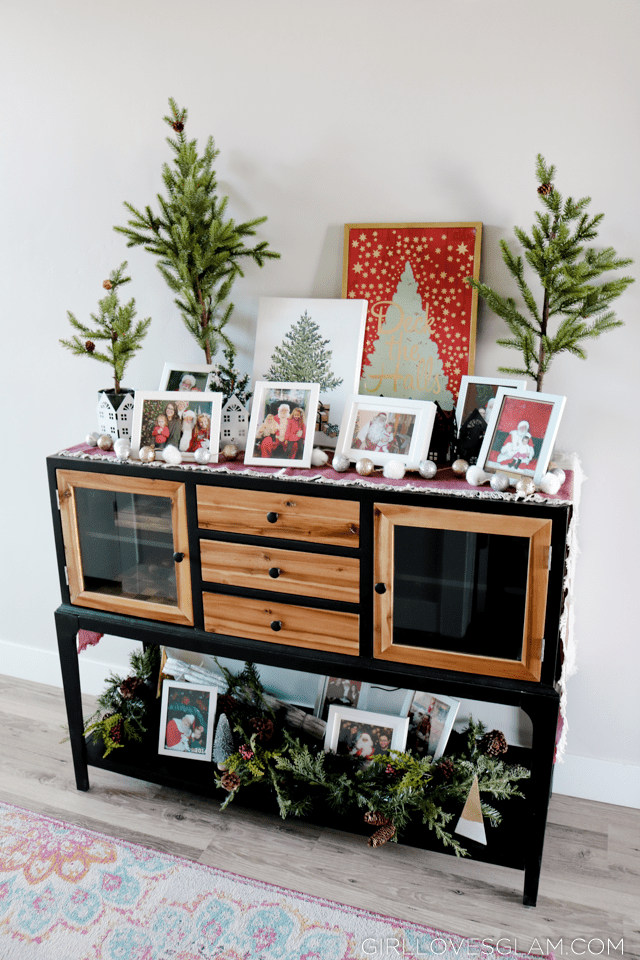 I have really loved having a table in our entryway that I am able to decorate for holidays. This table is especially fun at Christmastime because it is covered in Santa photos from every year! It is another fun way to take a little trip down Christmas memory lane.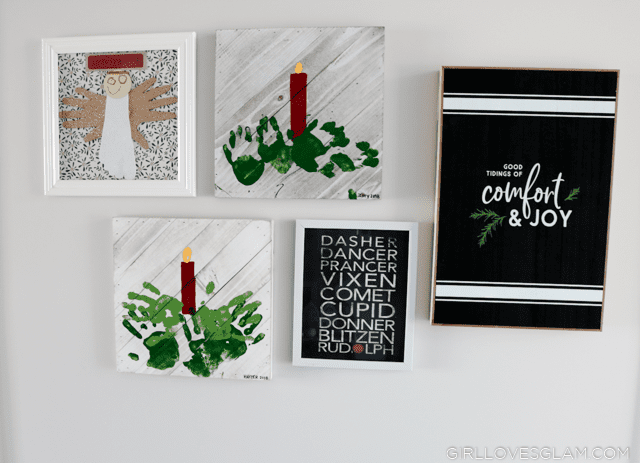 Across from the Santa table is a wall that I turned into a gallery wall. It features some cute art my girls have made and signs I have purchased. You can find the tutorial for the Handprint and Footprint Angel and the Handprint Candle signs on my site.
Christmas Decor Home Tour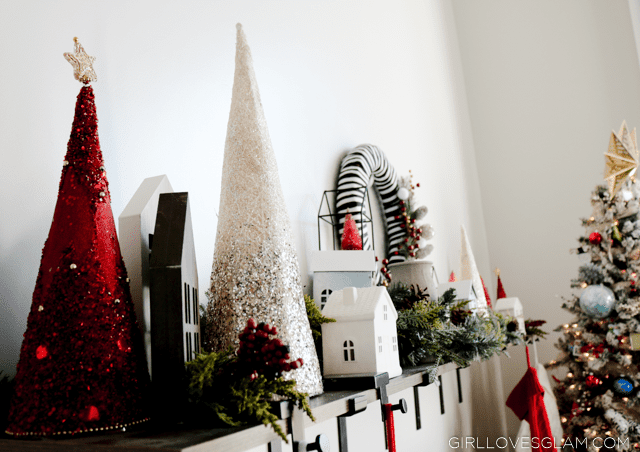 Thank you for coming on my Christmas home tour! If I forgot any links to things you want to learn more about, I am happy to share them with you. Just let me know what you are looking for!