Can you even believe that it is already November? The time has come to start thinking about… Christmas! Yep. I dared say it. It is that magical time of the year! I love all of the feelings of holiday spirit that come during this time each year. The smells, the food, the decorations, gift giving, and the mail! If you ask my husband, he would probably say that I am a bit obsessed with checking my mail. I love it! It is like Christmas everyday when I open the mailbox to find envelopes addressed to me. Maybe I need to get out more, but it really one of the highlights of my day. This is ESPECIALLY the case when it is Christmas time. I absolutely love checking the mail and finding holiday cards from people that we love. I love seeing pictures of friends and family and seeing how much their family has grown over the past year. I enjoy reading their letters and feel like it adds such a special spirit to the holidays.
I have always made it a point to send out Christmas cards since being married. Even if I am a major fan of technology, there is just something that makes you feel a lot more special when you get an actual card over an e card. I absolutely love Shutterfly and feel like their cards are not only gorgeous, but are completely affordable too. I have used them for years.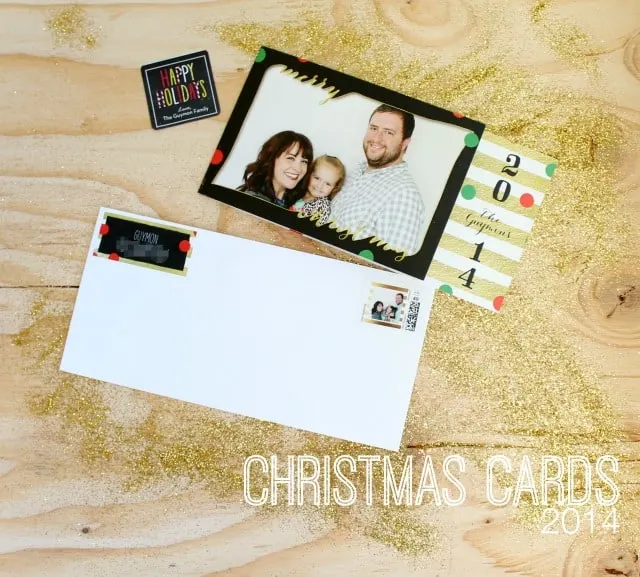 Typically, when I order my cards, I just order the cards and get the envelopes with it, but this year I was so excited to order the address labels, personalized stamps, and stickers for neighbor gifts from Shutterfly as well! I love that they all are cohesive and I don't have to even go to the post office to pick up stamps. As much as I like getting mail, I HATE going to the post office. The post office doesn't have cute stamps with a picture of my family on it either!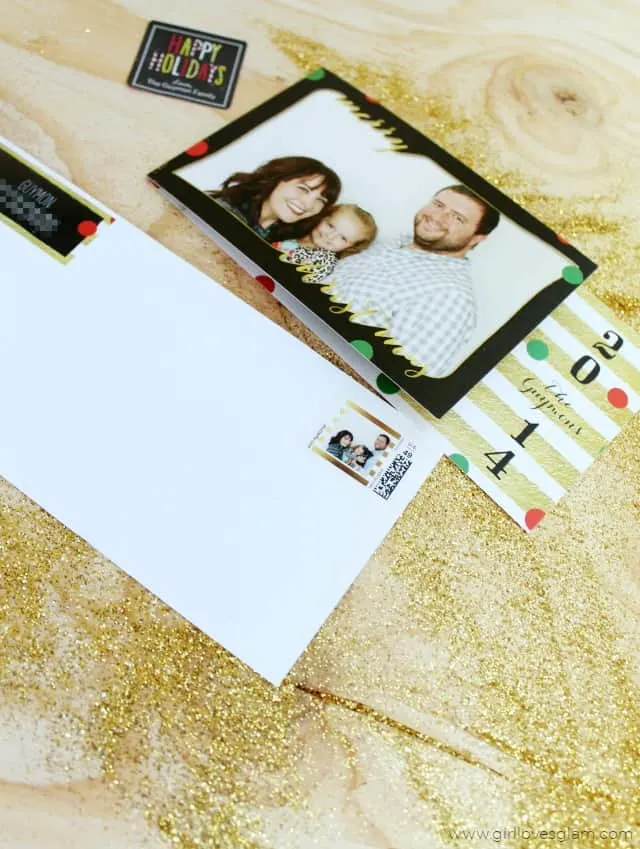 The card I chose this year is from their 3/4 fold card line that Shutterfly now offers. I like that it feels unique because it isn't a flat card, but still doesn't have so many folds to have to go totally overboard on photos. Last year, I was able to go a little more crazy with pictures because we had had our family pictures taken professionally. This year, I set up the good ol' tripod to do it and didn't quite have as many options. I was excited that these 3/4 cards offered the more luxury feel I was looking for, without having to use as many photos. You can see all of Shutterfly's holiday cards HERE. The address labels were really affordable too! They also come in so many different styles, you are guaranteed to find one that matches your card just right. I wanted mine to match, without feeling overboard. I love how it all came together. You can find the Shutterfly address label selection HERE. I can never have enough stripes, so of course I chose the gold striped stamps to fit right in with the whole look. I just can't get over how good they look with our picture on them! I love that they add just a little more personalization to our cards. You can find all of the Shutterfly personalized stamps, HERE.
I am also really excited about the stickers I got for my neighbor gifts. I have made my tags in the past, but it is just too much work. I love the idea of making a plate of goodies and sticking a sticker on the top and having it done! There just isn't enough time during the holidays to fuss about too many little things. Tags for neighbor gifts qualifies as one of those things that really shouldn't be stressed about! You can find all of the Shutterfly stickers, HERE.
Year after year, I have been impressed with Shutterfly. They always work to stay on top of the latest trends and really do a great job in bringing those to my holiday cards each year. I love all of their holiday party cards too. They make me feel like I need to get my act together and start planning an awesome Christmas party this year! You can see all of invitations, HERE.
As great as all of the products are on Shutterfly, I don' t think there is anything better about Shutterfly than how fast their shipping is! I am not typically as prompt as I was this year in ordering my holiday cards, but I have always been able to get them in speeds that blow my mind!
I would HIGHLY recommend Shutterfly for all of your holiday gift giving, sending, and party planning needs! For reals guys, they are the best.
Have you ordered your holiday cards yet? I can't wait to start sending out my Christmas cards! Is November 5th too soon to send them?!