This is a sponsored post written by me on behalf of The Hershey Company for IZEA. All opinions are 100% mine.
I love that Halloween kind of kicks off the beginning of the time of year where people enjoy hosting events at their houses. In fact, 34 percent of people attend or throw Halloween parties. Halloween parties are just the best because you can dress up and eat delicious treats. Hershey's candy is basically a Halloween staple at our house! Hershey's helps families harness the magic of Halloween by sharing new and classic treats that help transform any Halloween party from normal to paranormal! Hershey has seasonal flavors that include chocolate assortment variety bags with a little something for everyone, Reese's Peanut Butter Pumpkins, Kit Kat® bars, and Cadbury Screme Eggs! Yes, you heard that right. Cadbury Creme Eggs aren't just an Easter staple anymore! My candy dreams completely came true when I discovered that Hershey's Candy Corn bars existed. It is basically the Hershey's Cookies n Cream bars, but instead of the cookie bits, they are candy corn bits. They are dreamy! I just knew that I needed to incorporate them into a recipe somehow, so I made a delicious chocolate candy corn recipe and some adorable Frankenstein monster goodie bags to stuff the popcorn (or more candy) in!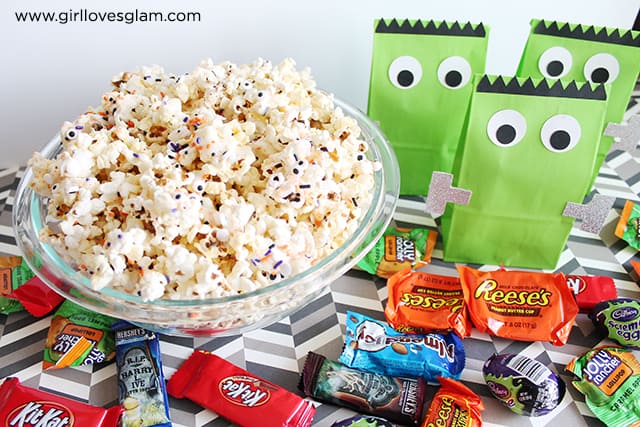 First up, the recipe for this delicious Halloween popcorn! If your pants don't fit after making this, I take no responsibility. This popcorn is just that good!
For this recipe, you need…
-One bag of Hershey's Candy Corn bars
-Two bags of microwave popcorn
-Halloween sprinkles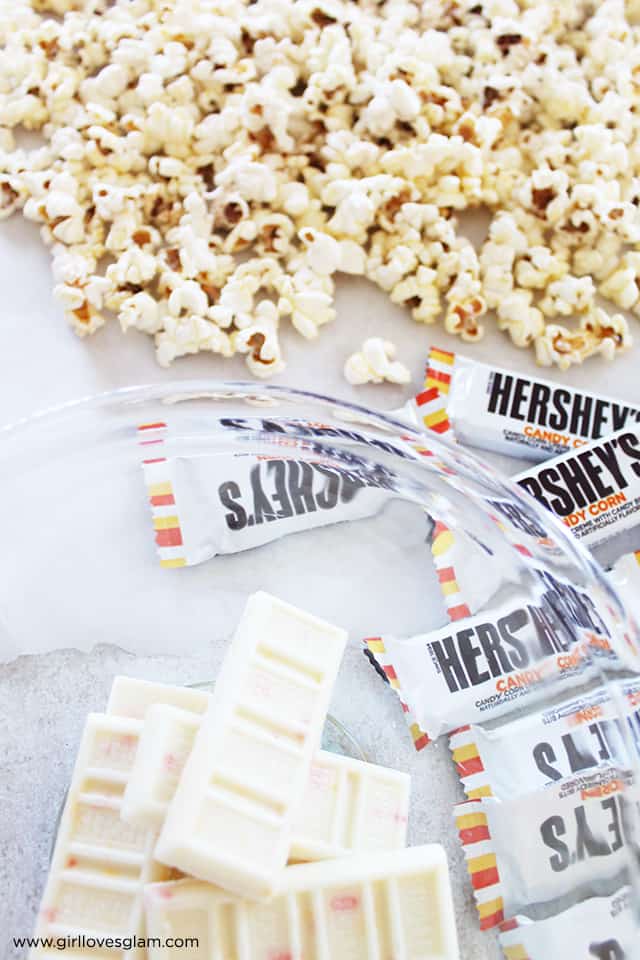 Pop the popcorn and lay it out on parchment paper. Unwrap the Hershey's Candy Corn bars and put them in a bowl. Melt them in the microwave by putting it in for 30 seconds and stirring. Repeat this until it is completely melted.
Drizzle the melted chocolate over the popcorn. Refrain from eating it, even though it is basically near impossible. The smell is divine! You can lick the spoon though!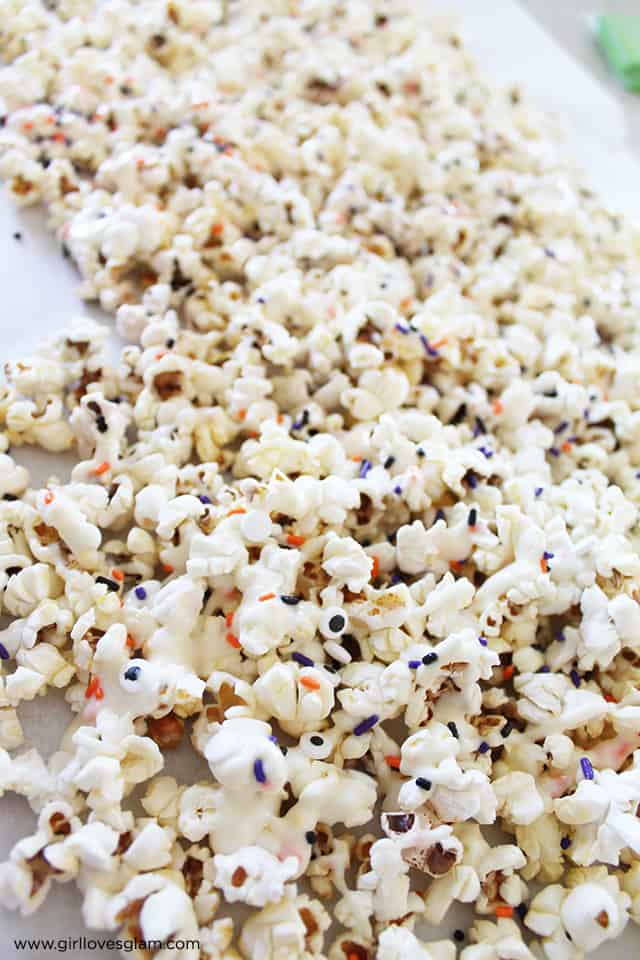 Sprinkle the popcorn with the candy eyeballs and Halloween sprinkles. Let the chocolate cool down completely before eating it. It is delicious! Now for the Frankenstein Monster Halloween Goodie Bags!
For these, you need…
-Small green paper sacks
-Black card stock paper
-White card stock paper
-Silver card stock paper
-Hershey's Halloween candy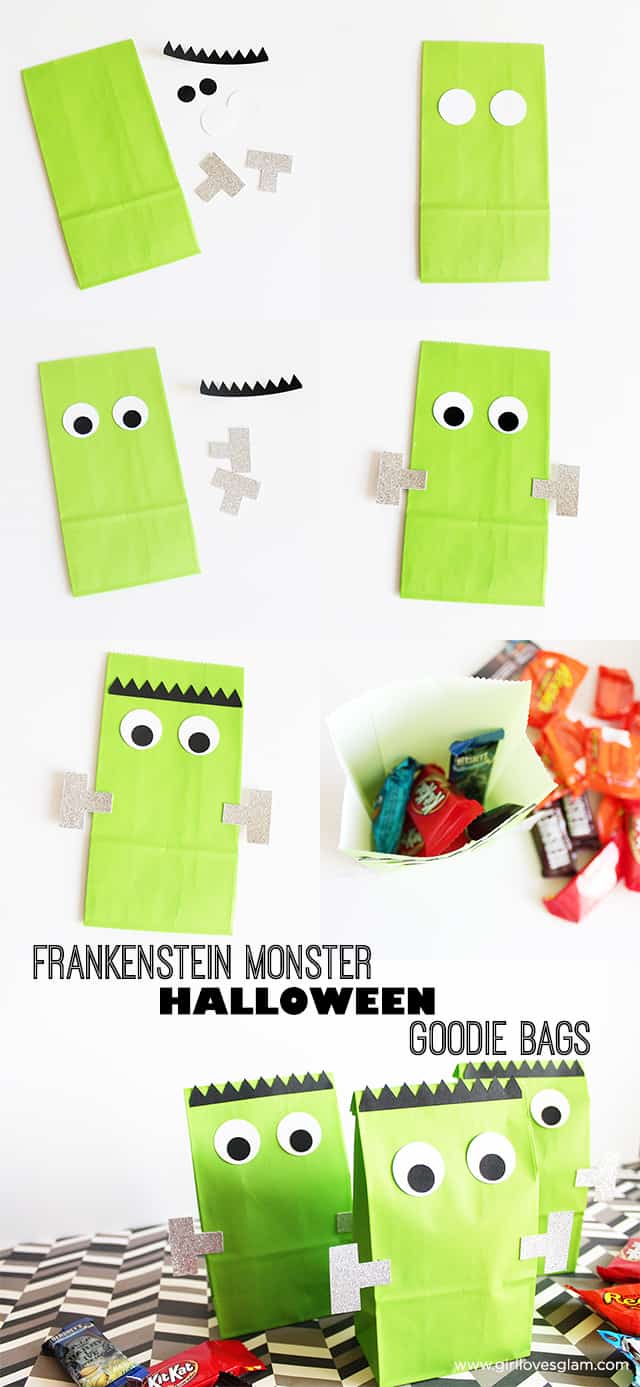 Start by making the eyes. Use a hole punch, an electric craft cutting tool, or scissors to cut white circles and smaller black circles for the eyes. Tape them onto the bag. Cut large T shapes out of the silver paper and tape them onto the sides of the bags. Cut a zig-zag shape out of the black paper and tape it onto the top portion of the bags. Fill the bags with delicious Hershey's candy bars and tape them shut. They are perfect in every way!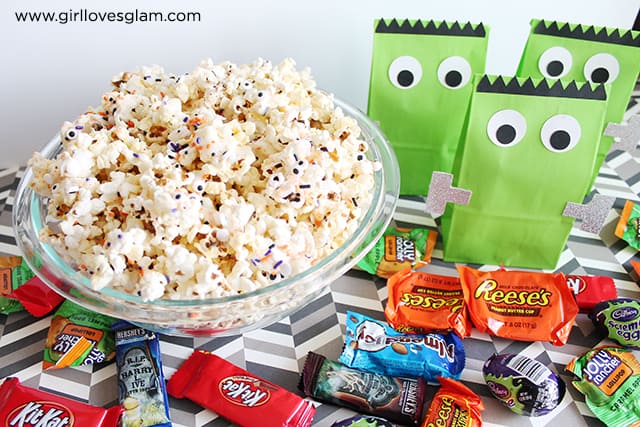 Now you are ready to entertain! Sit out your popcorn and your goodie bags on your refreshment table and surround it with more Hershey's candy and you are set to have a perfect Halloween party! You can also go for more Halloween party ideas, for more costumes & crafts, and for more Halloween recipes brought to you by Hershey!