This is a Sponsored post written by me on behalf of Zyrtec for SocialSpark. All opinions are 100% mine.
I HATE allergies! Every year, I suffer from seasonal allergies. Not just during the warm months though, I get them all year long! I get watery, itchy eyes that get red and a little swollen. I also have tissues at the ready pretty much 24/7 because my poor nose suffers from my allergies! It makes it really challenging to do my makeup and feel like a real human being. This has been coined as the term, Allergy Face! Thankfully, Zyrtec helps those symptoms go away quickly so that I can feel better!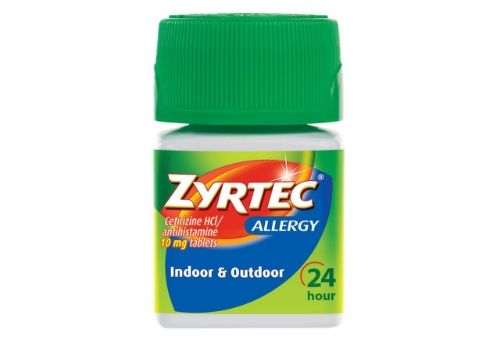 Zyrtec has come out with some great beauty tips to help get rid of that dreaded Allergy Face! Zyrtec found that 96% of women suffer from Allergy Face and they wanted to be sure to help them out so that they could look AND feel great, even when their body suffers from allergies. These tips are perfect to help make me feel pretty again!
I love the tip they give to put concealer on your nose as well as your eyes to help take the focus off of your puffy eyes a little bit. I also love the tip about putting a gold toned eye shadow just below your brows to help draw the focus up and brighten your eyes! They are totally great tips to get rid of that nasty Allergy Face! Something that I like to do to help conquer allergy face, is I am sure to stay away from powders on my nose. I do this for a few reasons. When I have bad allergies, I wipe my nose often and it tends to get really dry. When you put powder on dry skin, it tends to look extra flakey and unattractive! Another reason I stay away from powder on my nose, is because it adds to the irritation that my nose is already feeling from allergies. That powder goes right up my nose and gets me sneezing! Stay away from that powder when you are dealing with allergies! For more great tips about conquering Allergy Face, be sure to Check out Zyrtec on Facebook! Do you have any great beauty tips for tackling Allergy Face? I would love to hear them!