A week ago, we were graced with the VMA's. And although I didn't actually watch the VMA's, because of social media, I feel like I didn't miss a beat. Now, this isn't totally a bad thing, because I did get to see Justin Timberlake's awesome performance. BUT, because of social media, I had to see things that I wish I wouldn't have seen. Images and descriptions that can't be erased from my mind. It made me feel gross. It made me feel dirty. It made me feel sad.
But, then I saw a different picture. A picture of a happy couple walking out of the temple, right after they got married. They looked so happy! I could feel their happiness through the picture and it instantly brought me back to the day that I was married for time and eternity to my best friend.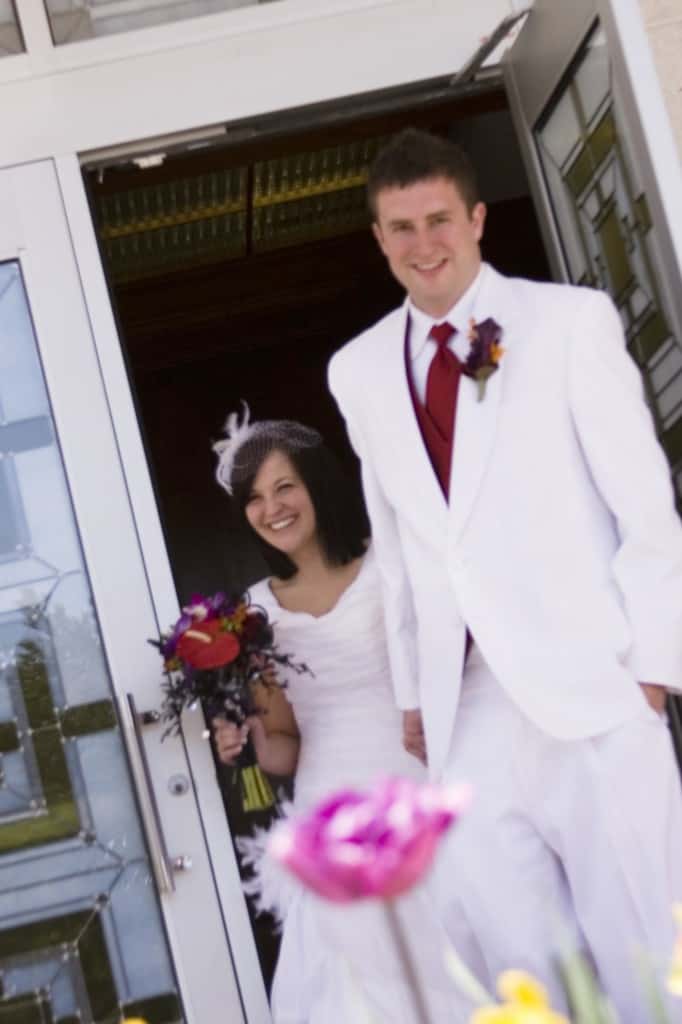 I knew that day that I had prepared my entire life for that moment to be sealed for time and all eternity to my very best friend.
After seeing that picture on Facebook, I clicked on it to make the photo bigger. I saw that this picture had been shared thousands of times. I wondered why. I didn't recognize the person's name who had originally uploaded the photo, but then I noticed something. The bride had tattoos! Now maybe that doesn't seem like a big deal if you aren't LDS, but if you are, you know that in the Mormon church, tattoos aren't the norm at all! I then remembered hearing about the "Tattooed Mormon" who had been on the cover of an LDS magazine and I knew this had to be her! I wanted to learn more about her! Just by her smile alone, I knew I wanted to see what her Facebook page was all about. By doing clicking over to her Facebook page (Al Fox), I opened up an entire can of spiritual worms. It was jam packed with just what I needed to hear, see, and read.
I found myself then watching her YouTube videos, reading her blog, and feeling more and more spiritually uplifted with each of them.
I truly believe in using the internet for good. Al Fox has used that as her motivator and has completely started a movement with #usetheinternetforgood and I love it. Too often we are sucked into the messiness of the internet. We need to take a step back and think about what really is important in our lives and rearrange some things. That doesn't mean that spending time online is a bad thing though. Instead of spending time on Facebook checking in on the mean girls in high school to see if karma is getting back at them, spend more time online spreading the good.
There is good in the world. You can be the good in the world.
I know that through the gospel of Jesus Christ, I can be the good in the world too. I can stand up and be not ashamed of my light within. I don't have to be afraid to be the good in the world. I can share with others my love of my Savior and my Heavenly Father to help them find strength and know that He lives. Christ died for us. Every one of us. He knows our aches and pains. Not just physical pains, but emotional pains too. I can't even tell you how much that touches my soul. I know that the sadness, anxiety, fear, and self consciousness that I feel isn't just something that I feel alone, my Lord and Savior Jesus Christ has felt them too. I know that I can turn to my Heavenly Father and Jesus Christ for answers and comfort. I know that my brother who is currently serving a mission for our church is doing just exactly what he is supposed to be doing. And although I miss him every, single day, I know that he is supposed to be there. I pray that we can all use the internet for good. Spread joy.
I just want to leave you with this video of Al Fox's that I watched. She is such a great inspiration to be the good and use the internet for good.
For more information about my faith, and a little bit more about why I am a Mormon, read this post here. #usetheinternetforgood