I am a member of the Collective Bias® Social Fabric® Community. This shop has been compensated as part of a social shopper amplification for Collective Bias and its advertiser. #LaundrySimplified #CollectiveBias
It is every mother's dream. The day that her kids can do chores. The day that mom doesn't have to do absolutely everything to keep the house in order. Well, that day may come sooner than you think! I believe that toddlers are capable of having chores of their own! Recently, I have started teaching my 2 year old how to do laundry. She absolutely loves it! It makes her feel like a grown up, while she is honestly helping me out with one of my least favorite household chores. One of the biggest frustrations early on, was trying to teach her to sort the laundry by certain types of colors and if the item would bleed more than others. Thankfully I was able to stop sorting laundry all together and I don't have to go through that frustration anymore!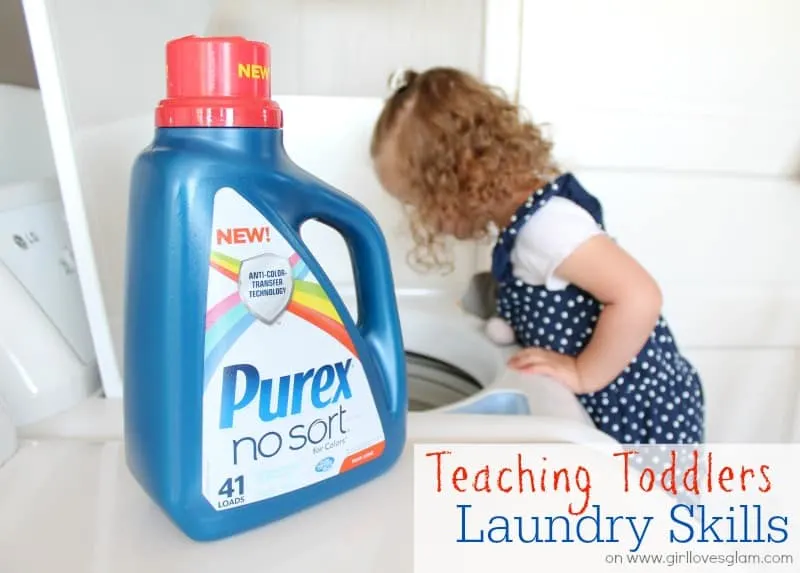 Enter Purex® No Sort™! The rules have changed in laundry! We have to reprogram our brains with this laundry detergent. We no longer have to sort out our laundry like we used to. This detergent has anti- color-transfer technology that traps loose dyes in the wash and doesn't let them get on other fabrics. Of course it is always good to put strongly colored fabrics like new clothing and jeans in a separate load for at least 5 times, but beyond that, there is no sorting required!
That is why it is perfect to help teach toddlers to do laundry! Teaching them the ins and outs of laundry sorting can be tough and can be something that they could learn later, but for a 2 year old it was just too much right now. Here is what I taught my two year old about doing laundry.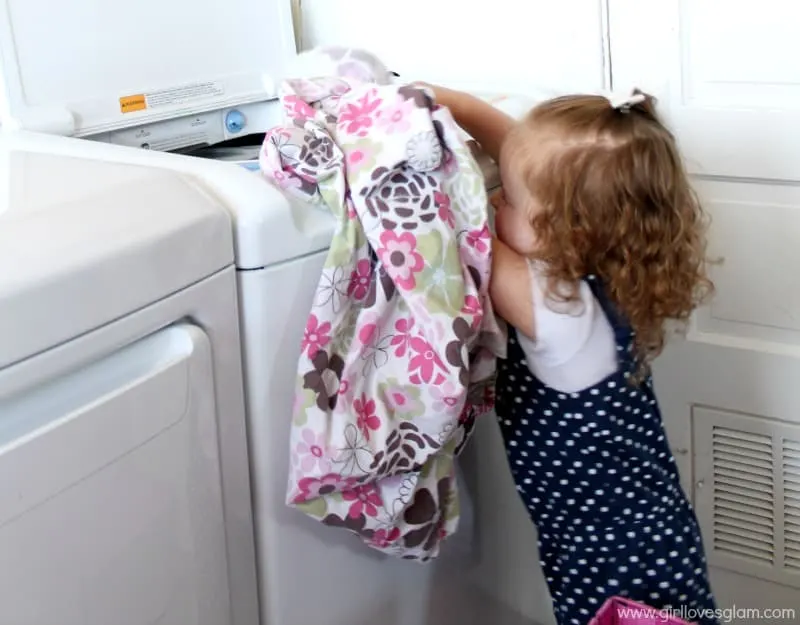 First, we bring her laundry hamper out to the laundry room and I let her put all of her dirty laundry into the washing machine. Remember the no sorting thing? I can just have her dig right into those dirty clothes and put them all into the washing machine at once!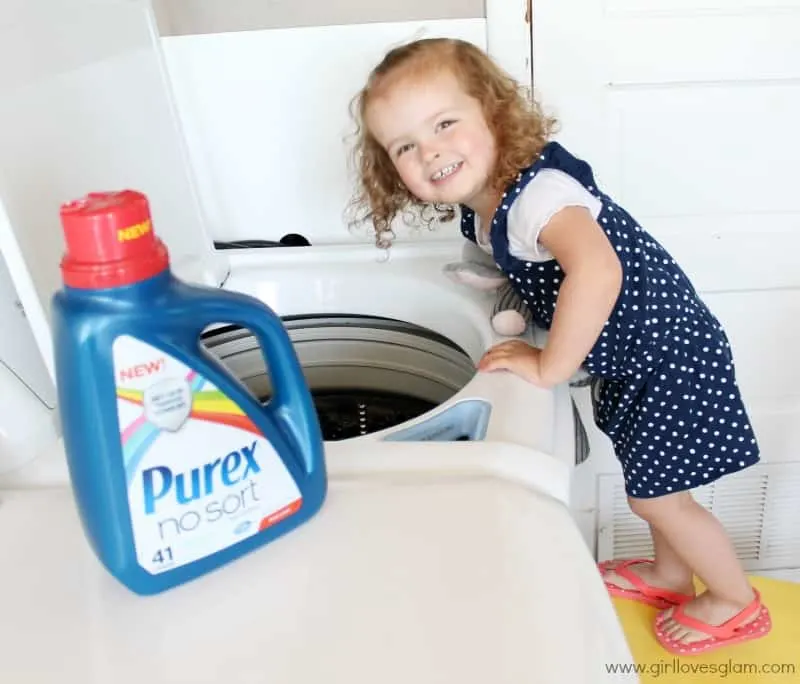 Then, I get a chair for her to stand on and get the laundry soap out.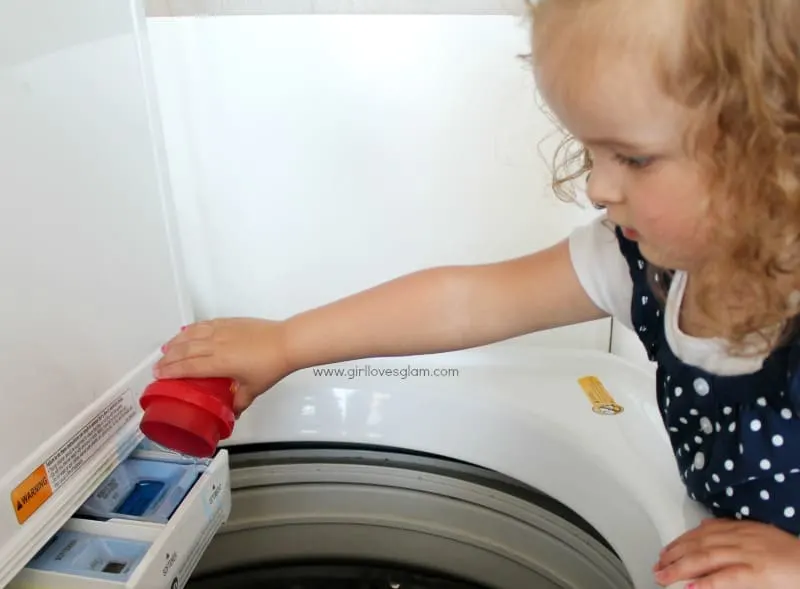 I measure out the amount of laundry soap that we need and then I have her dump the laundry soap into the compartment. She feels like such a big helper when she does this part.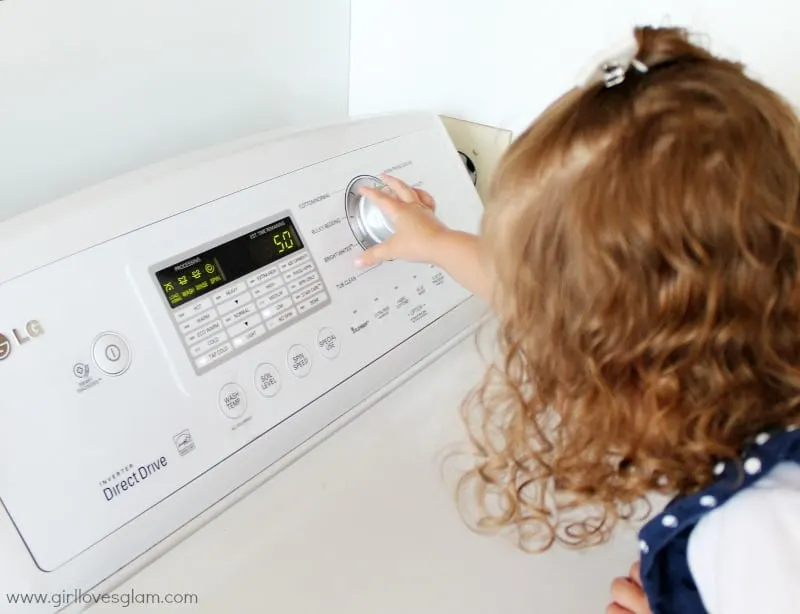 I tell her what buttons to push to get the washing machine started and she gets to start the load of laundry up!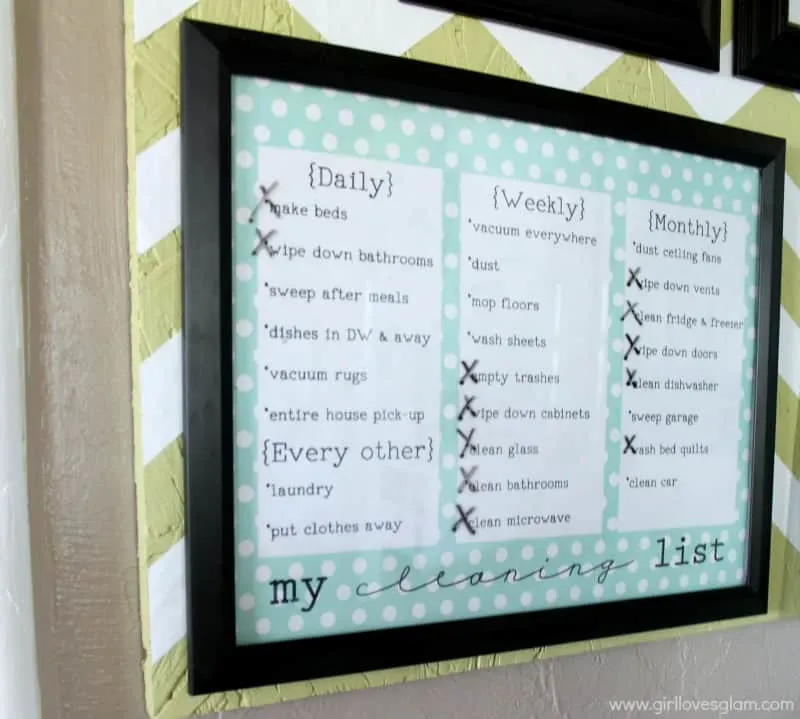 Next we head over to the cleaning list that I have. I recommend having a cleaning list for your family to see what needs to get done so that it can be a very visual, hands on experience. You can find my free printable cleaning list HERE.
I give her the dry erase marker and show her what chore to mark off. She feels like she is helping out our family by doing what she sees mom doing all of the time. It has been a really fun experience to watch her learn and grow as I let her help me with little chores around the house. Laundry is definitely a favorite of hers.
Remember to keep your kids safe! That is always going to be the first priority. Don't leave any stools or chairs near the washing machine when there isn't adult supervision around. Don't ever leave your child by the laundry machines without adult supervision either. It is important to teach children how to be responsible, but it is more important to keep them safe!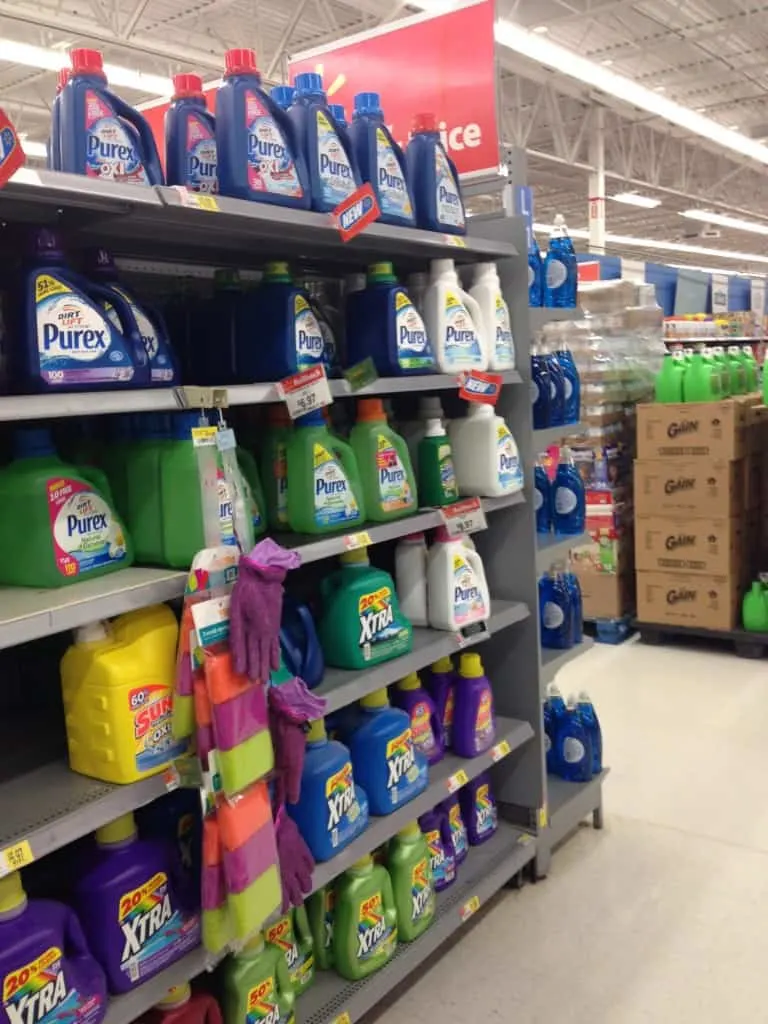 You can find the Purex® No Sort™ laundry detergent at Walmart in the laundry detergent section. I found mine up on the very top shelf, closest to the edge.
Rethink how you do laundry too by following Purex on Pinterest, YouTube, Twitter, and Facebook!
What chores do you teach your toddlers?