This post brought to you by Dollar General. All opinions are 100% mine.
I love it when I can find a good deal on drinks for my family! Especially when the deal doesn't include soda. I think it is important to drink a lot of water, but also treat yourself to a drink that is more than water, but soda isn't the way to go. That is why I was so excited to see that Dollar General has their SoBe® Lifewater® on a Buy One Get One deal with a coupon! It isn't often that you can find a great deal on healthy alternatives for soda, so I knew I had to take advantage of this one.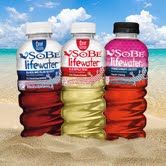 I absolutely love the Black and Blue Berry flavor of SoBe® Lifewater® and plan on stocking up before this deal goes away. You can get a coupon too! You can get the coupon by sharing the coupon with friends. It is really easy. Just go to this link on Dollar General and share it via email!
I went on the Dollar General site and shared the deal with my friends and now I can't wait to go stock up on all of this SoBe® Lifewater® goodness! I plan on trying the Pomegranate Cherry flavor too!
Make sure to share this coupon with your friends so that you can take advantage of this awesome deal too on SoBe® Lifewater® at Dollar General too! Have you tried SoBe® Lifewater® yet? I would love to know what your favorite flavor is!