Love is in the air and engagements are happening everywhere. My brother got engaged recently, and it seems like all of my single friends are getting engaged right now. I can't help but be excited to see all of the wedding goodness coming in my mailbox very soon. One part of the wedding that I feel like gets overlooked, are the save the date cards. That doesn't need to be the case anymore though. Shutterfly has the greatest save the date cards right now! Are you or someone you know getting married? You have GOT to check these out.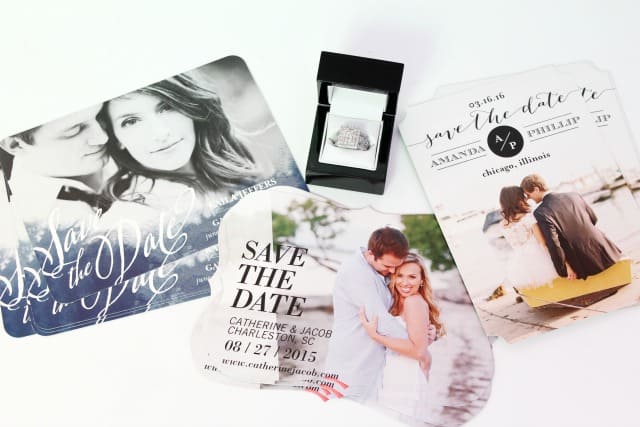 How classy do these look? It is hard to believe that they weren't done by a pricey artist. You can get specialty sizes, gorgeous designs, and still pay the great prices that Shutterfly offers.
Shutterfly has so many designs to choose from, you are sure to find the style that is just right for you. They come in tons of different shapes and sizes and you can even choose what trim you want on them. These save the date cards with the scallop trim are just about the cutest things I have ever seen! You can find them here.
As if all of that wasn't good enough, Shutterfly now offers foil-stamped designs too! They are so elegant and are the perfect way to show your guests a little teaser of just how elegant your wedding day will be. You can find the foil-stamped save the date cards featured above, here.
So, have you saved your wedding date yet? Before you tell your guests the big news, grab some of these amazing save the date cards from Shutterfly! I am almost tempted to get married again, just so I can order some of these for myself!