I have been so excited about Zoey's nursery design. I have been planning it for months and I finally was able to finish it so I can share it with all of you! When I found out I was having another little girl, I saw a color design chart with pink, blush, mustard, and charcoal gray. I INSTANTLY fell in love with the color combination and knew I wanted to use those colors in my baby's nursery.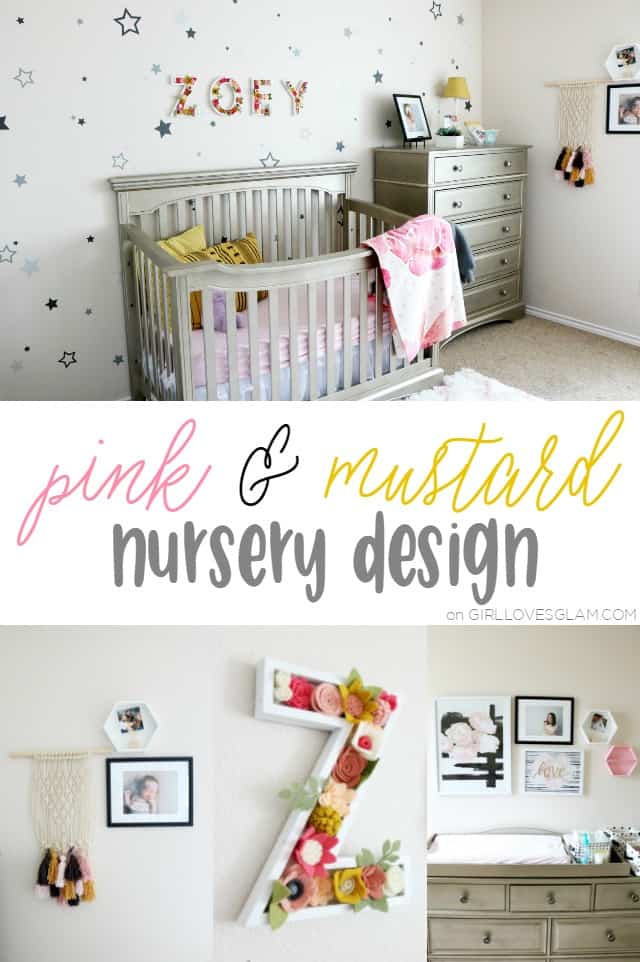 The most important part of any nursery is the furniture. It is what literally is going to hold the baby and can totally make or break the overall design of the nursery. That is why I was thrilled to partner with Evolur to help create this beautiful nursery. Their furniture is high quality and can grow with Zoey as she gets older. The crib can convert to a toddler bed, day bed, and a full bed so it literally can grow with her as she grows. I am SO obsessed with the Windsor collection and the Pewter/Vintage Bronze finish that I chose.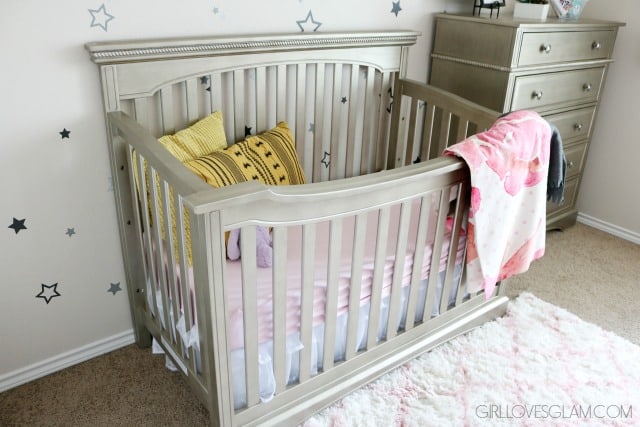 In some light, it looks more pewter with gray undertones and in other light you can see more of the bronze finish. It is amazing! The crib, tall dresser, and double dresser all come together to look elegant and perfectly polished. The thing I love about this finish is that it would literally look good with any color combination. As Zoey gets older, we can change the color of her decor and her furniture will still match!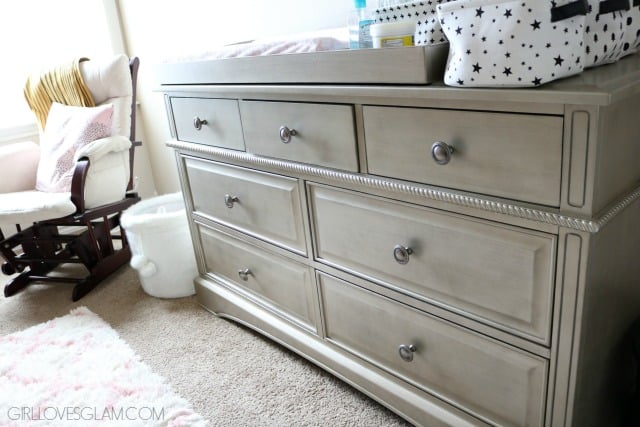 The double dresser can even have an added attachment on the top to turn it into a changing table. I love that we have the storage, but that it is a functional piece of furniture that we can use several times a day when we change diapers.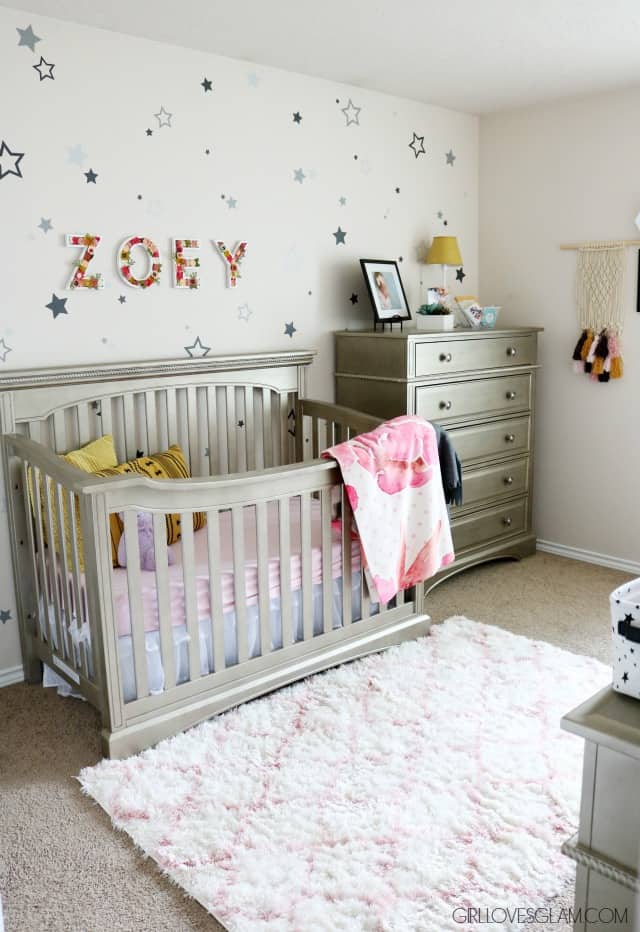 Because we are renting, I wasn't able to make any permanent changes to the walls. That is why I absolutely love adding vinyl to the walls. It makes such a huge statement, without any of it being permanent. I chose these fun stars in different shades of gray to add dimension to the wall. I used the removable indoor vinyl from Expressions Vinyl in Dark Gray, Middle Gray, and Light Gray. You only need one 12×24 sheet of each color for one wall like this. I got the star design from the Silhouette Store on Silhouette Studio and cut out the vinyl using my Silhouette Cameo 3. I LOVE my machine! It has an automatic blade that adjusts for you and I didn't have to play around with settings trying to find the right blade settings to get it just perfect.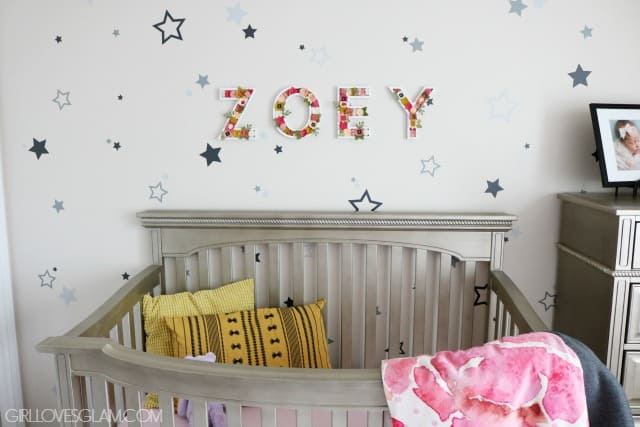 I didn't follow a certain pattern when I put the stars on it. I just started with one color of stars and put them randomly on the wall, then added another color of stars all over the wall, and went with the last color to finish it all. I took a step back and looked to see if I wanted to add more stars in any places and added them where they needed to be. This was by far the fastest vinyl wall design I have ever done! Having it all go up randomly, instead of having it lined up perfectly, saved a lot of time! I think this design could be so cute for baby girls and boys and can even grow up with the child as they get older since it isn't too much of a baby design.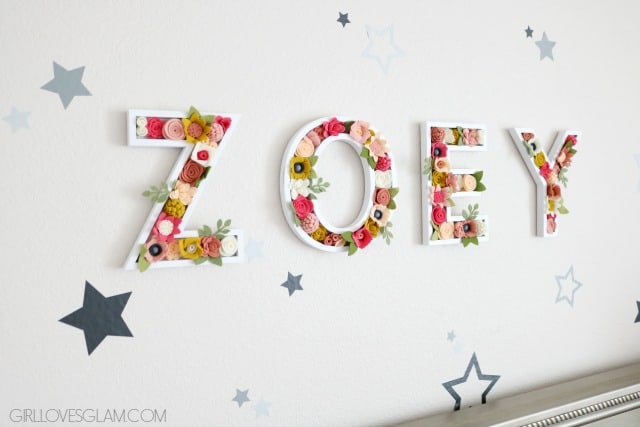 We can't go beyond this wall without noticing these incredibly beautiful wood and felt flower letters. They were made by the insanely talented Flohra Design shop! They are currently transitioning from making and selling items, to teaching classes about creating felt florals. You can take their classes to learn how to make your very own felt flowers too!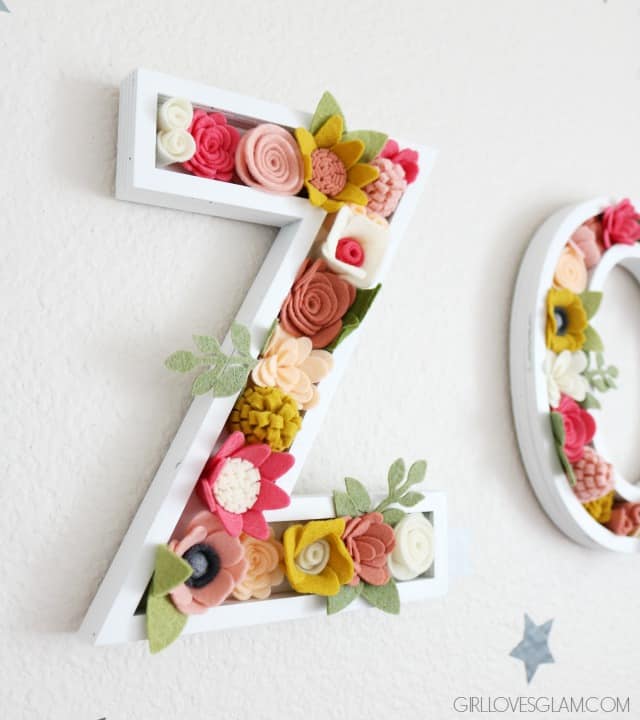 Just seeing how beautiful each and every flower is makes me want to learn how to make them for myself!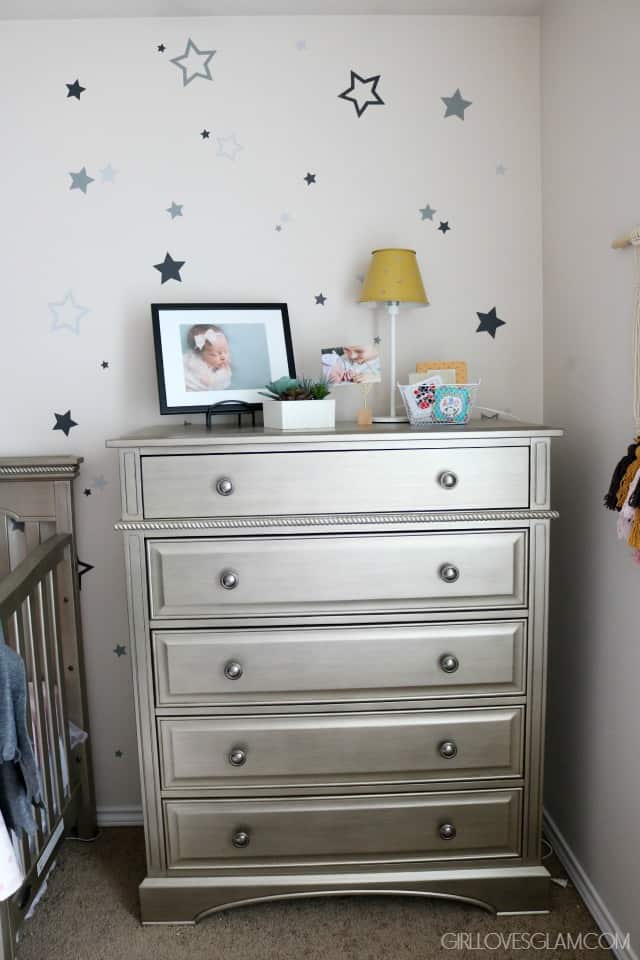 With just how beautiful the Evolur tall dresser is by itself, I knew I didn't need to add much to it to decorate the top. I was able to get this perfect little lamp from IKEA that I just love and it adds the right amount of mustard color to the dresser.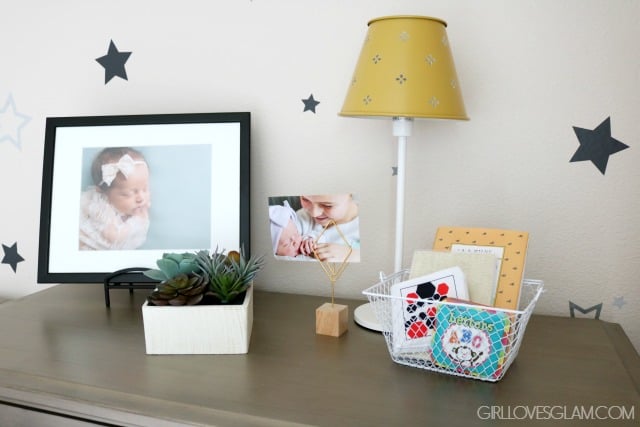 I love decorating with pictures and loved showing off some of Zoey's beautiful newborn photos taken by Camille Marie Photography. I was also able to print off some of the photos from the hospital and display them on these little Heidi Swapp photo stands that are so modern and cute!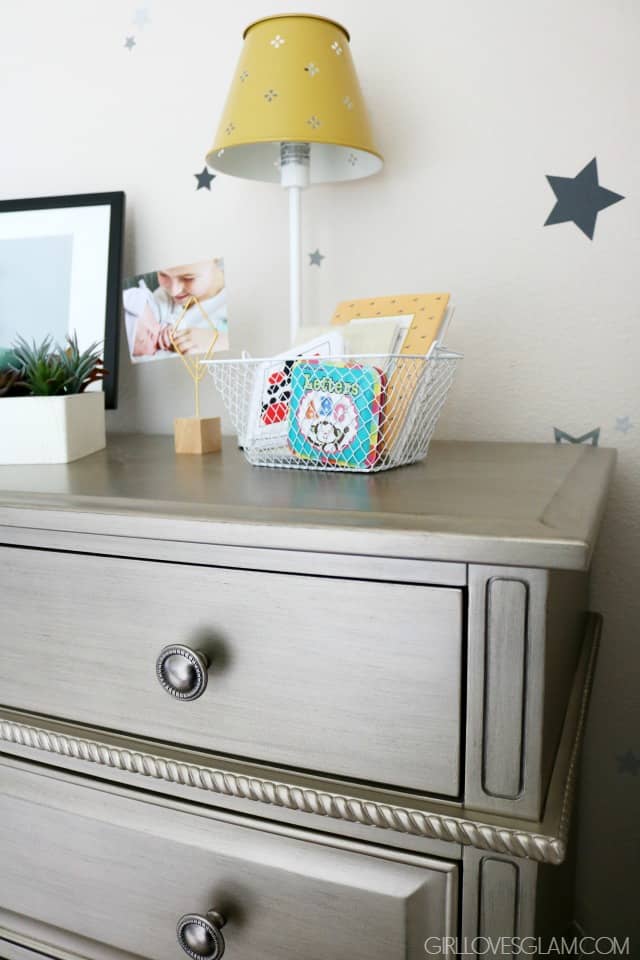 I made this hanging macrame at the Michael's Maker's Summit I was able to go to last year and knew I wanted to save it for the nursery! I made tassels in the nursery colors to add to the bottom and I think it added just the right amount of color to this part of the space.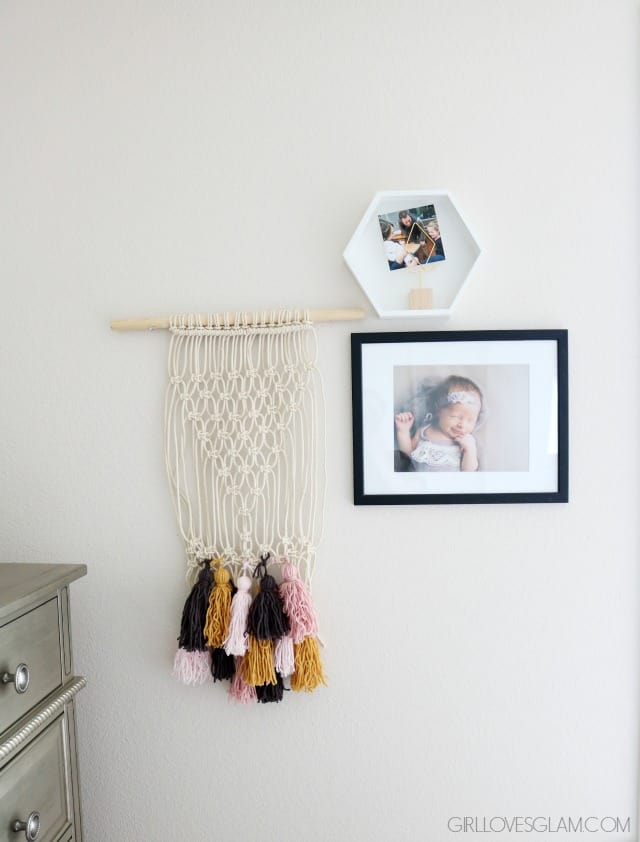 The gallery wall above the changing table is probably my favorite gallery wall in the house.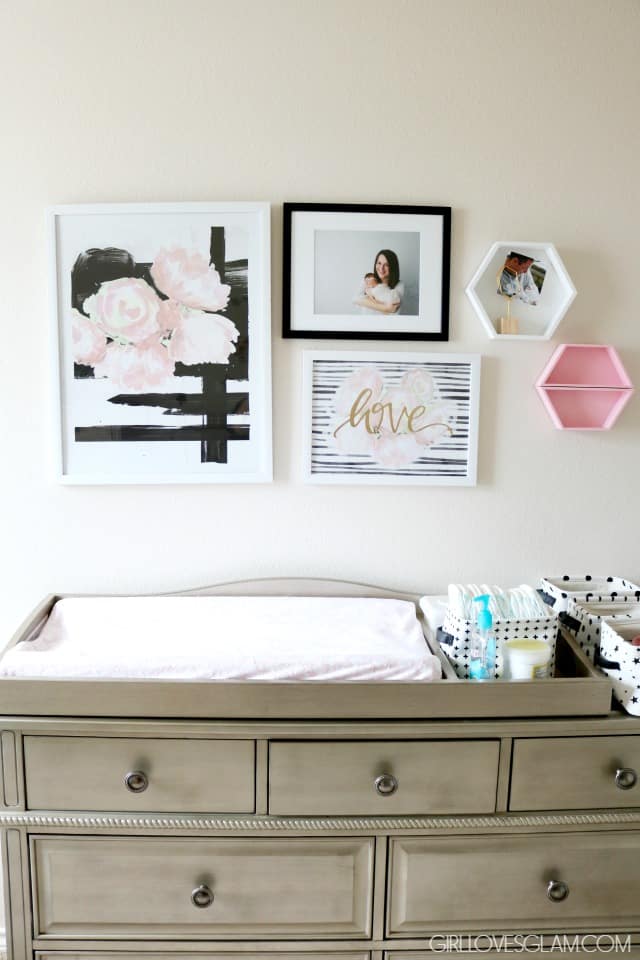 The floral and stripe prints both came from Hobby Lobby and the hexagon shelves are actually serving trays from Target!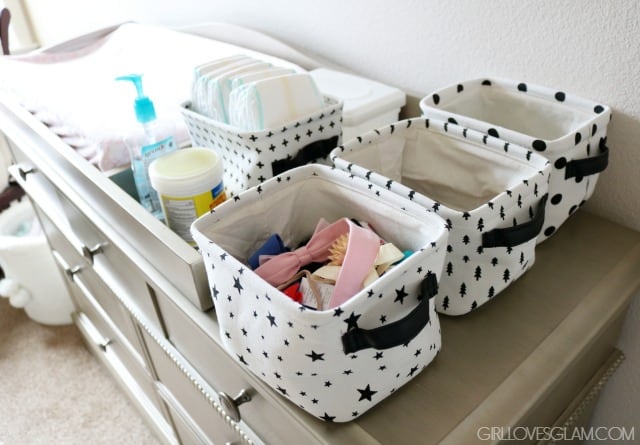 I think these little black and white canvas baskets are a perfect way stay organized in the nursery, while adding to the decor as well! I was able to find them on Amazon and I have loved them! We keep diapers, headbands, bows, and hygiene supplies in each basket. I love that they are easy to access and cute enough to leave out as part of the decor.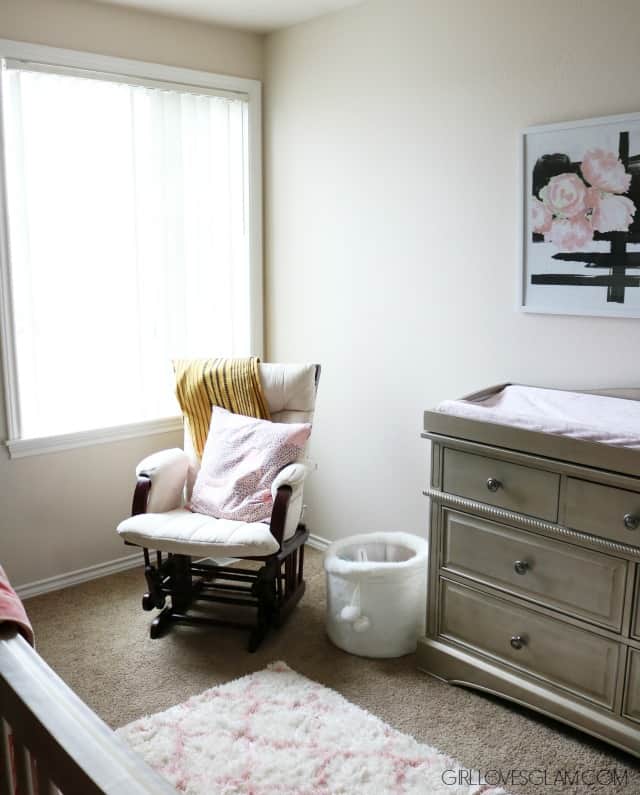 Overall, I love how this sweet little nursery came together! It has already been a room filled with love and continues to be a source of joy in our family.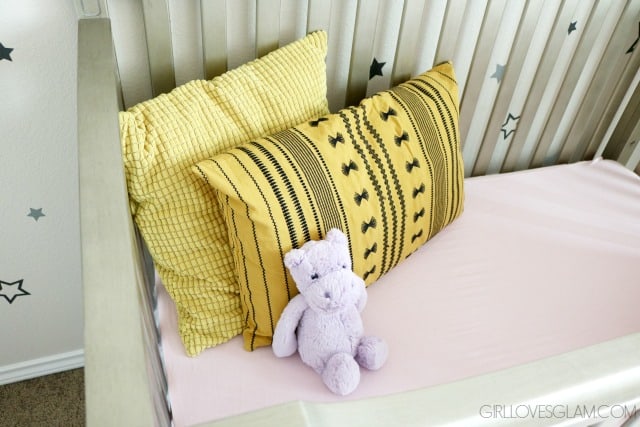 All of the pillows in the room, as well as the mustard and the gray blankets were found at IKEA. I love how affordable their blankets and pillows are! I don't have to cringe when spit up gets on them because they weren't a major investment and I can easily throw them in the wash.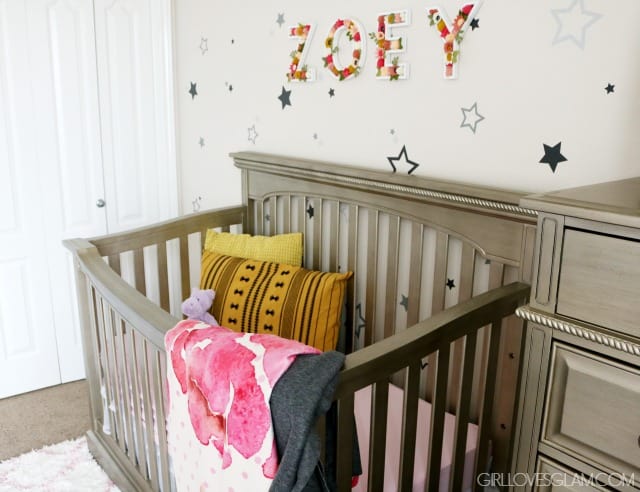 This gorgeous floral blanket was from Shutterfly! Did you know that they have an entire art library that you can use for any of their products? I got the super soft 60×80 sherpa blanket and just chose one of their designs from the library to put on it. When I couldn't find just the right design of blanket for the nursery, I knew this would be my best option! I think I love this blanket more than my baby does currently. I wrap up in it during late night feedings and it almost puts me right to sleep!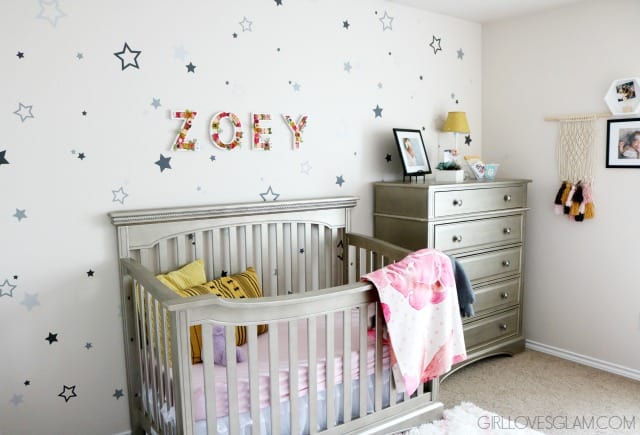 I know that this is going to be a really special room to raise our baby girl. I am incredibly grateful for Evolur Baby for the beautiful furniture that was provided for this design. I highly, HIGHLY recommend using their furniture in your baby's nursery. If you are going to spend the money on nursery furniture, it might as well be high quality nursery that will last for your child's lifetime!
Evolur has slightly changed the Windsor crib design to this design now. Instead of the slatted back, it now has the full panel. I love this new style because I feel like it makes it look more expensive and would look even more grown up as the crib is transitioned as your child grows.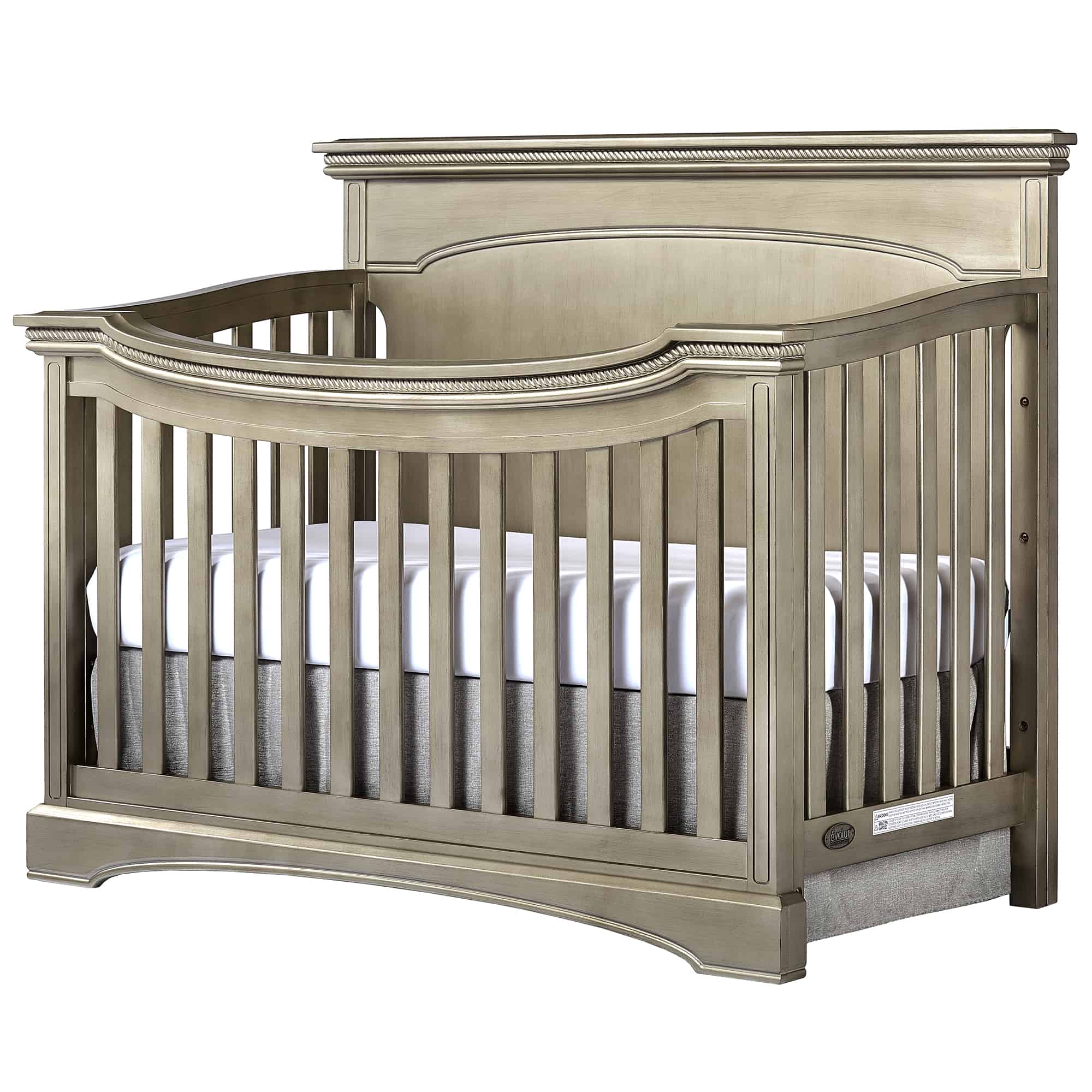 I tried to make sure that I let you know where everything was from, but if I forgot something, please let me know and I will let you know where I found it!
Crib, Tall Dresser, Double Dresser/Changing Table: Evolur Baby
Felt Flower Letters: Flohra Shop
Vinyl Stars: Expressions Vinyl and Silhouette
Sherpa Floral Blanket: Shutterfly
Pillows and other blankets: IKEA
Rug: Rugs USA
Ruffle Bed Skirt: Amazon
Canvas Containers: Amazon
Fur Bucket for Blankets: Michael's (in their Christmas decor)
Flower and Stripe Art: Hobby Lobby
Newborn Photography: Camille Marie Photography