I think I am the most excited for Christmas this year. More so than I think I have ever been. Part of it may be the fact that we are kind of missing out on Thanksgiving, due to the fact that we will be on airplanes all day that day. I decided to get my house all decorated for Christmas before we go to Disneyland, so it will be all ready for us when we get home. I love coming home to a clean house and coming home to a clean AND decorated house will be magical!
Three years ago, I decided to decorate with mint, red, gold, and "gilver" and it is a color combination that I have really loved ever since. I love that I found a color combination that I haven't gotten tired of because I have been able to switch out a few pieces of decor and add other things to make it feel more modern and on trend for the current year, without having to completely change all of my Christmas decor. This year, I wanted to add some more personal touches into our decor and I knew that Shutterfly would be just the way to do that.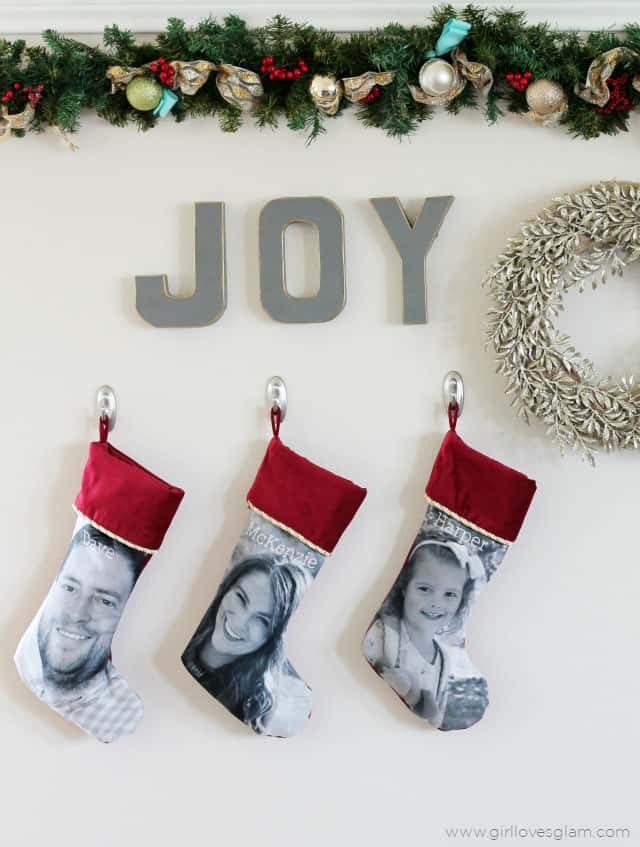 I made stockings a few years ago, but they have kind of been a total bust. They were way too small! They couldn't really get stuffed when they were so small and awkward. I have been on the lookout for the perfect stockings and I finally found my solution with the custom Christmas stockings that Shutterfly offers. They offer several different designs, but I loved the simplicity of the red band on these with our photos on them. As our family grows, we can order more stockings and we can even update them if they become outdated. I like that they are individual, but they are uniform too. The best part? They are big enough for Santa to stuff full of goodies!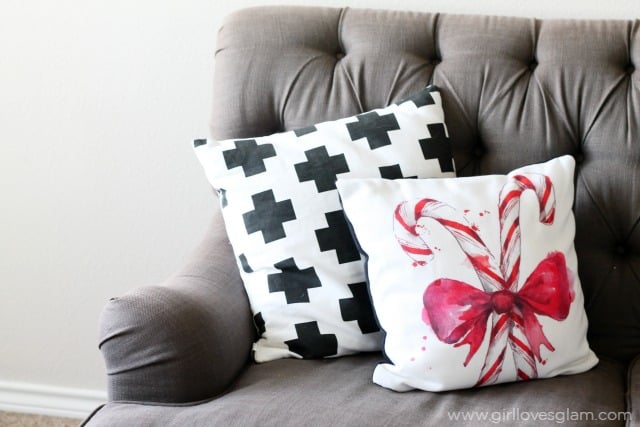 I wanted to add some holiday pillows this year, but have had a hard time finding pillows that weren't insanely cheesy. I want my holiday decor to be an extension of my style for my everyday decor and I just couldn't find any pillows that really felt like that. I did find one cute striped pillow with gold writing on it that I got, but I wanted something with a little color since my other pillows are pretty neutral toned. I ordered a custom pillow from Shutterfly for this as well! I didn't want a pillow with our faces on it, but was happy to find that Shutterfly offers designs that are free to use with their products. I fell in love with this watercolor candy cane design and just knew it would be perfect as a pillow!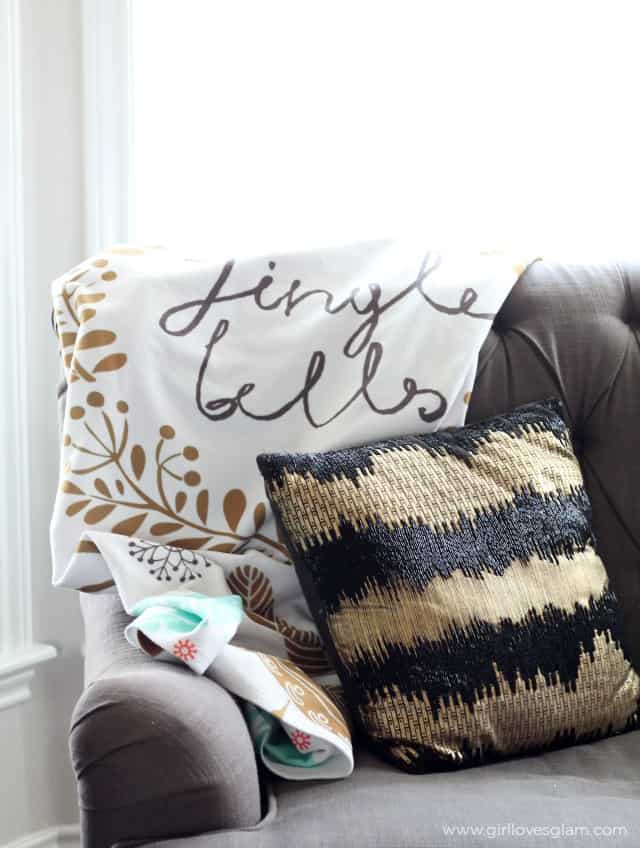 Every family needs a good Christmas blanket to snuggle up in! I fell in love with this modern design offered from Shutterfly when I was choosing the design to go on my pillow and I just had to have it made into a blanket! Dave even snuggled up in it yesterday and made the comment on how nice it felt. We were really surprised by the quality of the actual blanket. It is a nice, warm one!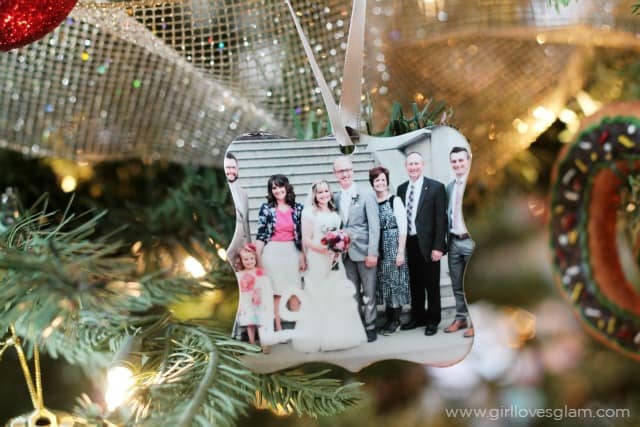 One of the final personal touches I added was a new ornament for this year. My younger brother got married in June, so we added a new member to the family. It was one of the last times we were all able to be together because my youngest brother left in July to serve a church mission for two years. We get to talk to him on Christmas Day and we are so excited! It makes this ornament even more special because it reminds us that we will all be together while we Skype him on Christmas Day as a family. On the opposite side, I have a photo of Dave and I with my siblings. I chose that photo because it is a reminder to me of just how lucky I am that I get along with my siblings so well and that my husband fits right in with my family. These memories are meant to be documented and I couldn't think of a greater way to do that than to have it made into an ornament.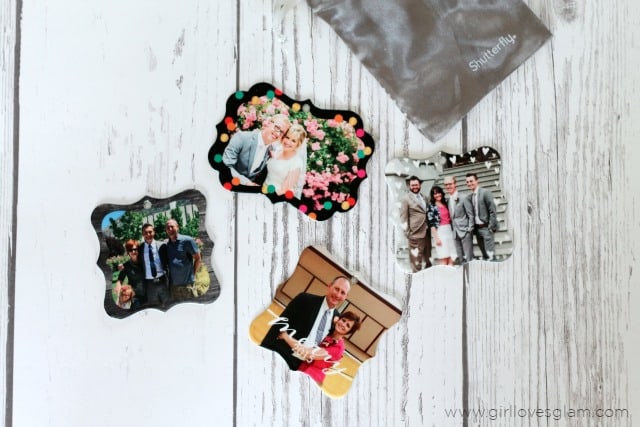 While I was creating my ornament, it struck me that ornaments would be perfect gifts for my family members. I love the idea of giving them little pre-Christmas gifts that are personalized to them. For my newlywed brother, he has a wedding photo of he and his wife on one side and on the other side it has the year and it says Our First Christmas. For my parents, I put a cute photo of just the two of them, since they are officially empty nesters now. On the opposite side, I included the photo of all of us at the wedding. For my youngest brother on the mission, I have a photo of him with my parents right before he left on one side, and it says First Christmas in Michigan 2015 on the other side. These are so unique and personal to each of them. It is a fun way to kick off the season of giving and let them know that I am thinking about them. I am so excited to send them to them.
If you are looking for more personalized gifts, Shutterfly is the perfect place to do it! I always give my mom and my mother in law calendars that I make on Shutterfly. It has become a tradition that we all look forward to each year. I will also be showing you my cute Christmas cards too once I get them ordered. We are waiting to get some fun pictures taken in Disneyland to feature on our card. I am excited to show you them!
How are you personalizing your Christmas this year?