Hair tools, hair products, and hair accessories can get insanely messy. It can make your bathroom (or whatever space you keep your hair goodies) cluttered very quickly. Having a place for everything is important so that your space can stay neat. There are so many great organizational ideas out there for hair tools and products that will keep you and your space pretty and organized! Here are some really incredible hair organization ideas to keep you and your space looking pretty!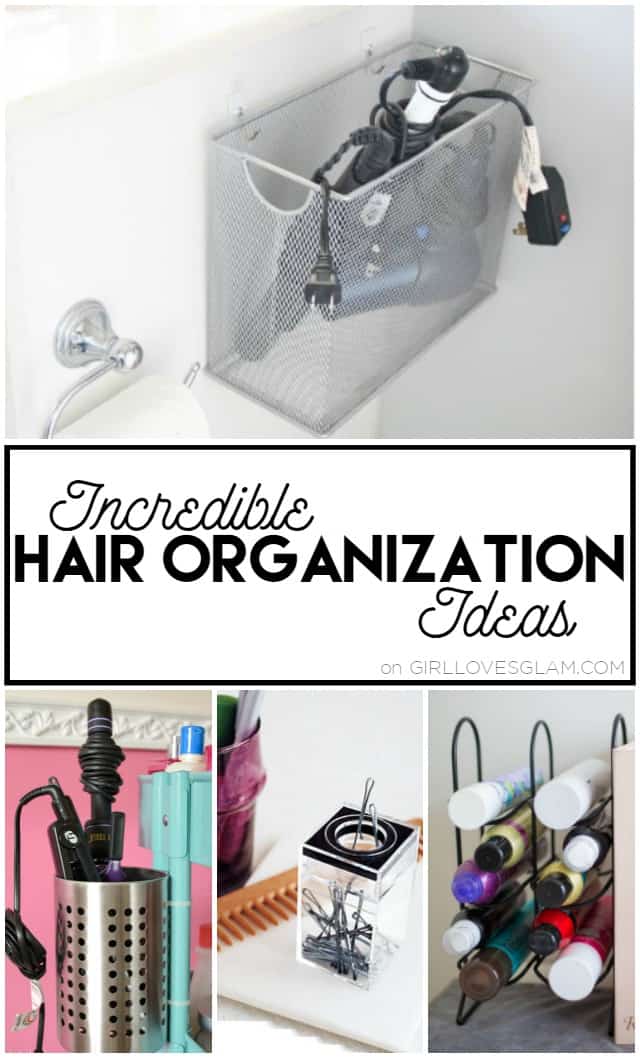 Hanging Planter Hair Organization: I love the idea of creating a space for your hair products and tools to go that is also part of your decor! These hanging planters are a prefect way to store your hair clutter, without it looking cluttered!
Hair Elastic Carabiner: I swear that I can't ever find good hair elastics when I need them! I buy nice elastics and when I actually need them, they are nowhere to be found! Putting elastics on a carabiner is a great way to keep track of all of them and have them in one place (that isn't just having them floating around in the bottom of your drawer).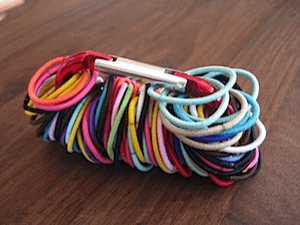 Hot Iron Holster: I am OBSESSED with my hot iron holster! It is a silicone holder that can stick to the counter and when you are done using the flat iron, you can just keep it in the holder and put it in the drawer. You don't have to worry about it cooling down at all before putting it away. I keep my flat iron and my curling wand in my Hot Iron Holster at all times!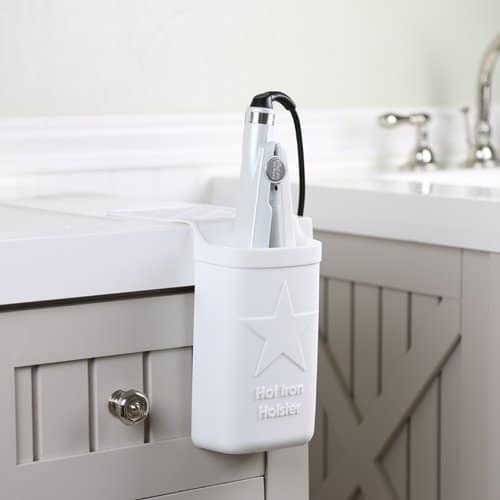 Hair Products on Revolving Spice Rack: I love the idea of putting hair products on a revolving spice rack so that you don't have to dig through a basket of hair products to find the product that you want. If you have a cabinet in your bathroom, you could probably even fit a lazy Susan of some sort in a cabinet as well.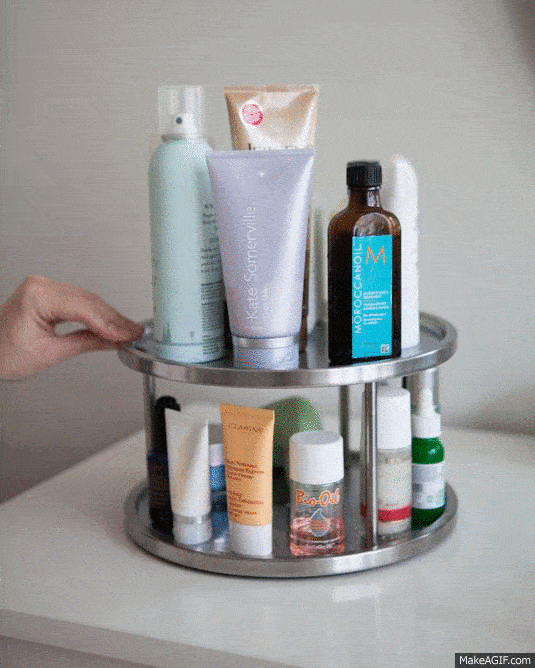 Hair Clips, Elastics, and Pins Organization: I will definitely be needing a system like this with two little girls in the house. I love having all of the bobby pins, hair bands, and barrettes in one place. I also love that you can put a lid on all of it so that the hair goodies don't spill everywhere.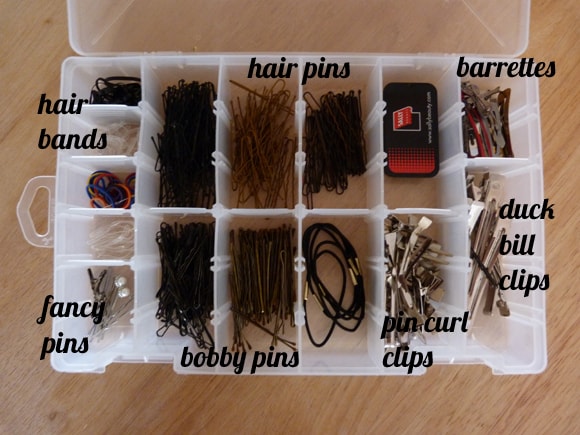 PVC Pipe Organization Inside Cabinet: Adding PVC pipe to the inside of a cabinet is such a simple solution to keeping hot tools and their cords out of the way!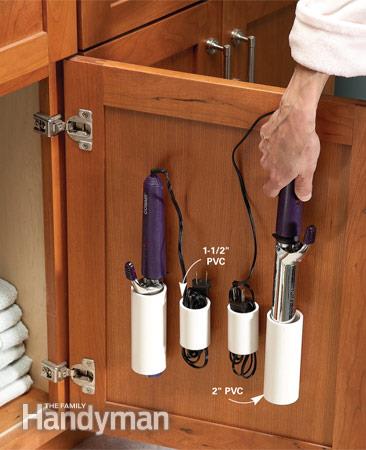 Hair Tool Appliance Holder: Coming from a salon background, I see these types of things in salons all of the time. I don't know why I never really thought about using one at home, but this would be amazing to use in a bathroom! You can keep your hot tools in the caddy and put the whole thing away when you are done!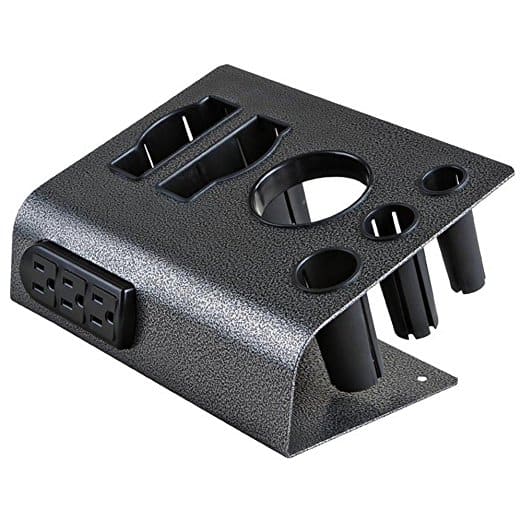 Hair Tools Wire File Organizer: I am a sucker for office supplies, but when they can be used to organize hair tools, the world becomes an even better place! I love the idea of having your hair tools nearby, without having them out on the counter all of the time.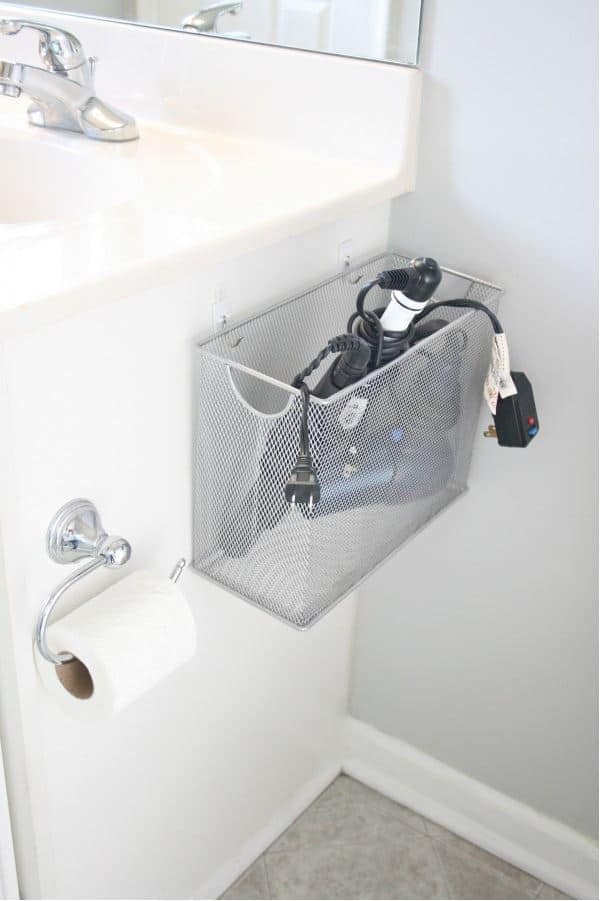 Headband Organizer: We have mountains of headbands at our house that seem to be exploding out of a drawer. I love how nice and organized this system is for headbands and that they are easy to access!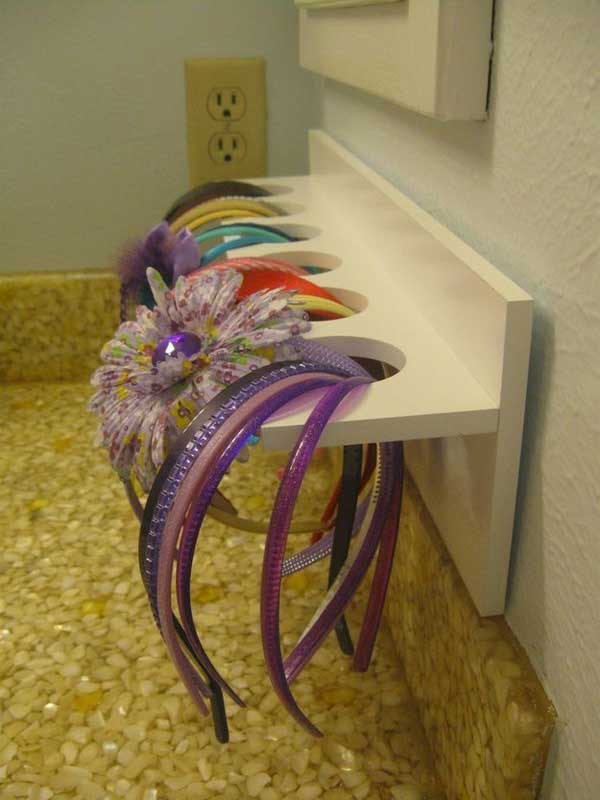 Paper Clip Bobby Pin Dispenser: I know I just told you how much I love it when office supplies and beauty supplies can come together. This idea of using a magnetic paper clip dispenser for bobby pins is GENIUS!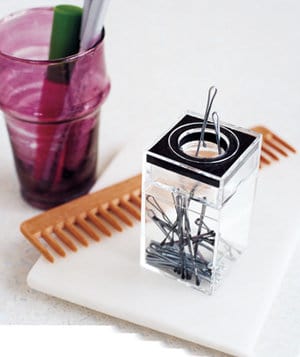 Hair Hot Tools on Rolling Cart: I just love the idea of having all of your hair products and tools in one rolling cart that you can put in a closet when you don't need them. This would be a great DIY project for cosmetologists in a salon as well!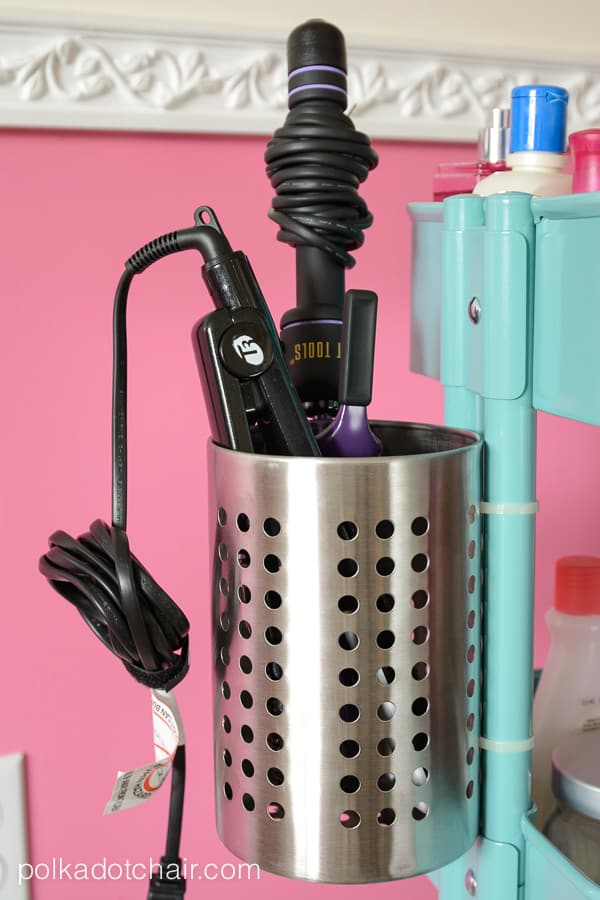 Magnetic Strip for Bobby Pins: I am constantly finding random bobby pins in just about every drawer in my house. I would love to have a magnetic strip to put the bobby pins on to keep them all in one spot. I love that you can use unused space for this as well!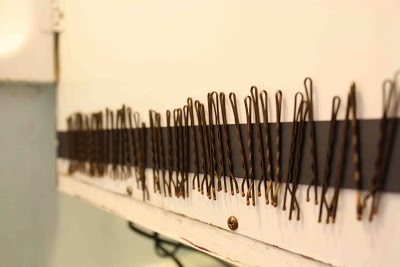 Bathroom Shelves Organizing Hair Products: There are a few things that I love about these shelves. I love that they make all of your hair products easy to see and access when you need them. I also love that they are in an area in the bathroom that would otherwise be wasted space!
DIY Hair Tool Organizer: This is also a great way to use unused space in your bathroom! Put your hair tools on the wall, instead of in a drawer.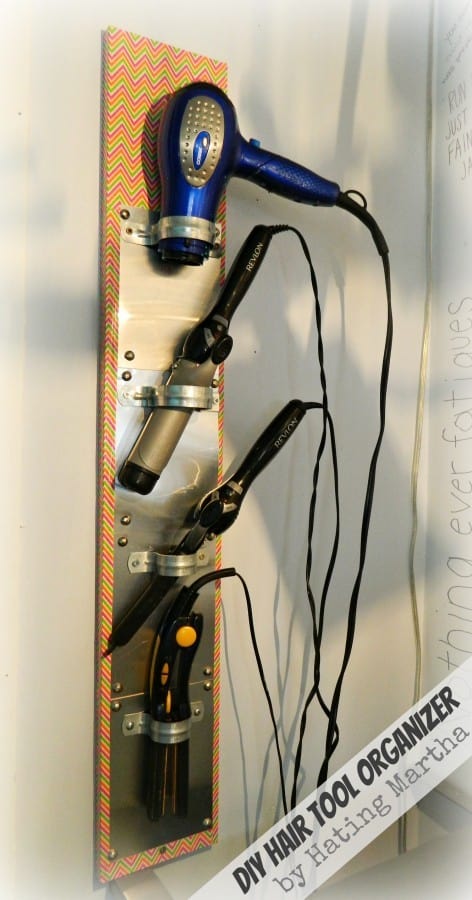 File Organizer for Hair Products: If you ever look at a file organizer and think that they are only for files, think again! I love the idea of using a file organizer to keep your hair products organized. This would be especially helpful for the products that you seem to use the most often so that you have them right at your fingertips.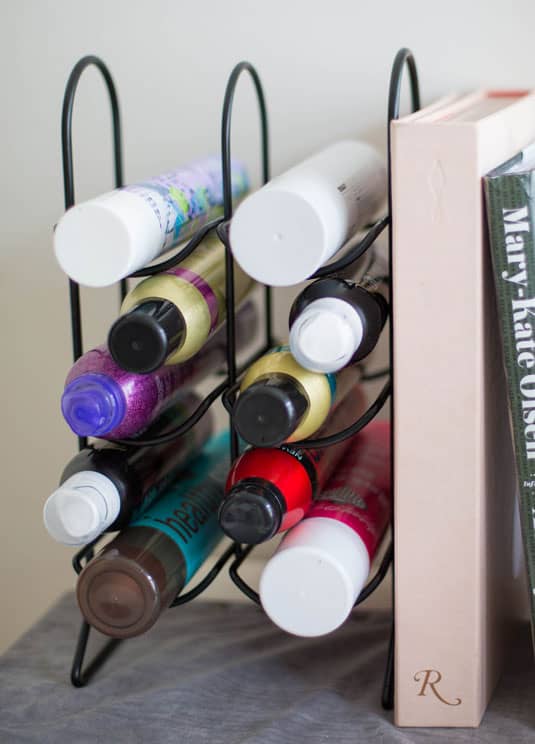 Hair Tool Basket Inside Cabinet: The best part about having a hair tool basket inside of your bathroom cabinet is the fact that it would be completely hidden when the cabinet door is shut. I love that all you have to do is open the door and all of your hair tools are right where you want them to be as well!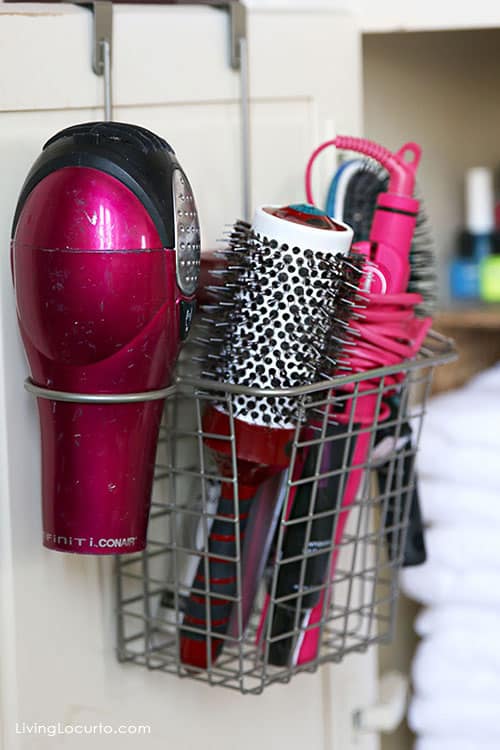 Tic Tac Bobby Pin Case: I LOVE the idea of using a Tic Tac case to store bobby pins in! This is definitely something that I am going to do for my purse. I always seem to need a bobby pin when I am out and I can't ever find one when I am digging through the black hole that is my purse. You can even glam up the Tic Tac case like this one!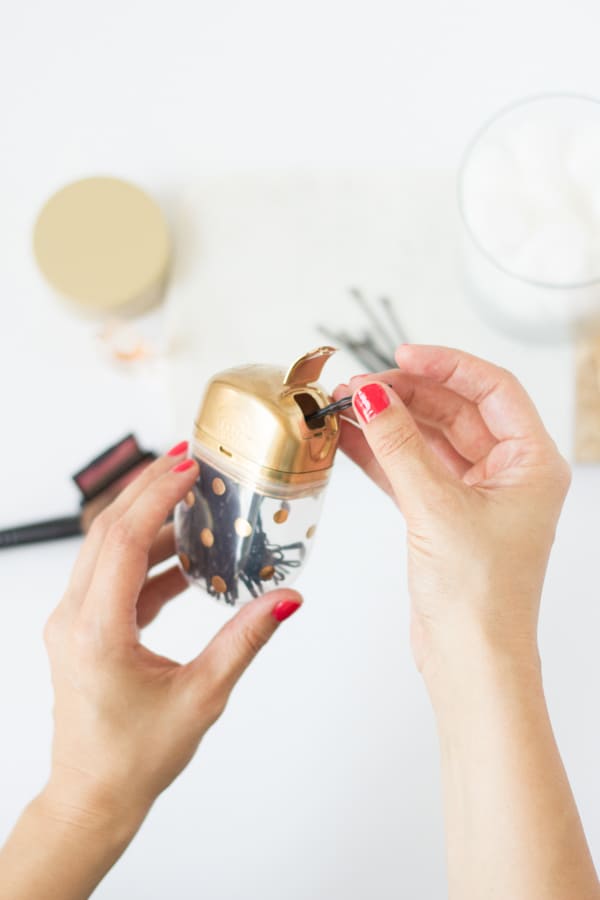 Now you have ZERO excuses when it comes to getting your hair products and tools organized! Let's get organizing!
Don't forget to check out all of the gorgeous ways to organize your makeup!