If your kids are anything like my 5 year old, they have probably had a recent obsession with SLIME! It was all things slime all summer long at our house. So why say goodbye to this summer's hottest goo, when you can give it away to your trick or treaters or at a classroom party this Halloween? These Halloween slime jars are PERFECT non-candy handouts that you can give. Set out your teal pumpkin so that people know that you are handing out non-candy items and give the gift that entertains for hours!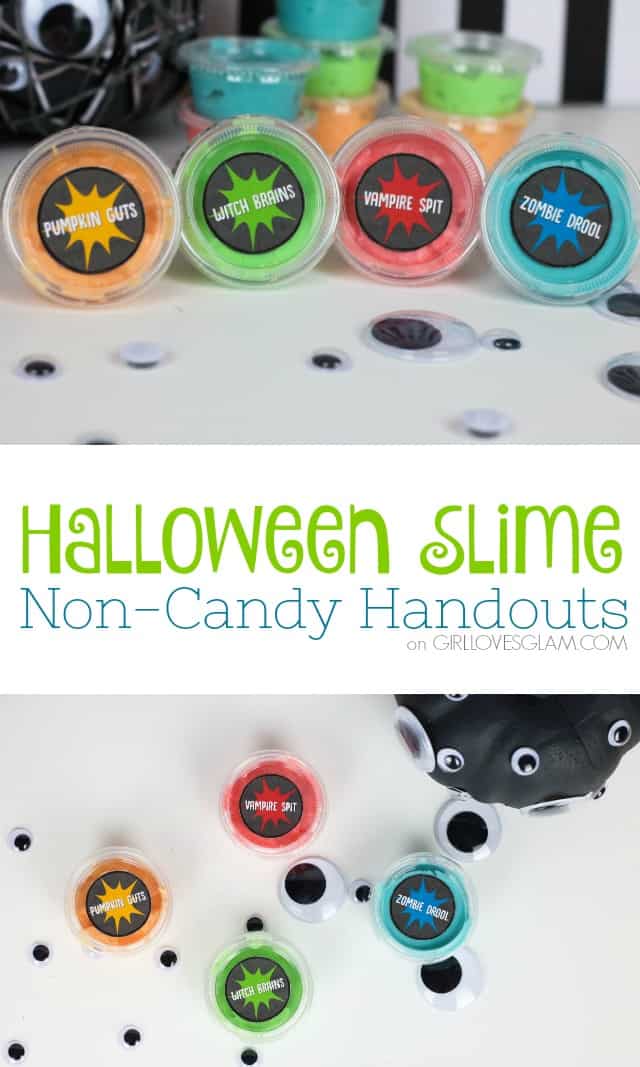 Not only will your slime make you very popular, but you can even make your kids make the slime! They have been making it all summer, why not put them to work and have them put together all of your trick or treat goodies?
To make these, you will need…
(affiliate links included)
1 cup warm water
1 tsp Borax
1/4 cup white glue
1/8 cup water
Food coloring
1 Tablespoon lotion
To make the slime, mix the cup of warm water with the borax and set aside. In another bowl, put your glue and 1/8 cup of water in and mix them together. Add food coloring and lotion to the glue mixture and mix well. Slowly add your borax mixture to your glue mixture. Only add 1 tsp at a time and mix between. I only added about 5 tsp of the borax mixture before I had the slime consistency I wanted. Put the different colored slime into their little containers.
Print off the labels onto the sticker paper. Use a large paper punch, an electronic cutter, or just plain scissors to cut the labels out and put them on the slime containers.
These labels add a little more fun to the slime. Witch Brains, Zombie Drool, Pumpkin Guts, and Vampire Spit sounds way spookier to play with than just plain ol' slime!
Will you be handing out Halloween slime this year?