This post is sponsored by Lionesse Beauty Bar. All thoughts and opinions are my own.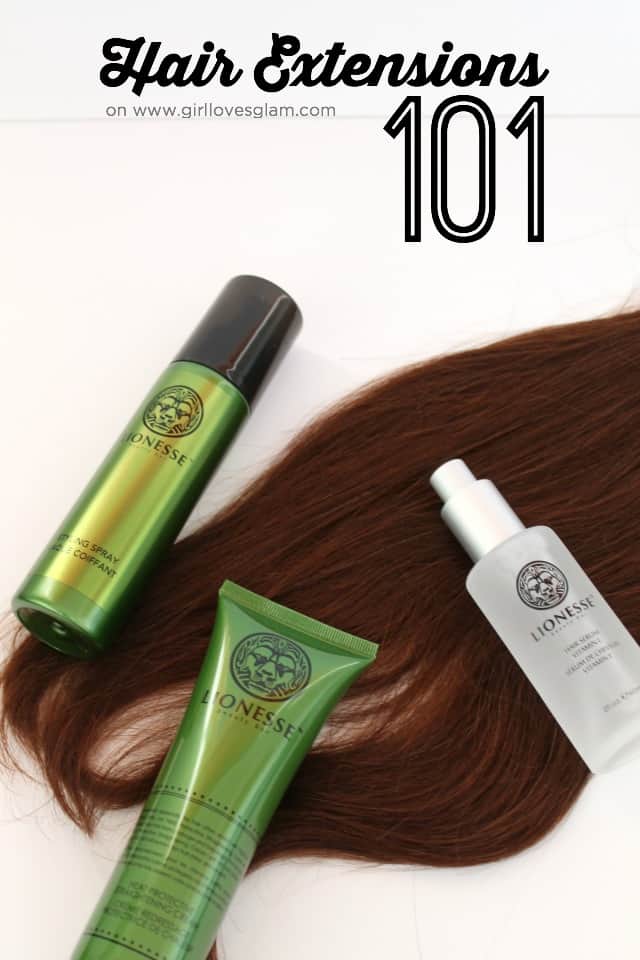 I get asked about hair extensions all of the time and I thought I would finally create a post full of the types of questions I get asked about hair extensions in a little Hair Extensions 101 course to teach you all about the different types of hair extensions, how to take care of hair extensions, what types of products to use on hair extensions, and other frequently asked extensions questions!
Types of Hair Extensions:
There are tons of different types and brands of hair extensions out there. They differ on how they are put in the hair and the type of hair that they are. There are several different ways to put in extensions that are considered more "permanent" meaning that a professional would put them in and take them out of your hair. They stay in for an extended period of time. The most common ways of getting these types of extensions put in are…
Weave: This is when your hair is put in tiny braids and the extensions are sewn into your hair. This method isn't as common as it used to be because of the newer methods that are available now. This is a good method because you aren't getting type of glue in your hair, but you do have to be very careful about making sure the braids at the base of your extensions get completely dry. There are instances out there where these braids can create mold. YUCK!
Beaded: This is a method where the hair extensions put in tiny sections, put on small beads, and clamped down on your own hair. These can fall out relatively easy when the extensions are pulled on, but they aren't too harsh on the hair. They also look very natural because they are in such small sections.
Glue in: This is when tiny sections of hair extensions are glued to tiny sections of your natural hair. This is a good option if you are worried about the extensions falling out easily. They look very natural because the glue usually dries to the natural color of your hair and the sections are so tiny that it falls like natural hair. A lot of people worry that this isn't healthy on your hair, but in most cases, it is perfectly healthy. Ask your hair stylist about the type of glue that he/she uses. There are a lot of glue types available. A lot of them are made with the same pH level as your hair so that it doesn't cause damage. You do need to be careful about using hot tools too close to the glue because it will melt the glue.
Tape in: This is when a weft of hair extensions that is about 3 inches wide is taped onto the base of your natural hair and secured with a flat iron. These are really easy to apply and stay in really well. Because these are larger sections, they can look more unnatural if they aren't put in a natural placement, so be sure that your stylist puts them in so they look the most natural. They can pull on hair, causing a little more hair loss than the other methods, but otherwise these are perfectly safe on your hair. Be careful about hot tools that are used too close to the base of your extensions. It can cause them to slide down.
You don't have to have a stylist put in your hair extensions permanently though. You can also get extensions that you can put in by yourself on the days that you wish to wear extensions. These are called clip in hair extensions.
Clip In: These are wefts of hair that have been attached to small clips that you can clip onto the base of your hair. These can be put in and taken out at any time. It is highly recommended that you have a stylist trim these so that they have the same layers of your natural hair and can look natural in your hair. I have the clip in extensions from Lionesse Beauty Bar. They are really high quality and wear really well!
Types of Hair:
Once again, there are several different types of hair that is available with hair extensions. It basically comes down to natural hair and synthetic hair.
Natural hair: This hair is human hair that can come in all sorts of colors and textures of hair. It can be dyed, straightened, curled, etc. They can basically be treated just like your own hair. Human hair extensions come in many different qualities too.
Synthetic hair: These extensions don't usually look very natural. They are much more inexpensive, but they also can't be treated like your own hair. They can't have any hot tools used on them, can't be dyed, and can look very fake. They are great for costumes, holidays, concerts, etc.
Taking Care of Hair Extensions:
How to take care of hair extensions varies a little bit, depending on the method in which your extensions were put in, but for the most part they can be taken care of the same way.
When they are put in your hair "permanently", you can shampoo and condition your extensions when you wash your natural hair. Try to keep the conditioner away from the base of your extensions because it can cause them to slip out more easily. Don't scrub your scalp when you have hair extensions in. Gently apply the product into your hair. When you have clip in extensions, try washing them about every 10 wears. Put them in the shower and gently apply shampoo and conditioner to them and let them air dry.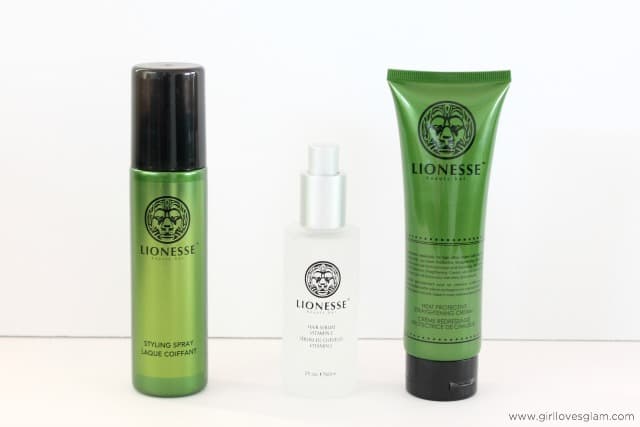 Hair extensions don't get the natural oils that your scalp produces for your natural hair, so it is important to provide oils for the extensions. Use a hair serum for them every day. It usually only takes a few drops. Try deep conditioning them at least once a month with a deep conditioner or hair mask. Try to keep it away from the base of your extensions though. Apply it to the extensions while they are damp, clip your hair up, and wear a shower cap over it. Let it sit on your hair for about an hour. Make sure you are using heat protecting products on your hair extensions. Technically the hair is already dead, so once it is damaged, it can't be repaired. I highly recommend using a heat protective cream instead of a spray, just because it adds just a little more protection. I love the Lionesse hair products they offer. Because they do offer hair extensions, their products are made to work well with their extensions and can really take care of your hair extensions.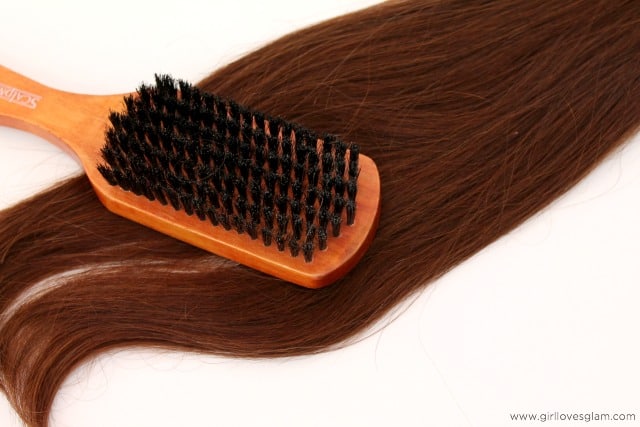 Use a brush with natural bristles on it when you are brushing your extensions. These are soft, so they won't damage the hair extensions and they will help give the hair extensions natural oils from the brush.
Styling Hair Extensions:
I touched on it earlier, but if you have natural hair extensions, you will be able to style them in many ways. If you have synthetic hair extensions, you won't be able to use any hot tools on them.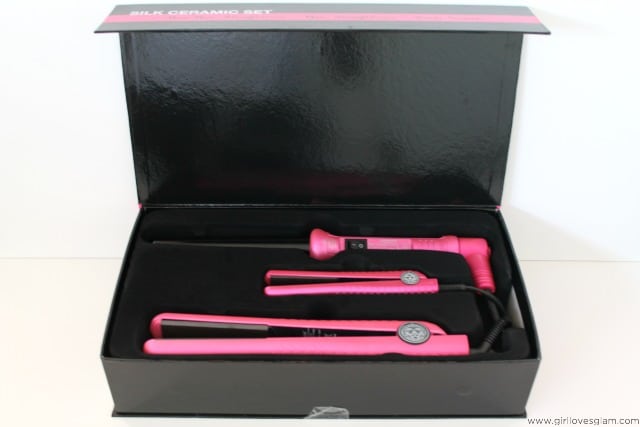 When it comes to styling natural hair extensions, you can use any hot tools out there. You want to try to stay away from the base of the hair extensions because the hot tools can cause the extensions to become loose and slide down because it reheats the bond holding the extensions in. Make sure your hair is completely dry before using any sort of hot tools on it. I love this Lionesse Ceramic Set of hot tools because it has the curling wand, flat iron, and mini flat iron that will all work great on extensions. The mini flat iron is probably my favorite with hair extensions because I feel like I have more control over how closely I get to the base of the extensions.
When you are styling your extensions, try to be gentle on them. The more you tug, the less time they will last. Extensions are an investment and they need to be treated nicely!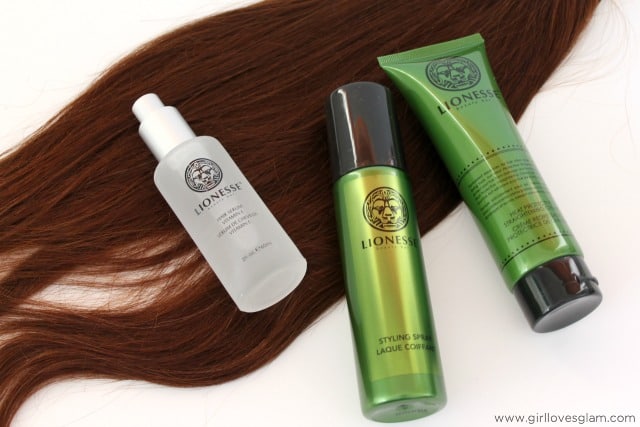 FAQ's about Hair Extensions:
Are hair extensions going to make my hair fall out? Not really! When you get your hair extensions removed, there is going to be a lot of your natural hair that will come out with it. That is because you lose hair everyday and instead of that hair being able to fall out, it stays bonded to your hair extensions. When you take the extensions out, it might look like a lot of your natural hair is attached to it, but in most cases it is just the hair that was naturally falling out of your head. However, if you are really hard on your extensions, it can pull more of your natural hair out than your head would have naturally lost.
How long to hair extensions last? This is kind of two questions in one. Hair extensions can last different amounts of time in your hair depending on how well they are treated, but they usually will stay in for about 6-8 weeks before they need to be moved up again. Think of it as you would getting your hair dyed. You have to touch up the roots of your dye, just like you will have to get your extensions moved up as your hair grows. The hair extensions themselves will also last different amounts of time depending on the quality of the extensions and how well you treat them, but if someone wears them everyday, they can last for about a year if they are treated well. I have heard of people having them last even longer.
Do hair extensions hurt? I am not going to lie to you, they can hurt at first. You are adding more hair to your head! It can make your neck a little sore, it can give you headaches, and the first few nights might be hard to sleep. Some people don't have any of these symptoms, but it can happen. You will get used to them and they won't always hurt though!
I hope this answers all of your hair extension questions! Feel free to ask more if you still have any questions.