This is a Sponsored post written by me on behalf of Teva for SocialSpark. All opinions are 100% mine.
Music festival season is upon us! If you haven't ever been to a music festival, you are seriously missing out. As you may remember, my life revolved around all things music. I practically lived at various venues and absolutely loved attending concerts as often as I possibly could. That's why it was seriously a match made in heaven when I married a musician.
After attending my fair share of music festivals, I have come to learn a few very valuable tips to making your music festival experience great.
1. Sunscreen- I can't even stress enough the importance of wearing sunscreen and packing more sunscreen to wear. After going to concert after concert in the sun, your skin needs sunscreen to battle against that hot sun.
2. Aloe- This goes right along with the sunscreen, but I think it is just as important to bring aloe with you too. There is a sense of instant relief that you feel when you put aloe on a sunburn. You can put aloe on your skin after you have been out in the sun for a long period of time and your body temperature will feel much cooler.
3. Hydration- It is so important to stay hydrated while you are at a music festival. Chances are, you are going to be singing, dancing, and hopping around while you are there so you will definitely need your water. Drink up! Drink a lot of water.
4. Cross body bags- Wear a cross body bag while you are at a music festival so that you are sure to be able to feel the bag against your body and so the strap stays on and isn't easily stolen.
5. Proper footwear- It is important to wear shoes that can both protect your feet and keep your feet cool. You do a lot of moving around at a music festival so you want to be able to walk easily in your shoes, but you need your feet to be protected from being stepped on too. It is important to keep your feet cool too so your body temperature doesn't get too high.
It is the perfect fit that Teva is sponsoring the Bonnaroo Music Festival because Teva shoes are the perfect shoes to wear to music festivals. They offer the support, protection, and air that your feet need at a music festival. Since 1984, Teva has been known for being the go to shoe to go anywhere, do anything, and live life to the fullest and get out to have adventures.
You can find your very own pair of Teva sandals on Zappos. I love this teal and coral color of their Original Sandals.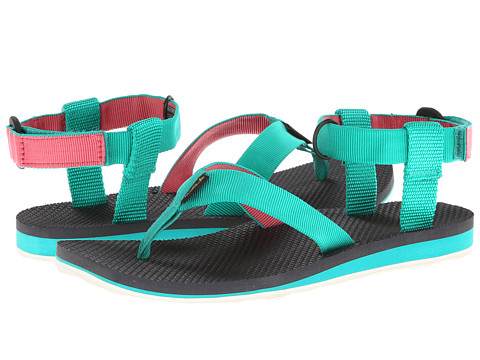 What are your music festival tips? You can find even more great music festival tips by following the hashtag #Ready2Roo or by visiting The Fountain!