I'm so glad to see you are back for day two of A Month of Makeup! To see my first makeup post, you can find it here.
Today, I am going to teach you all about something that I think a lot of women fail to do with their makeup… Face contouring! It gets overlooked a lot because most women look at it as an added thing, not an essential thing. I will tell you this, it is essential! It instantly takes pounds off of your face, makes you look more awake, and even a little more youthful! Who doesn't want all of that?!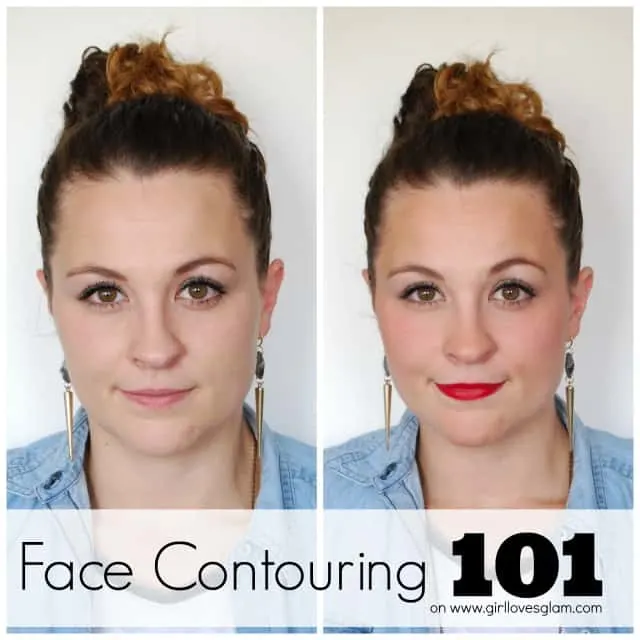 Just take a look at my photos side by side to see what a huge difference a little face contouring can make! Here's what you need to contour your face…
*blush
*bronzer
*blush brush
*bronzer brush
*highlighter (optional. I don't use it regularly)
When choosing a blush and bronzer, I recommend going to a specialty store like Sephora to have a professional help you find great colors for your face. If you are doing it on your own, remember… WE ARE NOT IN THE 80's ANYMORE! You don't need a bright pink blush to make your cheeks stand out. Mine is a natural pink color and I recommend a similar color for most people. As for bronzers, most of them are similar in colors. You don't want one with too much orange in it because that could make you look too fake.
To contour your face, start with the blush. Get a decent amount of blush on your brush and brush it onto your cheekbone. Make it come out into your hairline. You want just enough to add some color to your skin. After you have applied it to both cheeks, use the remaining blush on your brush and lightly brush it on the tip of your nose. When I say lightly, I mean just one swipe. It isn't meant to turn you into Rudolph!
Next, is the bronzer. The first thing you need to know about bronzer, is that it isn't meant to put all over your face to turn you into a sun worshiping goddess or make you look like another ethnicity, it is meant to give you a little sun kissed glow. Apply the bronzer to your brush and lightly brush it onto your temples and follow your hairline around your forehead. Just think about where the sun usually hits you when you are out swimming all day. Next, put a tiny bit on your nose and chin. Just a little bit. This is just to even out your entire face and make it so you don't just have a dark forehead. You can put a little bit of bronzer below your blush to help sink in your cheeks a little, but I don't recommend trying that until you get used to wearing and applying bronzer a little more.
(Optional) Highlighter. I think highlighters are great, but I don't use them all of the time. I sometimes feel like I am trying to look like a fairy princess when I wear highlighter. All a highlighter will do, is highlight the areas of your face you want to look brighter. I apply it just on the outsides of my eyes. I do that in teeny, tiny amounts. Play around with it and see how much, or little you like for yourself.
Now I want you to start thinking about face contouring as an essential step in doing your makeup! You will look awesome and feel great! Don't forget to check out all of the Month of Makeup posts happening every Monday, Wednesday, and Friday!