This is a sponsored post written by me on behalf of Wendy's. All opinions are 100% mine.
The typical hand out for Trick-or-Treaters is a boring little candy bar, right? While I am sure they are appreciative of those candies, I think there is a major room for improvement in the Trick-or-Treat hand out department. There is an awesome option of handing out something totally unique while also doing some good too!
The Dave Thomas Foundation for Adoption is selling coupon books at Wendy's for $1 that have 10 coupons for free Wendy's Frosty treats.* You can hand out these coupons to your Trick-or-Treat visitors and they would be so excited to receive a Wendy's Frosty!
Funds from the sales of these coupon books will go to support programs such as Wendy's Wonderful Kids. There will be $0.85 donated for each coupon book sold!** The Dave Thomas Foundation for Adoption works to find permanent, loving homes for more than 130,000 children waiting in North America's foster care system. It is a really incredible foundation!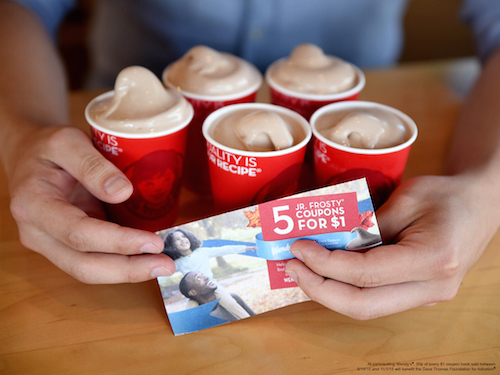 These Halloween Coupon Books are available from September 14-November 1st. You can hand them out to your Trick-or-Treat visitors, or you can use them for your own family! Either way, you are doing the world some good by purchasing these coupon books while being able to enjoy some delicious treats!
Make sure to check out the Wendy's adoption page to learn all about the Dave Thomas Foundation for Adoption too. Dave Thomas, the founder of Wendy's, knew first-hand the importance of family because he was adopted himself. He knew the real value of a family. I love seeing such a prominent company such as Wendy's use their influence for good.
So when you are planning out your Halloween hand outs this year, keep these awesome coupon books in mind and make a positive difference in the world as you do so!
* Number of coupons per book vary based on location
** $0.85 cents of every dollar from the Halloween Coupon Books will go to support the Dave Thomas Foundation for Adoption.