When I was in high school, I remember walking down the hallway with a girl who I had recently gotten to know through a school club we were both a part of. We were talking about the classes we were taking and I had mentioned that I had Seminary class next. She looked at me with a sort of shock on her face and said, "You go to Seminary?!". I felt a little embarrassed. It was right in that moment that I realized that I wasn't being the example that I knew that I needed to be. If you aren't sure what Seminary class is, it is a class that high school students have the opportunity of taking. It is a class put on by the LDS church that is for studying the scriptures and applying them to real life situations, learning to use the scriptures to find the answers to our life's questions, and to come closer to our Savior, Jesus Christ. This class is typically offered before school in a church building or at a church member's home. If you live in a community with a lot of members of the LDS church, schools offer a released time elective that you get no school credit for so that students can attend Seminary during school hours. I was lucky enough to be able to grow up in a community that I could attend Seminary during my school day.
It wasn't until that girl questioned me about going to Seminary that I realized that I wasn't carrying the light of Christ within me like I should have. It was a major eye opening experience. When I was baptized a member of The Church of Jesus Christ of Latter-Day Saints as an eight year old, I took upon the name of Christ through the waters of baptism to always remember him, to keep his commandments, and to "take on his name" meaning that I would be an example of Christ and to help others who are in need of feeling comfort. I realized that when I went to Seminary, I was engaged in the lessons and really enjoyed learning about my Savior, but when I crossed the street and roamed the hallways of my high school, I wasn't being the Christlike example that I should have been. Part of the reason this girl didn't realize that I was a Mormon was because most of my friends weren't LDS. Even though I went to a high school full of Mormon kids, I didn't do a whole lot with them socially. Most of my friends were of different faiths… and that is okay! It was actually a really awesome experience to have friends of many faiths because most of them were pretty obedient in their faith and were awesome examples to me as well. But when the girl questioned me about being LDS, I realized that she didn't know I was because I wasn't setting that good example like some of my non-LDS friends were. It was right then and there that I knew I needed to make a change.
I went to my Heavenly Father (God) in prayer and asked for forgiveness for how I had acted and the way in which I presented myself and asked for the strength I needed to be able to give myself the spiritual makeover I needed. I knew that I didn't need to become someone who quotes scripture all of the time or someone who constantly talks about Jesus, but I knew that I needed to make changes in the way that I dressed, in the way that I spoke, and in the way that I acted so that I could be a better example of Jesus Christ.
I can't even tell you how much better it felt knowing that I was making the changes that I needed to in my life. Believe me, there were setbacks. That just part of our mortal journey here on earth, but through a lot of prayer and scripture study, I was able to change the way I had been acting.
Now flash-forward to present day. I am a wife and a mother. I find myself overwhelmed often times because of all of the things on my plate. Sometimes it can be very hard to be patient with a demanding toddler or even my husband. This is the same situation many moms find themselves in. I was finding that I was exploding on my daughter way too often though. I wouldn't ever get physically mean to her, but I would raise my voice more times than I should. I found myself in an all too familiar situation as the time the girl questioned me about being a Mormon in the hallway. I wasn't being a very good example of my Savior to my family. I realized that I been praying daily, but they weren't as heartfelt of prayers as they should have been. They were more of a voice recording saying the same thing over and over again. I also hadn't read my scriptures in a very long time. I decided to make the change that I knew needed to be made and I started taking 30 minutes out of my morning to study the scriptures and really pray and take some quiet time to meditate and get myself ready to take on the day. I can't even tell you the difference that it has made! I have been much more patient and have actually seemed to have more time in my day to get the things done that have needed to get done for a long time. I know that my Heavenly Father is helping me stay patient and helping me figure out how to better balance out my life.
That experience in my high school hallway completely changed my life. I now am not afraid to be an example of my Savior. I don't hesitate to tell people that I am a member of The Church of Jesus Christ of Latter-Day Saints.
So this is me! I am a Mormon. I want you to meet this Mormon.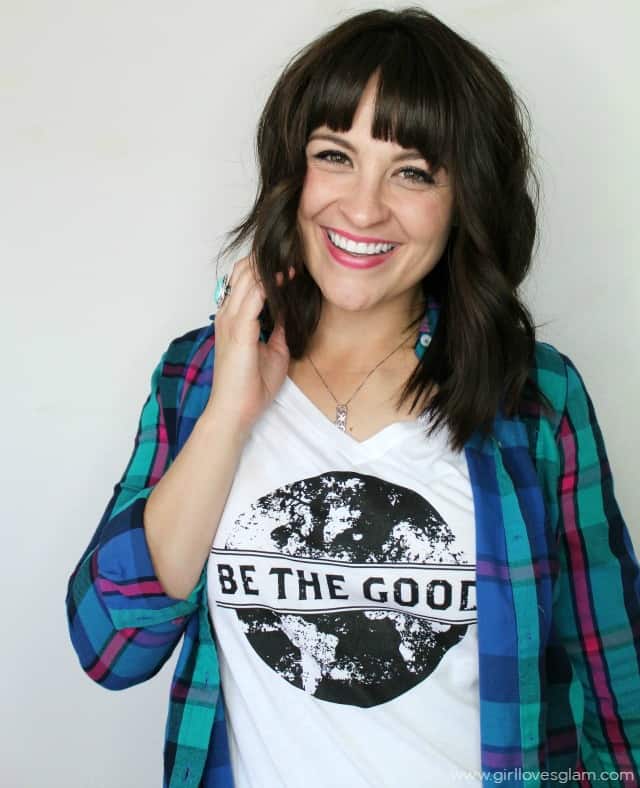 I am a wife of an educational technology specialist. I am a mom to a princess loving, curly haired toddler. I am a blogger. I am a stress case. I am a TV junkie (Yes, that necklace I am wearing has the double infinity sign from Revenge!). I am a lover of makeup and fashion. I am a cosmetologist. I am a loyal friend. I am a sister of two younger brothers who can always make me laugh. I am a daughter to two hard working parents. I am a lover of online shopping. I am a candy addict. I am a member of the Church of Jesus Christ of Latter-Day Saints. I am a daughter of a Heavenly Father who loves me and truly knows who I am and cares about me. I am a believer in Jesus Christ. I know he died for me and he truly wants me to do good so I can return to his presence with God in heaven.
This is who I am. All of these things make up me, but nothing gives me more of a foundation than the knowledge that I have about God's plan for me.
Have you heard about the new movie that was released today? It is called Meet the Mormons. It follows the stories of a few members of the Church of Jesus Christ of Latter-Day Saints and the movie hopes to shed light on what Mormons are actually like. It isn't a movie for Mormons, it is a movie for everyone! I haven't seen it yet, but I have friends who were able to see it in advance and have said that it is such an inspiring movie. Not only does it show people what Mormons are like, but it inspires people to do good and to live up to their potential. All proceeds from the film will be going to The Red Cross so you can also know that your money is going to a good cause while you are being uplifted by the movie. You can watch the movie trailer here…
I joined in with some other Mormon bloggers so they could introduce themselves in their own "Meet This Mormon" type post. You can check out all of their posts too to learn more about who they are and their faith.
We belong to the Church of Jesus Christ of Latter Day Saints otherwise known as "The Mormons". We are proud of this part of who we are! We are excited to team up with over 65+ of us strong… to extend an invitation to see a film. A film entitled "Meet The Mormons". This film is not meant to be an "in your face" – you must join our church film. It is simply designed and produced to uplift and inspire you through six stories of those of our faith who have followed promptings to follow Christ more fully in their lives. We hope you take the opportunity to enjoy this film. We hope your hearts are made light as you feel the goodness that comes from following our Christ and Savior.
We also would like to take a moment and share our personal testimonies, stories of our own personal conversions, and our own stories of how following our Savior, Jesus Christ has changed our lives. The light of the gospel of Jesus Christ offers a joy and hope that only following him can provide. We hope as you click through and read our stories and testimonies of the Church of Jesus Christ of Latter Day Saints, you will feel uplifted and encouraged. We are by you! We love connecting with our readers, that is why many of us do what we do! Please be kind and considerate in your comments. It takes great bravery for us to open our hearts and our mouths to share with you such a tender and personal part of who we are. We share because we feel strongly the need to share the peace and the hope that is the Gospel of Jesus Christ.
Adrienne | Free Time Frolics , Camille | Chicken Scratch n' Sniff , Natalie & Rebekah | House of Sprinkles , Kathleen| Fearlessly Creative Moms
Emily | The Benson Street , Staci | The Potter's Place, Alyssa | Alyssa.Marie , Kristen | Capturing Joy , Aly | Entirely Eventful Day
Katie | Clarks Condensed, Larissa | Just Another Day In Paradise , Camille | My Mommy Style , Candice | She's Crafty
Anita | Live Like You Are Rich, Landee | Landee Lu , Tara & Devin | Salt & Pepper Moms , Mallory & Savannah | Classy Clutter Kelli & Kristi| Lolly Jane
McKenzie | Girl Loves Glam , Pam & Lisa | Over The Big Moon , Melanie | Forty Eighteen , Sky | Capital B Adell | Baked in Arizona
Andie | Maybe I Will , Shatzi | Love and Laundry , Robyn | Create it Go , Rachel | R & R Workshop
Tiffany | Feel Great In 8 , Katelyn | What Up Fagens? , Brittany | BrittanyBullen , Ginger | Ginger Snap Crafts , Stephanie | Crafting In The Rain
Chelsey | Cee Me Be , Amber | Crazy Little Projects , Kallie | Smitten By, Elyse, Kristen, Lauren, Steph, Kendra & Camille | Six Sisters Stuff Annette | Tips From A Typical Mom
Amberly | Life With Amberly & Joe , Taralyn | Keep Moving Forward With Me , Jessica | What Does The Cox Say? , Lisa | Mabey She Made It , Kiki | Kiki & Company
Kierste | Simply Kierste , Tayler | The Morrell Tale, Jennifer | My Daylights , Cambria | Live To Be Inspired, Danielle | Today's The Best Day
Amber | Dessert Now Dinner Later, Natalie | The Creative Mom, Bobbie | A Vision To Remember , Becky | Babes In Hairland
Lisa | Pebbles & Pigtails , Mandy | Sugar Bee Crafts , Krista | Reclaim, Renew, Remodel , Wendy | Musings, Miracles, and Mayhem
Nat & Holly | My Sister's Suitcase, Britni| Play.Party.Pin , Montserrat | Cranial Hiccups , Heidi | A Lively Hope , Ashley & Meegan | Flats to Flip Flops
Alexis | We Like to Learn As We Go, Amy | The English Geek , Mariel | Or So She Says Carrian | Oh Sweet Basil
Kirtley | The Gist of Fit | Aubrey | Dreaming of Someday, Natalie| The Messanos, Angela | Handmade In The Heartland
If you have any questions about the LDS church, please feel free to ask. I would be happy to answer any questions. I just ask that you respect me and my right to freedom of religion and keep the negativity away from comments. We are all sons and daughters of God, please treat each other that way.
If you are interested in receiving more information about the church, please read my post HERE. You can also visit Mormon.org for many resources including answers to frequently asked questions about the LDS church, live chat options with missionaries to ask your questions, and profiles of many Mormons who are excited to share their stories.