I am a member of the Collective Bias® Social Fabric® Community. This shop has been compensated as part of a social shopper insights study for Collective Bias and their client.
I love Halloween. I always have. It is funny that I enjoy this time of year so much, because I don't love the cold weather that starts to creep in, I don't like to be scared, and I don't like weird Halloween decorations. Honestly though, I love Halloween! Maybe it is because of all of the Halloween treats and candy out there or that going to a Halloween party is something I really look forward to each year. Something else I love, is seeing all of the great Halloween ideas floating around on the internet each year by so many creative people in this world. In a nutshell, I love Halloween! There is something about this time of year that just makes me want to stay snuggled up at home with my family. I think that that is another reason why I enjoy this time of year so much.
Whenever we have a family night, I like to make a quick and easy dinner and dessert so that I can have more time to spend with my family instead of slaving away in the kitchen. One of our family favorites is pizza. Who doesn't love pizza? I grabbed a Tombstone pizza, which you can now get with scary monsters on it for Halloween, and some Halloween candy from Walmart and was set for our family night!
I also enjoy making a little easy treat for family night, so I decided to get creative with my Halloween candy and try making Halloween candy smores!
I wanted to add a little twist to a pretty traditional snack, by using Halloween candy instead of a regular chocolate bar. To make these, I used…
*Graham Crackers
*Marshmallows
*Nerds
*Butterfingers
*Crunch bars
For each of them, I just stuck the marshmallow on top of the graham cracker and put it in the microwave for 1o seconds. As soon as it came out, I sprinkled the candy on top of it and smashed it down with the other graham cracker.
For the Butterfinger S'mores, I smashed the Butterfinger up while the marshmallow was melting in the microwave so that when I sprinkled it on, the flavor would be all over the marshmallow, instead of just in the center.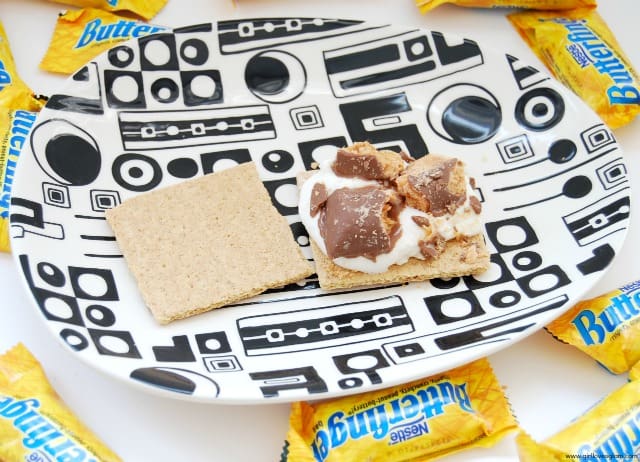 Nerds s'mores aren't necessarily a really adult treat, but kids will love them! Anytime you mix sugar, with sugar, and more sugar, kids will eat it! For the Nerds s'mores, I dumped out two boxes of Nerds while the marshmallow was melting in the microwave. As soon as the marshmallow was done, I scooped up the nerds and pushed them into the marshmallow a little bit so they would stay. You need to do this quickly before the marshmallow cools down so the Nerds will stick.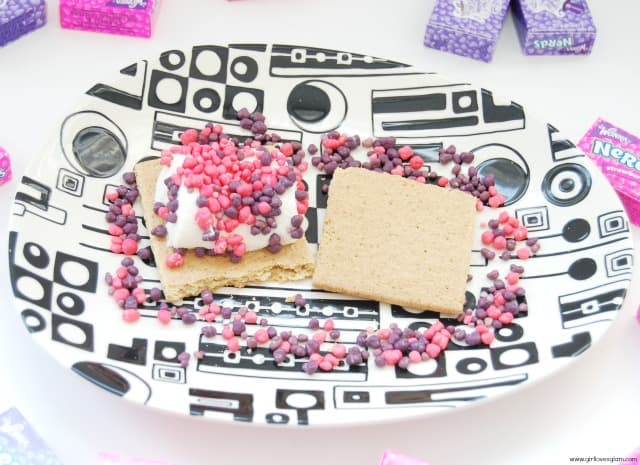 The Crunch bar s'mores are really easy! While the marshmallow is melting in the microwave, split the Crunch bar in half. As soon as the marshmallow gets out of the microwave, put the two halves onto the marshmallow. I split it in half so that the chocolate could get all over the marshmallow instead of just in the center of the s'more.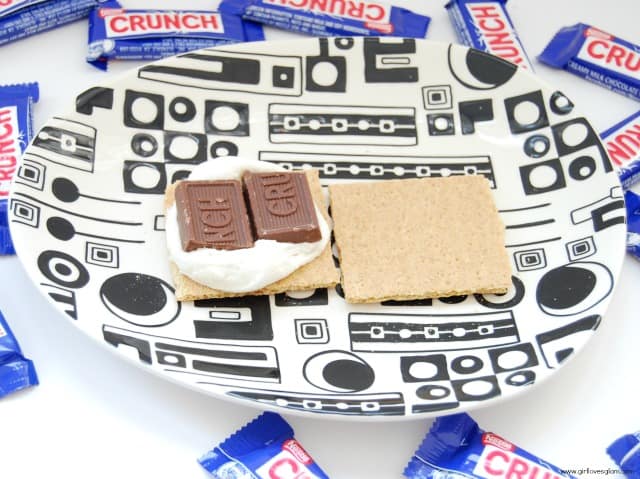 Do you have any Halloween family night traditions? Are you brave enough to try Nerds S'mores?