I wanted to have a fun 1st birthday theme for my youngest son, Finn. I thought about it and decided that there was no better theme for his first birthday, than HIM! He was our theme and it was kind of the greatest ever. We called it "One Finn-tastic Year". While that exact theme isn't really easy to copy exactly, unless your child is also Finn, it would be easy to insert your child's name into a word or just have it be worded differently, like "One Year of Finn" instead.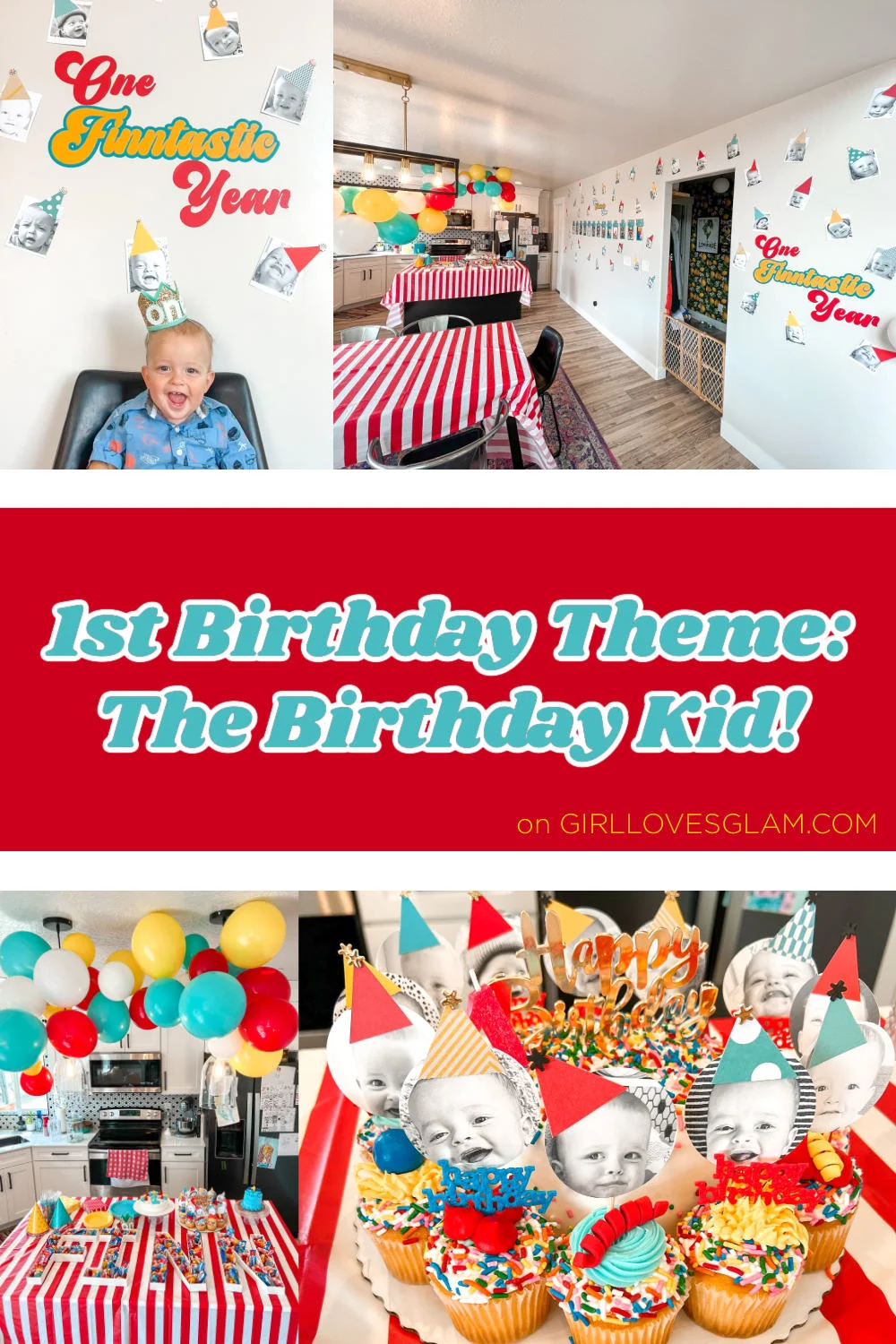 First Birthday Party Ideas
This party was all about the color scheme. I wanted it to feel like a classic birthday party, with just a little flair. I went with red, yellow, white, and mint blue as the main colors. It was really fun to plan because they are pretty easy colors to find birthday decorations in. It was not only cute, but it helped keep the cost down a bit.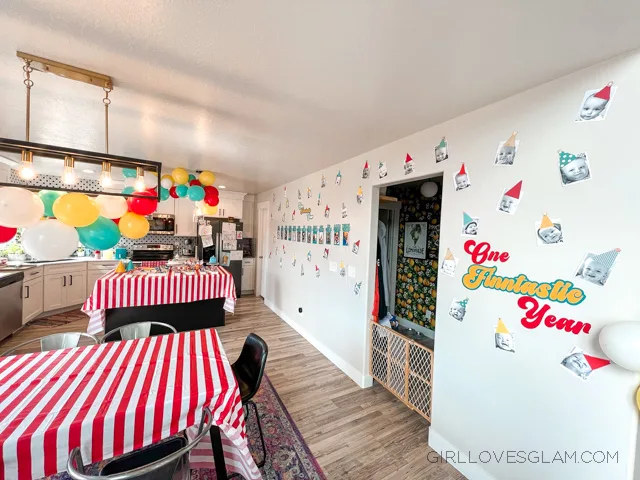 First Birthday Party Decorations
I am always a fan of using balloon arches as a way to make a big impact, without spending loads of money. I used to make my own arches with string but I love using balloon tape now. It is much faster and worth the small price.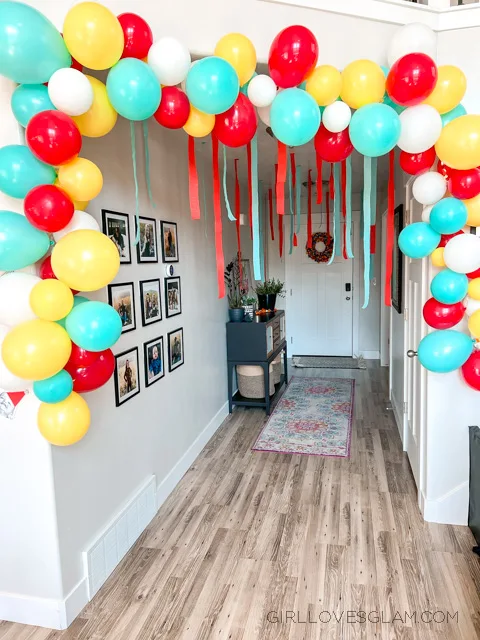 Another very low cost decoration is adding streamers to the ceiling. I have done this with both the crepe paper streamers and by cutting paper in a zigzag pattern. Both are very inexpensive and make a really fun impact.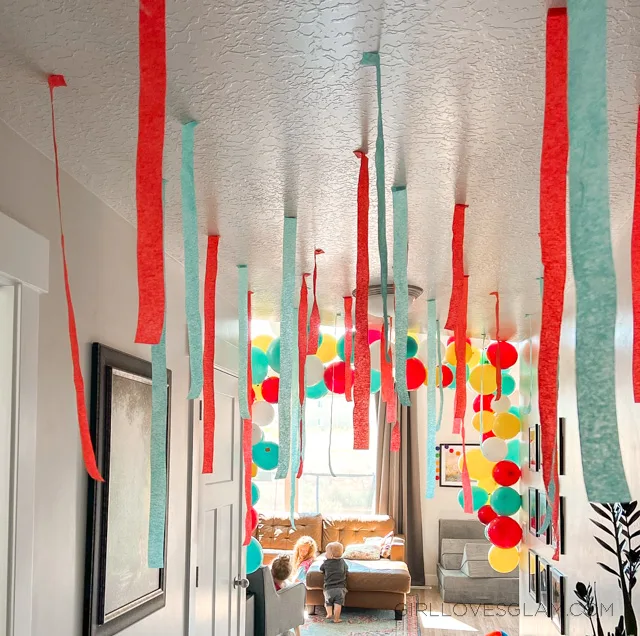 The REALLY fun decorations were absolutely the Finn faces. They were a huge hit! I just got the giggles every time I would pass them. This was super simple and really drove home our birthday kid themed birthday party!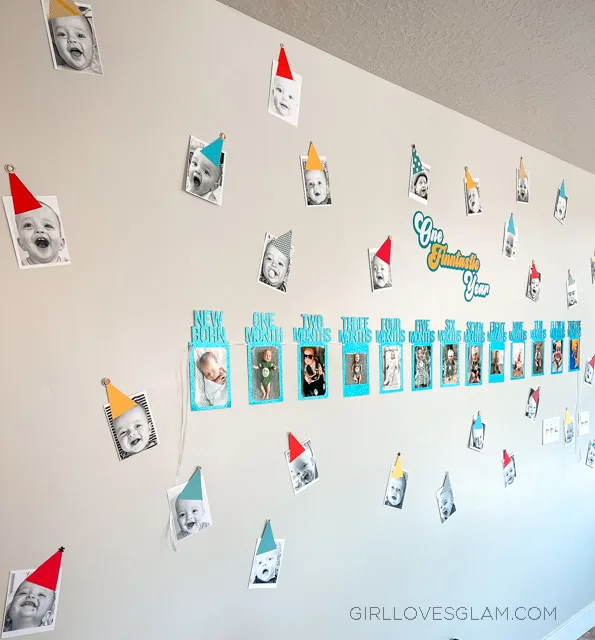 This wall of faces was really easy to do! All I did was go through my phone and added some of my favorite photos into a folder. I cropped them and turned them all black and white in Lightroom, then I printed them out on cardstock. The birthday hats were just triangles cut out of different papers that were in our theme, with a sticker on top to look like a pom pom. We put these funny little faces EVERYWHERE! They were on the walls and were even our cupcake toppers.
The month by month banner was purchased on Amazon for about $10. It was a fun addition to our One Finntastic Year wall. The "One Finntastic Year" words were all cut out with my Silhouette Cameo with vinyl.
1st Birthday Party Food
Parties are more fun when the food is cute, right? I sure think so! That is why I absolutely had to make letters with Finn's name. The best part about buying them for his first birthday, is I can use them for many birthdays to come! I was able to find these letters in the party section of Hobby Lobby. I was originally going to hollow out paper mache letters but learned that these were actually cheaper and required zero work!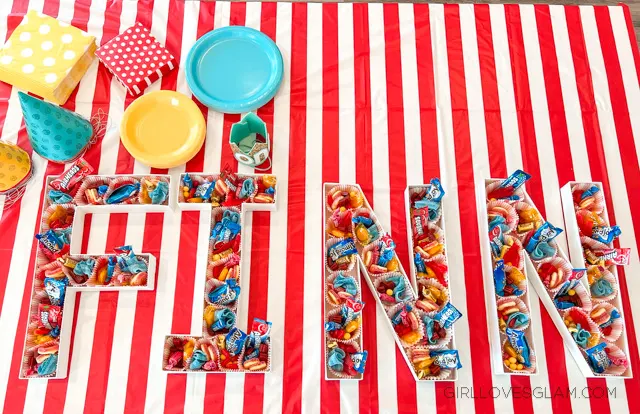 I filled cupcake liners with yellow, red, and blue candy to fill the letters. I toyed with the idea of doing it in a pattern but decided to let it be mixed up, allowing people to get more than just one color of candy when they picked up a cupcake liner with candy in it. I really love how it turned out!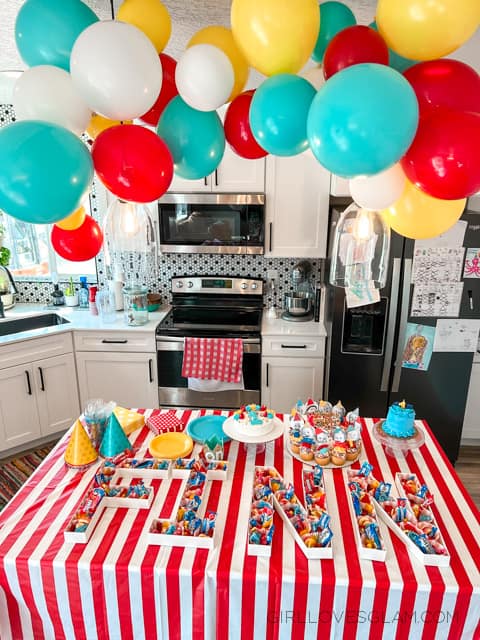 One of my best friends did this for her daughter's baptism breakfast and they filled the cupcake liners with fruit. It was darling as well, if you need a healthier option!
Inexpensive Birthday Cake Option
I think my best kept "secret" that I feel like I am constantly shouting from the rooftops is that Walmart is seriously the best for birthday cakes! They have darling birthday cakes available to order ahead of time, they taste amazing, and they are so affordable! Another awesome thing about Walmart Bakery? They include a FREE smash cake for the birthday kid to have their own cake!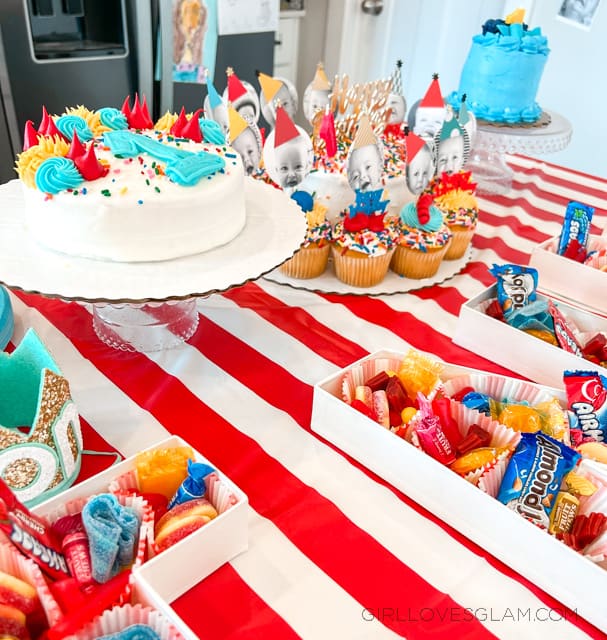 We had quite a few guests at our party, so I opted for two small cakes, the smash cake, and cupcakes. The reason I choose that rather than one large cake was truly because I really wanted to have cupcakes with Finn's face on them. Was it a little overboard? Maybe. But it was totally worth it! The only thing extra I did to any of the cakes was add the Finn faces to the cupcakes. Everything else was all Walmart Bakery! I am telling you, they are the best!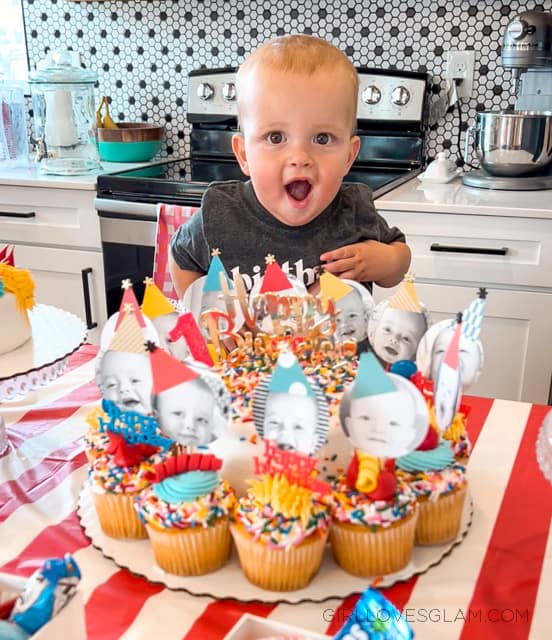 Tips for Parents
When it comes to your baby's first birthday party, don't go overboard with planning activities. Your baby isn't going to be able to participate. If you want to make it special, focus on the decorations and food. Those are things you can do ahead of time, so you can actually enjoy your baby's first birthday!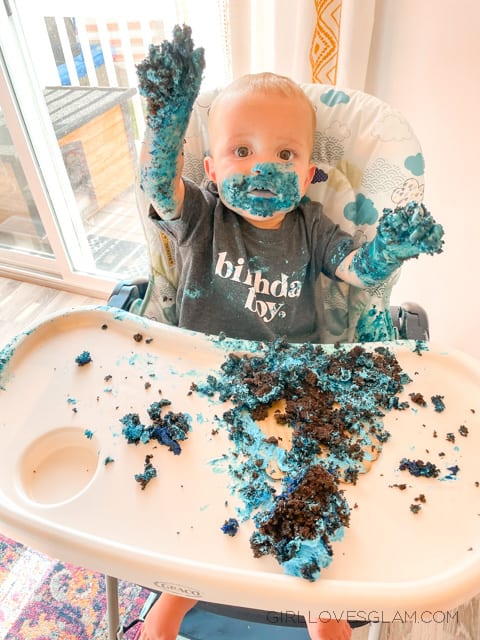 They only turn one once and it feels like they grow up so quickly after that. All three of my kids have had a fun first birthday party with family and neighbors, but I have always focused on just enjoying the party. I have no regrets!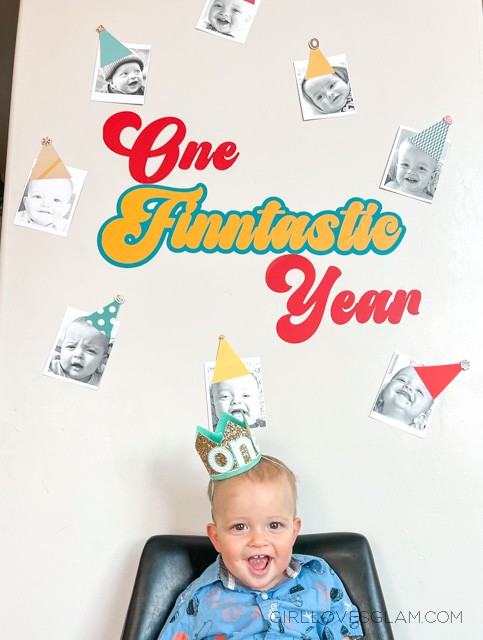 I can't wait to hear all about your baby's first birthday party… themed after themselves!