This post contains affiliate links.
Wednesday was going to be a busy day at our house. It was a busy day, just not exactly how we had planned. I had been working for a few days leading up until Wednesday to finish our Halloween costumes. We were going to have a family photo shoot so that I could share our costumes with you all next week. I also was going to take some photos in a darling long cardigan that I have been wearing non stop. We of course had school, errands, and other work related items on our agenda. The next thing I knew, all of those plans changed. When I went to pick up Harper from school, she wanted to show me her new trick. Her new trick was doing the monkey bars. I think she was a little overly excited because she started a little too quickly and almost as quickly as she was up on the monkey bars, she was down. She fell straight on her back, with her arm behind her back. She started screaming instantly and I was sure she had just broken her arm.
I scooped her up and ran her into our van and drove home, right down the street to ask Dave for his opinion and it wasn't 30 seconds later that we were heading to the doctor's office. We went to our family doctor who took x-rays and confirmed my suspicions… broken wrist and elbow! We were sent straight to the orthopedic surgeon where there were more x-rays and a lot more tears. Finally, there was a little relief when Harper finally got a splint put on.
As we were driving home, I looked in my rear view mirror and looked at my little girl who was sleeping in her booster seat. She looked exhausted. Suddenly all of those missed errands, unanswered emails, and unfinished business didn't matter anymore. None of our plans had worked the way we had "planned", but that was okay.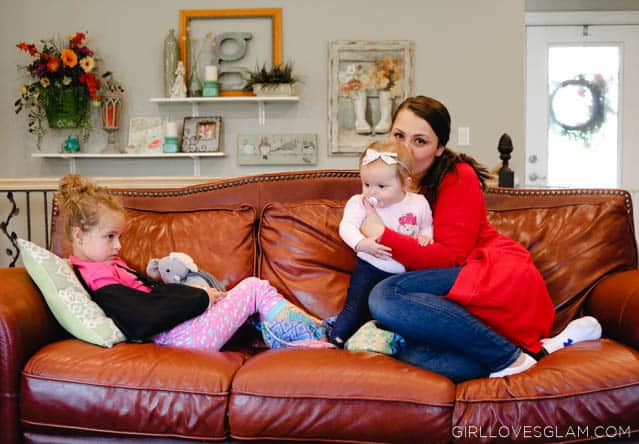 So instead of the beautiful planned, staged, and styled photos that I had planned to take of my new favorite Cents of Style cardigan, I will show you how I have been wearing it these past two days. Big sister won't let us cuddle her because she is in too much pain, but we play on the couch and on the floor next to her, so she doesn't feel like she is all alone.  [Read more…]